HIMS & Practice Management Software Solutions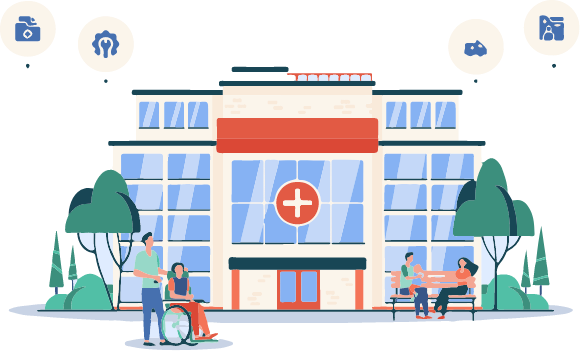 Powerful Software Solutions for Health Information System & Practice Management.
Octal IT Solution is the leading provider of healthcare and medical IT solutions. Our forte lies in developing high-end and feature-rich Hospital Information Management System and Practice Management Software. Built around the concept of easy management of your hospital, clinic, patient appointment, doctor appointment and other day-to-day activities, we build HIMS Software that are fast, reliable, efficient and easy to use.
Our Hospital Information Management Software can be easily customized according to the size of your hospital/clinic, specialty, OPD, IPD, stock, bed availability and other factors. We build fully-customized solutions after comprehensively analyzing your specific requirements. Our HIMS software solutions come with a varied range of features to run the hospital administration and clinic smoothly without relying upon any third-party tools.
HIMS Software Development Services
01

Hospital Information System
Our Hospital and Clinic Information Management Systems (HIMS/CIS) are developed to ease the workflow of doctors, physicians, nurses, and staff in your hospital by optimizing administrative, financial, and pharmaceutical operations.
02

Practice Management Software
We build Practice Management Software (PMS) with advanced features like patient registration, scheduling, booking, appointments, storing patient's health records etc. We also integrate third-party PMS systems like NueMD and Kareo in the software.
03

Patient Management System
Make it easy to manage your patients, including their personal details, health data, bookings, appointments, medical prescriptions, insurance and other details without worrying about the data loss. The patient management system comes with HER/EMR systems to provide with added powers.
04

Integrated Hospital Information Systems
Our sotware comes with HL7 standards to provide you with secured HIS and HIE solutions. We make use of third-party tools like Quest Diagnostics, LabCorp, E-prescribing (e-Rx), PACS and CDS Systems to provide you with a one-stop software solution.
05

Healthcare Reporting Software
We build fully customized healthcare reporting software to gather important analytics and provide regular reports for administrators and stockholders. We also integrate Clinical Quality Measure (CQM) tracking for reporting Meaningful Use (MU).
06

Hospital RCM Services
We build Hospital Revenue Cycle Management (RCM) solutions to automate revenue data and reports like insurance validation, payment processing, audit trails and accounting management.

All-in-One Solution
All the required features come up under a single portal so that user can manage and monitor all the related activities without any confusion.

Data Collection & Privacy
Implementing the most effective big data analytics solutions, we easily map the data of the right patient so flows out to the therapist, and makes sure that it comes with the effective solution.

Wearable Tech & Cloud
While using all the cutting edge technologies, we create fitness apps that delivers on-demand medicine services and patient care prescriptions and beyond.

Targeting Patients Personally
We deliver solutions that comprise of medical history, health care plans and other critical data so as to make the patients realize that he is being treated personally and with utmost importance.
What Makes Us the Buzz of Tech Town
Here's what our business partners say about us.
Tech Talk: Stay Up-to-Date with Our Latest Insights
We have our eyes on what's new in the tech world and bring you the latest updates here!
Octal In The News
Octal IT Solution Has Been Featured By Reputed Publishers Globally
Let's build something great together!
Connect with us and discover new possibilities.






Gain More With Your Field Service
We're always keeping our finger on the pulse of the industry. Browse our resources and learn more.
Let's schedule a call