Make your Enterprise Software GDPR Ready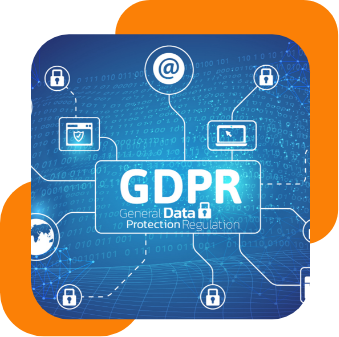 Implementation of the European Data Protection Regulations (GDPR) takes effect on May 25, 2018. Therefore, companies that use European personal data must follow complex data protection processes. Violation of compliance can result in penalties of 4% of annual sales or EUR 20 million (whichever is higher).
With Octal IT Solution, you can schedule required assets to be regularly inspected to maintain required patches and minimize attack surface. For example, if WannaCry Ransomware exploits this vulnerability, our software's vulnerability scanning helps identify vulnerable systems and patches and isolates sensitive data.
In case of violation, our software's security log management function ensures that incident logs are required to meet the statutory surveillance level required by GDPR regulations.

Data Anonymization
With anonymous data, it is difficult to identify everyone in all organizations.

Privacy Impact Assessment
Reduce the risk of date protection violation after data processing.

Data Processing Protocol
GDPR pointed out that data processing requires explicit confirmation or declaration by data subjects in order to obtain consent.

Extensive Data Integration
We provide various connectors for retrieving data from various sources and automatic classification process to use data classification.

Data Violation Notice
All data leakage accidents must be recognized by the organization and notified to the regulatory authorities within 72 hours.

Risk Mitigation and Data Retention
You can set the official retention period and sort the data. This allows you to delete data for a certain period of time in a store search.

Cross-Border Data Transmission
GDPR enables the transmission of personal data across national borders only if the responsible agency complies with strict compliance policy.

Searching for Effective Information
We help companies to retrieve, process, export, and delete data from large data stores.

Appointment of Data Protection Officers
Specify a DPO (Data Protection Officer) to comply with rules and regulations.

Fully Compliant
Data is obtained from various sources according to compliance standards. These standards review compliance violations that may have legal implications.

Deletion Rights and Data Portability
GDPR Compliance Software Solutions You can ask the organization to delete personal data. Due to the portability of the data, it is possible to provide personal data to the data body in the form normally used by the controller.

Zero-coded Automation Process
In other words, by creating a single interaction point GDPR request and automatically notifying compliance completion notifications, developers can create products using the compliance creation tool.

Intrusion Detection
In this system, data leakage can be monitored throughout the infrastructure.

Suitable Workflow
Define the tasks and activities required for a specific task.

Audit Everything
All requests and operations are recorded and saved in standard format.

Guided workflows
By supervising the maze, you can understand the process effectively.

Smart questionnaires
Information required by regulatory authorities is required. There is no more.

Risk metrics
Understand the risks associated with protecting corporate data.

Reporting at hand
We are ready to share information with management and regulatory authorities.

Access to experts
We are cooperating with the best EU GDPR experts and are ready to help you.

Holistic view
Gather all information about the use of personal data in information systems.

Maximum control
Evaluation of asset data protection and data of GDPR according to regulations.

Easy compliance
Gain insight into GDPR compliance by combining evidence of personal data.

Change Management
Configure the solution with changing legal requirements of the organization or GPDR.
Our Services
01

Data Transparency
We provide full compliance with GDPR restrictions on personal data, providing a way to properly classify the data it owns and create a fully documented solution for handling activities and business processes.
02

Efficiency Report
Communication is a strategic for violations. Use our software's powerful reporting capabilities to provide compliance status and progress reports for all targets and fully meet the disclosure requirements of data entities.
03

Commitment
Our GDPR solution effectively communicates and enforces compliance policies, principles and procedures across the enterprise. Investigate readiness and regular training to promote personal involvement.
04

Risk Sensitivity
You can integrate risk awareness into your business operations by integrating impact analysis, risk assessment, and mitigation into your business processes. You can use event tracking to see where your energy is heading.
05

Change Management
Use our GDPR solution to implement the privacy requirements of each design, coordinate and synchronize all aspects of the enterprise with planned changes, and assess, cooperate, and work on the impact of GDPR on the digital strategy.
06

Transformation
Our solution's powerful business process analytics and customer journey mapping capabilities help you assess the impact of GDPR on your digital strategy and customer experience.
What Makes Us the Buzz of Tech Town
Here's what our business partners say about us.
Tech Talk: Stay Up-to-Date with Our Latest Insights
We have our eyes on what's new in the tech world and bring you the latest updates here!
Octal In The News
Octal IT Solution Has Been Featured By Reputed Publishers Globally
Let's build something great together!
Connect with us and discover new possibilities.






Gain More With Your Field Service
We're always keeping our finger on the pulse of the industry. Browse our resources and learn more.
Let's schedule a call