eRx mobile application development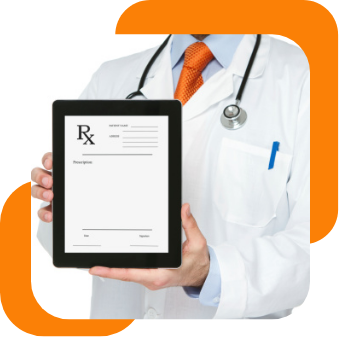 Powerful Software Solutions for Electronic prescription software & eRx mobile application development.
If you do not intervene, it may take up to six months to submit the product to the EHR system and eRx device. Currently, 63% of all physicians in the US are staff of the hospital system, so sales representatives will be more difficult to classify the problem of electronic prescription. By setting the product release track within the first 10 to 12 weeks after launch, making a way to commercial success requires prior work.
We will aggressively load product files into the best EHR system and integrate data between large enterprises and EHR. We will immediately contact the appropriate staff. Actually we will solve 91% of the problem of electronic prescription.
Our Solutions
01

Electronic Prescription Software Development
We have established the e-prescription (eRx) to securely transfer EPCS and medical test requirements between healthcare providers, pharmacies, PBM, imaging centers and trading hubs.
02

Integration Of ERX And EHR Software
We will coordinate the electronic prescription network with electronic health and medical records (EHR / EMR) database to check patient's credentials and avoid drug interactions.
03

Electronic Prescription Decision Support
We will integrate the eRx program with hospitalization and outpatient Clinical Decision Support (CDS) software to evaluate drug, food, allergy, treatment interactions.
04

Third-party ERX Implementation
We provide comprehensive implementation solutions including network architecture development and data migration services for third-party eRx software developers including AllScripts, Surescripts, DrFirst and NueMD.
05

Drug Management System
We maintain e-prescription functions with barcode scanners and other inventory tracking equipment to maintain inventory of common brand drugs and automate reordering Hospitals and enterprise-wide PMS.
06

Electronic Prescription Mobile Application
We design a cross-platform mobile application to streamline electronic prescription refill requests using physician, pharmacist / pharmacy technician and patient specific interface.

All-in-One Solution
All the required features come up under a single portal so that user can manage and monitor all the related activities without any confusion.

Data Collection & Privacy
Implementing the most effective big data analytics solutions, we easily map the data of the right patient so flows out to the therapist, and makes sure that it comes with the effective solution.

Wearable Tech & Cloud
While using all the cutting edge technologies, we create fitness apps that delivers on-demand medicine services and patient care prescriptions and beyond.

Targeting Patients Personally
We deliver solutions that comprise of medical history, health care plans and other critical data so as to make the patients realize that he is being treated personally and with utmost importance.
What Makes Us the Buzz of Tech Town
Here's what our business partners say about us.
Tech Talk: Stay Up-to-Date with Our Latest Insights
We have our eyes on what's new in the tech world and bring you the latest updates here!
Octal In The News
Octal IT Solution Has Been Featured By Reputed Publishers Globally
Let's build something great together!
Connect with us and discover new possibilities.






Gain More With Your Field Service
We're always keeping our finger on the pulse of the industry. Browse our resources and learn more.
Let's schedule a call