DICOM/PACS Development and Implementation Solutions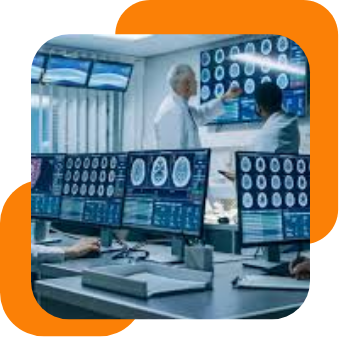 The DICOM standard is almost universally accepted among medical imaging and healthcare organizations. Medical experts will facilitate the enterprise-wide workflow by maintaining compatibility between solutions using DICOM compliant solutions such as DICOM PACS. DICOM currently deals with almost all aspects of medical institutions such as heart, radiology, mammography, orthopedics, pathology, and dentistry.
Octal IT Solution is a leading company that provides medical image processing and IT solutions in many of the above fields and is compliant with DICOM. Confirm that radiologists, cardiologists, technicians and other clinicians are using our products to capture and save images and information compatible with imaging and information from other vendor's systems.
All-in-One Solution
Hire healthcare app developers to build a robust application that can manage all medical records. Along with DICOM/PACS solutions, get EHR, EMR, and PHR solutions to understand your patients and their health conditions.
Data Collection & Privacy
Implementing the most effective big data analytics solutions, we easily map the data of the right patient so flows out to the therapist, and make sure that it comes with an effective solution.
Wearable Tech & Cloud
Our wearable app development team uses advanced technology to integrate wearable tech with your healthcare application. Users can easily access their health data using wearable devices like smartwatches.
Targeting Patients Personally
We deliver solutions that comprise medical history, health care plans, and other critical data so as to make the patients realize that he is being treated personally and with utmost importance.
Our Solutions
01

PACS Implementation Service
On-site, cloud-based hybrid software programming for safe storage and transmission of medical images using PACS customized with DICOM network and protocol. We also provide PACS data migration to VNA (Vendor Neutral Archives).
02

DICOM Viewer Development
PACS workstation, voice recognition software, touch free workflow option is integrated with diagnostic tools with planning and general image library for comparing patient results with meaningful use tracking tool.
03

Teleradiology Service
We implemented a powerful communication portal that simplifies peer review, coordinates diagnosis with other medical experts, shares the reports of the patient, test results in the web application, and can analyze the images.
04

User Defined DICOMWEB Programming
RIS / HIS, EHR / EMR and PMS development with PACS using DICOMweb service and user defined HL7 query interface. We can remotely access images and metadata via mobile devices and browser based applications using WADO, STOW and QIDO standards.
05

PACS Server Software
Custom implementation services include PACS server and database architecture for optimal transmission and storage of medical images and related data. We also implement a macro brick unit backup and data recovery strategy.
06

DICOM Integrated Solution
We use Wavelet image compression software to download DICOM viewer to MIC, CT, PET, nuclear medicine, X-ray, ultrasound, OCT, endoscopy, microscopy, mammography, angiography, SPECT and slide to integrate with common image processing forms such as imaging system.
What Makes Us the Buzz of Tech Town
Here's what our business partners say about us.
Tech Talk: Stay Up-to-Date with Our Latest Insights
We have our eyes on what's new in the tech world and bring you the latest updates here!
Octal In The News
Octal IT Solution Has Been Featured By Reputed Publishers Globally
Let's build something great together!
Connect with us and discover new possibilities.






Gain More With Your Field Service
We're always keeping our finger on the pulse of the industry. Browse our resources and learn more.
Let's schedule a call