Think about the fastest developing industries across the world, the real estate industry is certain to fall into that list. People all over the globe today use the Internet to get information about just anything they want, like via seeking a website, gateway, store, products, and so on. The same is also the case with the real estate industry where people search for real estate agents, builders, brokers, agencies, and properties like homes and condominiums, and various other things related to this particular industry according to their requirements.
Quick Summary
Real estate is the sector of multiple opportunities. Within the quick span of time, real estate sector platforms tailored automatic solutions to the market and users most cost-effectively and simply.
With all in one solution for real estate, web portals and platforms facilitate many of the businesses and the realtors for a seamless workflow. This influences the growth of the business sales to the next level.
With this piece of writing, we have contextualized some of the over-the-market solutions, their stats, and features required for the development of the portals.
So stay with us throughout this blog.
Market Stats & Growth in Real-Estate Sector in 2022
A good business is built on the perspective of the market results. The market will shift the way after the examination of the ongoing and coming transformation of the many scenarios. Real estate is a kind of platform which triggers better fusion in recent years due to the many new technologies and the advancement of the internet.
Let's brief out more facts on this domain with us.
40% of the Millennials prefer to choose their homes online. 80% of the people are excited to virtual outlook their homes before buying.
By the stats from SimilarWeb, Top players in the real estate market are Zillow.com, realtor.com, redfin.com, apartments.com, etc. Zillow is on the top with the most traffic presence in 2021, following with realtor.com and rightmove.co.uk.
The average amount of time a user spends on a website is 6 minutes.
In India, the market of real estate opens boundaries to a great extent. With a 13% increase, this niche is expected to face a surge of $1Trillion by the year 2030.
In 2021, 97% of people are looking for their own homes and rental spaces via web portals and platforms. This pulls up many new leaders to invest their money in this great source of the platform.
Key market players in the real estate market are American Tower, AvalonBay Communities, Segro, and many others.
Popular websites for real estate are Propertybase, Real Geeks, Placester, Artur'In, and PorchLyte.
Importance of a Web Portal in Real Estate
Even though today more and more real estate platforms are gravitating towards mobile app development, still it is vital to have a web platform as well. According to the National Association of Realtors (NAR), around 90 percent of real estate firms worldwide have their own websites.
After all, to buy and sell houses are crucial decisions, and people not only just swipe in mobile apps when it is about buying or selling a house. Most people head to their laptops and execute a comprehensive search. And as per the statistics collected by NAR, 95 percent of home buyers search online. With online search, buyers can easily compare houses and also choose the precise features they are looking for.
Get a Web Portal Developed for your Real-Estate Business
Hence, if you are in the real estate business and desire to get a web portal designed and developed, then look for a mobile app development company that helps you design and develop a great real estate portal that very well suits your business needs. The mobile application development company must have years of experience in developing real estate portals, and should closely work with the clients to provide them with successful strategies in order to come up with user-friendly websites.
Once you understand and know the technical challenges prevailing in this industry and are able to devise solutions to overcome these challenges, things would easily fall into place. When looking for a web development company, ensure its real estate solutions include major services.
Categories of Real Estate Portals
The real estate industry is going to see enormous growth in the year 2022. There are multiple scopes of categories for the developers to create custom web portals or applications for the market.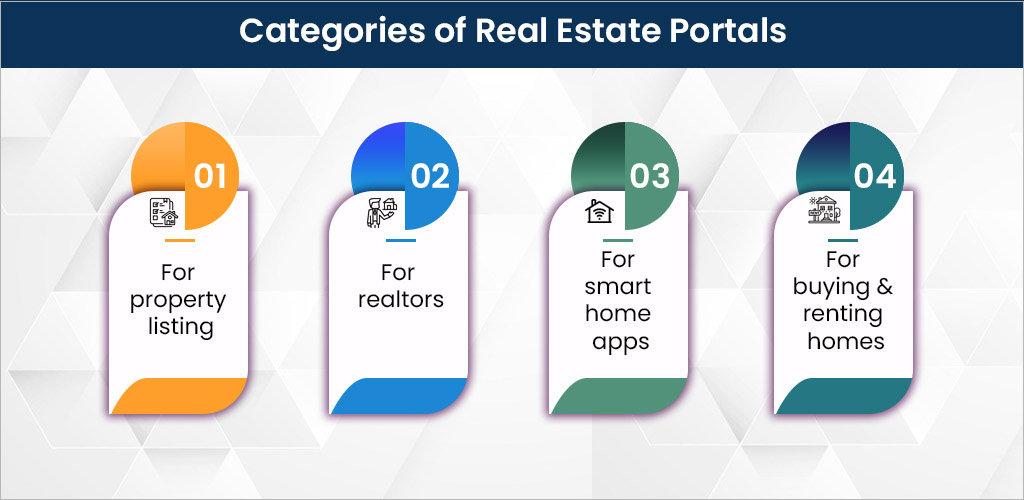 Every category differentiates itself from another in terms of its functionality and features. We have curated a list of different categories for you to take your own space of customized real-time applications for niche purposes.
For property listing: Under this kind of category, there are different properties descriptions and listings mentioned. This would help the owner and the real estate agent to display their services under the app and add different filters.
For realtors: This category of app is dedicated to realtors or real estate agents. The purpose of this app is to facilitate communication between the customer and the realtor. Realtors can perform all of the document sorted work with this platform and develop more trust with the client.
For smart home apps: This feature would help modernized homes wishers to find smart homes and apartments. People always dream of having a luxurious home under their budget, with a choice of multiple options, but different nonproper apps cant take anything meaningful out of it.
For buying and renting homes: Instant go packers or students are always in demand for fast renting options with the feature of buying and renting.
How is a Real Estate Web Portal useful for both Real Estate businesses and Agents?
Both small and large companies who wish to expand their business by getting into the property listing business can hugely benefit by having a web portal. Meanwhile, real estate agents & brokers desire to have their own property-listing website can also benefit immensely. By choosing a team of professionals of reliable website designers and creators you can have the kind of results that best suits your business.
Among the many benefits of Real Estate Web Portal, few are:
It is also not just the most effective feature but a cost-effective feature as well, to be able to advertise and list your property on a web portal. Things can't just get easy.
For users, it is a lot easier to search for properties according to size, types, location, and price, all while sitting in the comfort of their homes.
Offers an easier way to register for the agents & mediators.
They are able to configure & display a range of pictures of properties.
Powerful & professional way to develop a brand.
It is in every way a one-stop solution for requirements related to property buying and selling.
People can do a lot, whether it is to list, buy or sell their property (be it old or new) in just a few clicks.
When talking about any application it reflects well only if the solutions are feature ladened. We make it a point that the solutions that are dropped to you have rich features and can help you understand the business easily.
Monetization Methods for Real Estate Web Portals
For driving the business smoothly, the owners should thrive their popularity in the marketplace. The success of an application depends on both of the factors – creation of the app and earning high cost in return to keep the continual running of the brand value. On behalf of such reasons owners, vendors, and stakeholders all are interested in maximum brand value and awareness of their product in the market. Let's consider some of the mandatory revenue-gaining models in the market.
Commission:
In such a model, for every purchase, the vendor charges a small amount of a penny to the user. Vendors placed their products on the platform. This way the owner and vendor mutually gain a good amount of cost.
Advertising:
The advertising model is the fastest way to gain traffic at your platform end. In this model vendors mutually connect with the business and generate their source of income. This model is distributed into two parts; banner and contextual.
In the Banner method, vendors place their ads in the appropriate place to gain maximum traffic in a lesser amount of time. This is the least time-consuming method, a kind of hit and trial, either the user likes the ad or discards it.
The contextual method is the one in which there are various modes to gain profit. Such as affiliates using Google Adwords. In this affiliate program for every click on the ad, the platform gains the traffic and in the end the revenue. This is a more technical way to gain money, banner placement is much more precise and fast in that way.
Consultation
Consulting services are much counted in the notice by recent times. There is no limit to such methods. Businesses can hire a good consulting partner or a techie specialist for offering consulting services to the users to actually own the services of the product. You can charge a good sum in return to the services which you opt to surge to the new users to build more trust.
Features of Functionalities of Real Estate Web Portal: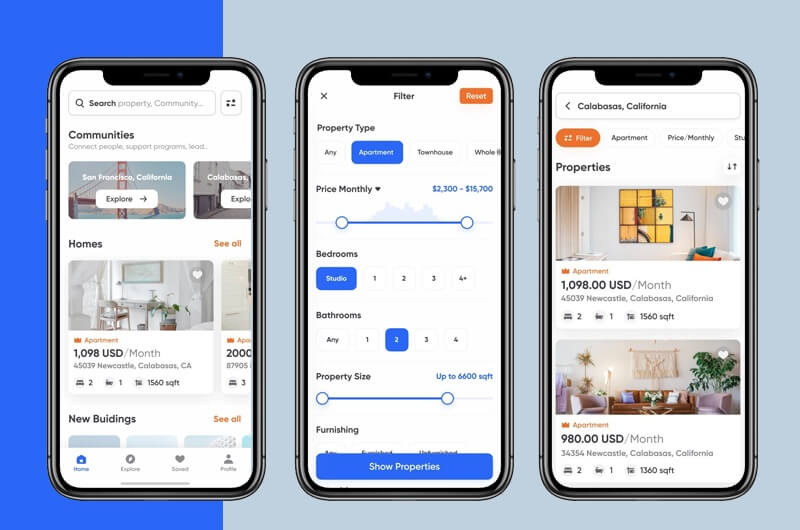 User Panel
Insert Property Listing: All the properties can be listed on the web portal by the agents, brokers, and users so that buyers can find them and pick the desired ones.

User Support: Users are offered support in terms of property selling, buying, renting, or vacation rental properties.

Shared property notes: While uploading a specific property that is shared by owners, a note is provided about the same in the property details, so as to keep the users in the loop about the same much in advance.

Send property via email: Real estate agents, brokers, or users who are willing to sell their property can send property information, queries, and requirements via email.

Upload multiple photos at once: All the photos related to the properties can be easily uploaded at once by the users listing their properties.

Automatic resizing of photos: There is a feature where despite the size of the picture, it gets automatically resized and uploaded to the web portal. Thus, saving users from the hassle of resizing each picture.

Business Owner Panel
Installs the Real Estate: A fully-fledged real estate portal is developed where the users can find just anything about the arena and execute property search as per their requirements.

Add/edit/remove categories: As per the availability and offerings, business owners are able to add new properties, edit the property details and remove sold properties, as well as they can edit the categories as well.

Agency profile creation & management: When a real estate agency registers into the portal, the portal owner will be able to create their profiles and constantly manage them, keeping an eye on all of them.

Manage Property: Portal Owner is able to manage all the properties listed on their portal.

Manage Languages: This feature is quite crucial as all the users that head to the website may not be well-versed with just one particular language, so the admin can manage languages that can be selected by the users.

Manage sections of the site: The web portal will be having a plethora of properties listed over there, hence it is vital to manage the various sections of the site and ensure that the authentic information is on the display for the users.

Automated Document Management: Documents related to the properties, legal documents, and other vital ones can be managed automatically.

Billing Options: Earlier the agents and brokers had a tough time running after people for their share of the money, however, things are easier to manage on a web portal. There are several billing options offered to the users, and they can pick the payment mode at their convenience.

Manage Members: The business owner will be able to manage all the members registered to the web portal quite easily and efficiently.


Admin Panel
Featured Real Estate: From this section, Admin is able to manage all the feature properties and spaces offered on the web portal.

Advertisement Management: It is easier to make extra revenue by running advertisements on the web portal.

Reviews and Ratings: Admin will be able to manage the ratings and reviews given by the web portal users.

Social Sharing: It is certainly an effective feature as by sharing about a property on social media channels, it gets easy to catch the eyes of users.

Publish properties in any country or city: On the web portal, as per the business offerings, Admin can choose to public properties in any city or country.

Assist users to find properties: Admin can also help out the users by assisting them in finding their desired properties, via emails and SMS, whenever a new property (matching their requirements) is uploaded on the portal.

Additional Features: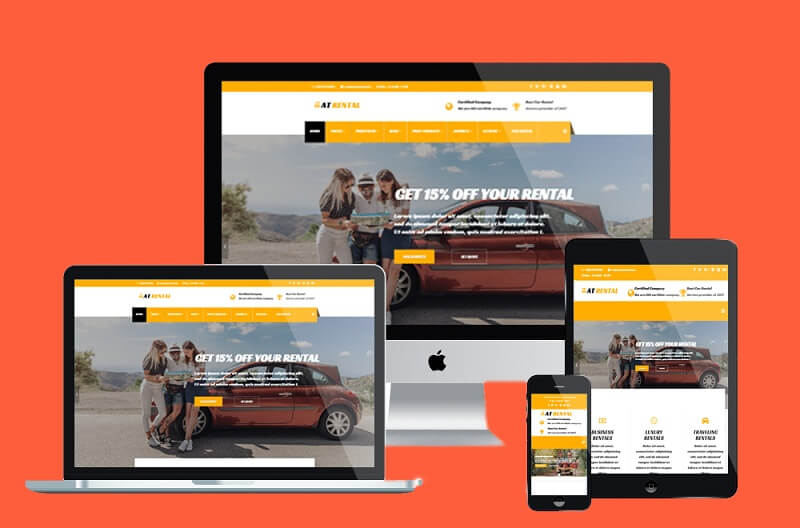 Marketing Tools: There are a number of marketing tools that can be used by business owners to attract user attention, such as emails, SMS, advertisements, etc.
Advanced Tools: Going by the prominence enjoyed by web portals, there are a number of advanced tools out there which you can use to make your website highly functional and appealing.
User Management: It gets easy for a business to manage their users and look into their requirements regarding the property.
Multiple User Management: From the web portal, it is easier to manage a number of users all at once, while being at just one location.
Advanced SEO Tools: With the availability of numerous advanced SEO Tools, one can ensure that their web portal is always on the front page of Google. After all, it is a sure-shot way to attract users' eyes.
Loan Calculator: This tool is certainly important in this kind of website. The users are on the verge of buying a property and easily calculate the loan and interest, thus making the decision-making process easier for them.
Content Management Tools: In a real estate web portal, it is vital to manage what is offered to the users and how they are approaching, and this is where a CMS tool comes to your help.
Presentation Tools: When in the real estate business, it is vital to cast a great first impression on the users as it is all about what meets the eye. Hence, ensure the properties are presented well to the users, via attractive pictures, YouTube videos, 360-degree views, and a lot more.
List property with a link to the details: Again a useful feature, as while a property is listed on the portal, a link can be provided which directly takes the users to the property details.
Google Maps: This makes it easy for the users to find the routes and exact location of the property they are looking at.
All in all, in order to create a successful real estate website, it is vital to aim not just at designing a great listing feed but also to create a community on your platform. Pay attention to services that are used by people generally when they buy, sell, or rent houses. And then try to offer the necessary services to them so the users don't have to leave your platform to find additional real-estate-related information. Needless to mention, choosing a great real estate app development is the most important factor to make a mark in the arena.
The basic cost of real estate application development depends on the functions and features of the application. Let's have a quick look at how the cost of development of any app is determined.
Tech Stack
In order to build a fully-proof real estate app, there must be proper integration of all of the parameters and features in the app. Tech stack would raise the cost of the product if you add AI and ML. Technologies should have used for the implementation in the app are as follows:
Front end: Kotlin, Swift, Kubernetes, Java
Back end: Swift and Objective-C for iOS
SDK: Facebook SDK, Firebase SDK
Database: Azure AWS, elastic search
APIs: Google Maps API, Zillow API, Mortgage Payments API
Web languages: HTML5, CSS3, JS
.NET
NodeJS
Cost of Real Estate Web Portal Development
When talking about the cost of property portal website development there is no fixed amount that we assign to it. It basically depends on various aspects that define the application.
The dominating aspects that majorly define the cost are:
1. Features of the Application: If you are looking forward to developing an application with basic features that uses technology that can keep you a step ahead of the competition. With basic features, the application may cost you around $20k to $50k.
If you go for asking advanced solutions, then the cost may rise from $75k to $120k.
2. Location of the App Development Company: When it comes to choosing the right mobile app development company that can make things easier for you at affordable rates, make sure you go for the countries that can offer great solutions.
The cost of development for various regions are:
USA: $110-$150 per hour
UK: $90-$110 per hour
Europe: $75-$100 per hour
South Asia: $25-$50 per hour
As per your convenience and your choice you can choose the region you want to hire a developer from.

3. Technology Used: Another important aspect that needs to be worked on is the technology used. If you decide to use the basic technology stack that can help the developers in building your application then surely the cost of development is less and as we move further towards advanced solutions the cost would rise.
We provide advanced AI and ML-based solutions that make it really easy for you to survive in the market and earn better. With big data solutions, we make sure that you do not have to struggle with data management and analysis.
4. Miscellaneous Factors: Along with these major factors, there are a few miscellaneous factors like modifications, number of developers involved, the platform of development etc. that determine how cost-effective your online real estate portal would be.
Thus, when working on the real estate portal one needs to be well aware of the trends and the latest developments in the field. Our experts make sure to keep you updated with the latest trends that would help you earn better in the market.
Popular Real Estate tools in 2023
The top tool emphasizes the development of the real estate platform for the businesses due to its benefits. These tools will help you to understand your property, get a high-end return from it.
We have piled up some of the best tools for your knowledge.
Buildium: Buildium is one accounting tool for quick analysis of the record deposits, fees, or any refunds. This automation tool can also handle payment transactions like credit cards or bank accounts. This is a free trial tool for a few days, after that, the user must go for paid services.
Dealcheck: This tool is used for asserting quick analysis of the real estate trends and prepares a valid report prior to the development. It helps the user to streamline the middle cash flows and figure out the most attractive deals if any.
Zil Calculator: To calculate the real estate transactions or any of the investments. This assists the stakeholders about the calculated amount to prepare the before the comprehensive report about the investment, saving thousands of dollars.
CRM Automation tool: CRM tool offers plenty of features for quick accountability and mobility of the services. Realtors can offer faster communication via email sync and integration options. In addition to this, the automation tool gives the flexibility of features like advanced search filtering for the user. Agents use this tool for the quick scheduling of appointments, adding logs, notes, and auto-reminders to the quick recall.
Wrapping It Up!
When talking about the solutions that are to be delivered to your doorsteps it becomes important that the solutions are interesting and engaging. The real estate mobile app development team ensures to deliver flexible solutions that can help you take over the domain and help you bring to the screen a better solution.