In this blog we will talk about the mobile app development team needed for developing Android & iOS app. As the world goes digital there is a grand shift in the working paradigm of businesses. Websites seem to be as common as the brick and mortar stores. To give an identity to your business you would need to bring on the screen something very different and impressive. Mobile applications have made it possible for businesses to bring an identity that is impressive and unique.
Surely not all businesses are technically equipped to have a mobile app development team or know the needed resources for their business requirements. They need to hire a mobile app development company that can assist them in building a digital asset that is unique, innovative, and engaging.
If you want to monetize the trends and let your organization partner with various businesses. Then, just build a strong mobile application development team that can help you earn great results.
Before we see how you can develop a team for yourself let's have a look at the stats.
Worldwide Mobile App Revenues in 2014 to 2023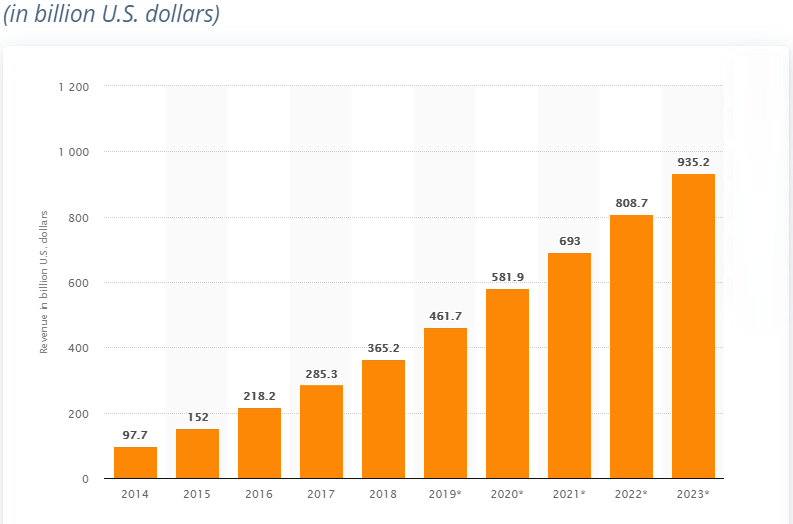 Talking about the global mobile app revenues in 2018, the sum amounted to around 365 billion USD. In the next 5 years, the mobile app industry is projected to generate more than 935 billion USD in paid download and in-app advertising.
Mobile App Development Team: The Struggles
In order to create a successful and well-functioning app, one would require mastery in an array of skills. One needs a high-skilled mobile app development team mainly consisting of designers, developers, and strategists. If you have been wandering around in order to find ways to create your own app. Choose a firm where you can find worthy candidates.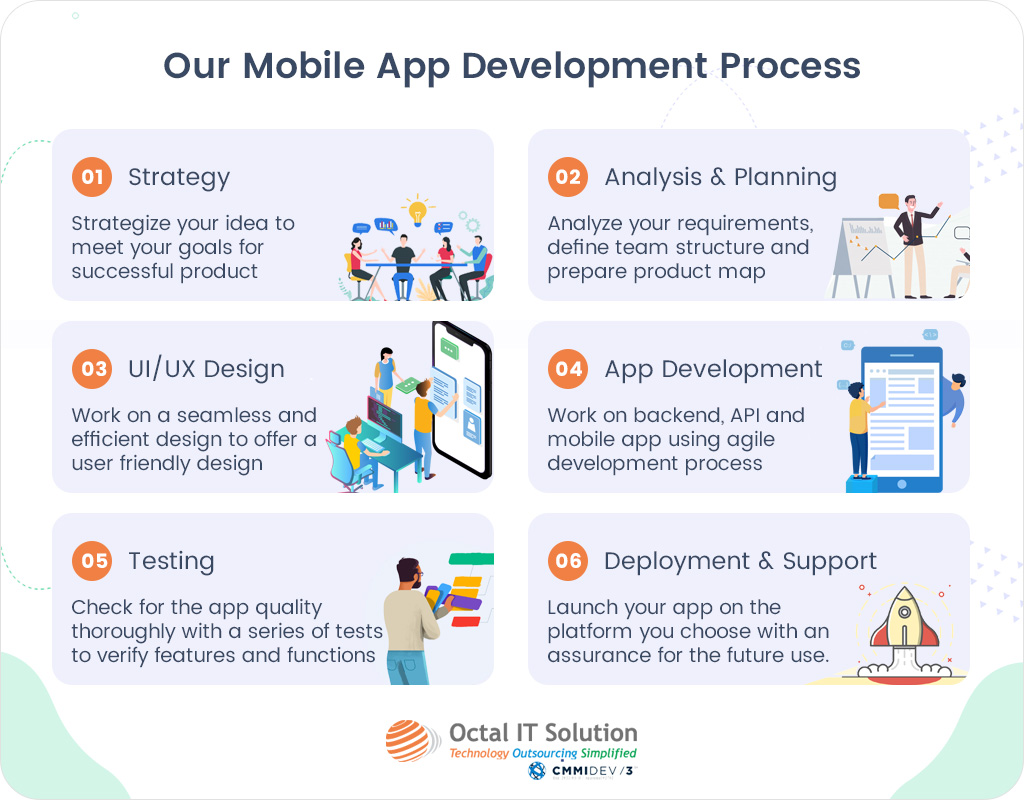 You don't need a lot of candidates or app development teams to build a quality app.
A well-chosen mobile app team structure can get things done for you easily. It is possible for one right team to design and create an app on its own. But here one could easily tell exactly if it was created by a person or a team of professionals. Many functions are required to be done by one member in a short time span to create an app. A healthy competition while developing a mobile application will also help you to create a world-class app. One could create a beautiful app but without testing it against other world standards. You can't tell where you stand in the race. Staff needed to create an app sometimes just gel together and perform better. Because of the presence of other team members, given everyone is provided with a well-suited role.
How to Create an Excellent Mobile App Development Team?
The process of hiring a team needed to build an app, isn't different from calling people for other general creation. Your contacts will help you out in this as they will have a network of their own. Which might help in order to get experienced candidates and referrals. These different connections will help you out in order to get to know an individual on professional. The most important trust is built on reliable grounds apart from work experience.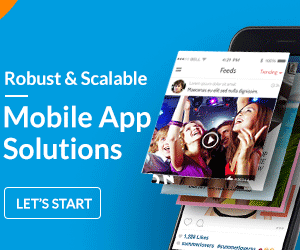 Becoming a member of Meetup.com, Toptal.com, and Dribbble.com which are local industry groups. It will help you out in your quest of creating the application development team structure that is geographically collocated. As these are the places where you can find day-to-day events and meet up people with same interests of design, development, and strategies. Highly demanded industry job boards should also be taken into consideration. StackOverflow Careers, AngelList & Designer News are some of the platforms that top the list. Apart from research firms like clutch.co, goodfirms.co, extract.com is a good source to hunt skilled mobile application development company.
Things to Take Care of When Building Your Mobile App Development Team
In the mobile app development team structure, different positions ask for different experience evaluations and different skills. If you are hiring a developer then he must have experience in creating apps in various industries. One must look for working standards in platforms that you are planning to support. An iphone app development team will require a developer that has expertise with Objective-C along with Xcode knowledge. While an android app development team will require a developer who has experience in Java or Eclipse.
The work should be the topmost priority while hiring members of the mobile applications development team. For example, if you hire a designer then go through his portfolio for different experiences and styles that you require for your app. For a particular position, select two to three screens from the product they have worked on plus design and develop them. When building your mobile apps development team you should ask your applicants what made them create these screens, what problems they encountered, and what worthy improvements they have in mind to make it even better.
What Is the Structure of a Mobile App Development Team?
The application development team is the one that carries out variable tasks through joint efforts. A development team is required to have all the necessary skill-set with the help of which you create high-quality app solutions. And every member of the company is associated with the developing process of android or iOS apps to perform at their best. Let's have a look at the mobile app development team roles.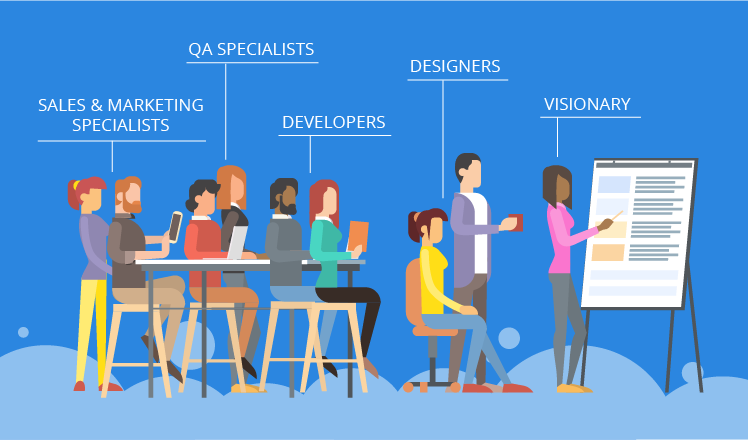 Sales and Marketing Team
Before you connect with the development team, you would be sharing your idea with the Sales team. The skilled specialists understand your requirements and help you enhance the app idea, connect you with the company and the team that would work on your project.
Business Analysts
This is a common misconception that mobile app development starts with a Project Manager. Well, the truth is, it is the business analysts that take care of the business needs of the clients and reflect that to the project manager. Thus BA are important member required for mobile app development team needed.
Skills Required to Be a Specialist
One should be trained in assembling, preparing documents, and prioritizing the technical requirements.
They should understand how to estimate the time and cost of a project. A business analyst must comprehend the business needs of the clients and be able to reflect them to the development team clearly.
They must keep the client in the loop to affirm they are confident of what is coming to the table.
Project Manager
This is the person responsible for the implementation of the whole project and also the project delivery. This person is tasked with managing the project and also keeps different departments connected to each other. He is responsible for connecting with the customers directly discussing all the issues with the android development team in regard to an app and also settling disputes that may fall upon them.
Skills Required to Be a Specialist
One should be a master in business strategies required in mobile app development.
He should be well aware of the technology that will suit a particular project.
A bit of experience in psychology is demanded by the project manager. To get customers' demands and needs, to offer a solution to the customer at the right moment.
He must be attentive.
It's paramount to give a check to specification and make implementation in accordance with the specification. Performing different tasks simultaneously is another quality of project managers because it can be regarded as the focal point of their work.
UI/UX Designer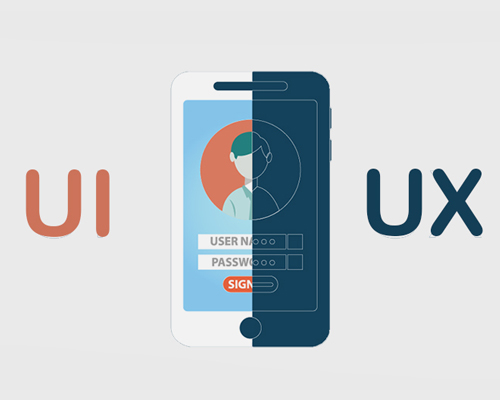 The task appointed to designers may seem easy at first but in actuality, it's not the case. Their task is not only to create a user interface and user experience of the app but they also work together with special documentation as they have to elaborate the complete process step by step otherwise it will become quite impossible to build a quality software product. Designers are also required to create wireframes at the start when they go through the analysis and elaborating of the documentation process. They play an important part in the mobile app company structure.
Then, up to this point, if everything is according to plan, Android and best iOS app development teams move on to experimentation with UX and UI, depending on the type of project. Designers are not only tasked with creating a brilliant design but also with making it attractive with the help of all the latest technologies in correspondence with the design.
Skills Required to Be a Specialist
Design each aspect of the app to simplify and enhance the user experience.
Work closely with our UX designer to interpret the overall layout
Use Photoshop and Sketch to create interactive features
Perform revisions based on user feedback
Designer skills-Sets: Expertise in UI design
A great portfolio that highlights similar successful projects
Excellent design skills
Photoshop/Sketch expertise
Good communication skills
Mobile App Developers
When we create the user interface and user experience, the most important part of developing an app begins. Which can be said that of building an app structure and also its functionality. At this point, the Android and iOS mobile app development team invest their skills in order to create a mobile app. Hire mobile app developers responsibilities are determined by us. What is the difference between the development process in the iOS and android departments?
Translate designs and wireframes into high-quality code
Design, build and maintain high performance, reusable, and reliable Java code
Ensure the best possible performance, quality, and responsiveness of the application
Identify and correct bottlenecks and fix bugs
Help maintain code quality, organization, and automation
iOS developers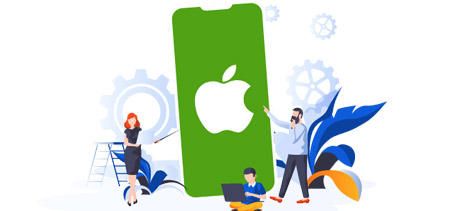 iOS app developers take Objective-C and Swift in order to create excellent native apps. When you are deciding your app-building team make sure you have iOS experts. The iOS development team uses Xcode to create an environment for app building. iPhone app developers build apps that are only for the last two versions of iOS OS ( iOS 10 and 11), which is different from the Android developers. It makes no sense to develop an app for an old version as they lose popularity quite fast.
iOS Skill Set
Objective-C, or increasingly, the Swift 3.0 programming language
Apple's Xcode IDE
Frameworks and APIs like Foundation, UIKit, and CocoaTouch
UI and UX design experience
Apple Human Interface Guidelines
2D and 3D graphics frameworks like SpriteKit and SceneKit
OpenGL or Metal, iOS graphics APIs
Familiarity with iOS 10 and newer OS versions
A Git code repository technology
Android Developers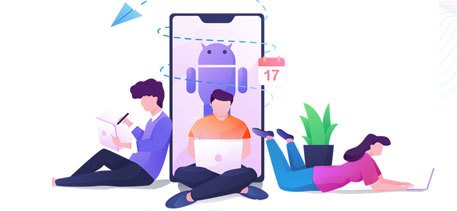 Android app developers make use of Kotlin, Java, and C++ to develop native apps. Their basic development environment for Android devices is Android Studio. Android OS is determined as the most popular across the globe because there is a huge number of Android devices all over the world. As cost and development time heavily depends on it, it is very necessary for an Android app development team to get what kind of devices are demanded by the customers these days.
Android Developer Skill Set
Strong knowledge of Android SDK, different versions of Android, and how to deal with different screen sizes
Familiarity with RESTful APIs to connect Android applications to back-end services
Strong knowledge of Android UI design principles, patterns, and best practices
Experience with offline storage, threading, and performance tuning
Ability to design applications around natural user interfaces, such as touch
Familiarity with the use of additional sensors, such as gyroscopes and accelerometers
Knowledge of the open-source Android ecosystem and the libraries available for common tasks
Ability to understand business requirements and translate them into technical requirements
Ability to understand and integrate 3rd Party Application
Familiarity with cloud message APIs and push notifications
A knack for benchmarking and optimization
Understanding of Google's Android design principles and interface guidelines
Proficient understanding of code versioning tools, such as Git
Familiarity with continuous integration
The bottom line is, there is nothing much to differentiate between Android and iOS development processes. Teams will have to work as a bunch in order to create one common app for different platforms.
QA Engineers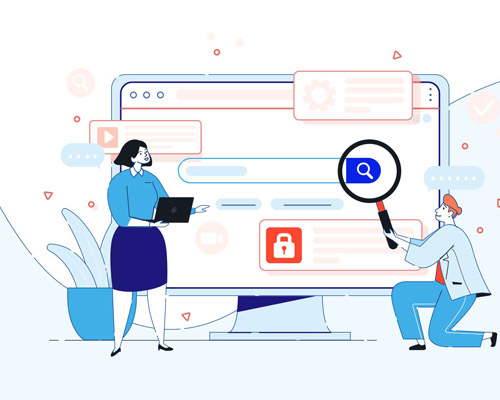 When the first version of the software is developed, it is necessary to test it in order to verify how it is working, if everything is functioning as per thought. Thus when you work on the mobile applications development team do not miss the QA engineers. They would have to make sure the app works exactly the way it was thought of.
The developed app has to go through a different type of testing that is done by the QA specialists as it helps them to find out how the app is functioning under different conditions. If there is any bug in the app, QA specialists will send it back to the developers in order to revise it. Only after QA specialists approve everything, the app will be given a green signal to be released.
Skills Required to Be a Specialist
Test current products and identifying deficiencies
Suggest solutions to identified product problems
Investigate product quality in order to make improvements to achieve better customer satisfaction
Plan, create and manage the overall Quality Planning strategy
Identify quality assurance process bottleneck and suggest actions for improvement
Oversee continuous improvement projects and collect quality data
Identify key KPIs for product quality
Prepare and present reports to Senior Management
Thus the QA team becomes the most important part of the staff needed to create an app.
This is the team till the development process. Once your app is developed and ready to be deployed your mobile app development team needs to be prepared for the post-development process.
Once the mobile application is ready it is deployed to the clients. Deploying the mobile application is also a complicated task and needs to be done in an interesting way. You would need a team that is experienced and trained for the same.
Post-App Development Team Structure
Once the app is developed, next comes the task to promote the app and take care of third-party integration. This is going to take a lot of effort and your mobile app development team would need specialists for the same.
Team Members Required Post App development
Developing the mobile application is quite a complicated task, but what is more complex is the after-the-development process. The sales team needs to make sure that the mobile app is well evaluated according to market needs, the accounts department needs to ensure the employees are paid rightly and the client isn't overcharged and then deploy the app.
It is important that when you are creating a mobile app development team, you consider the roles of the team after the development process.

Sales and Marketing Department
Sales managers are the source a person has to contact if he is interested in developing an app for a particular company. Generally Sales managers make general information regarding the company and technological aspect their developers are brilliant at being provided to its customers. After the total evaluation and estimation of one's mobile app, the sales manager provides a customer with information about the overall cost of app development. If the customer is okay with the overall price of the app, the sales manager passes all connections on to the project manager. As far as a mobile app team is concerned, market strategists are provided with the task of promoting the future product, creating advertising materials, elaborating, and standardizing the strategy for every particular product to make it a hit in the market.
Account Manager
If the responsibility of the requirement process is vested in the hands of a business analyst, then what is the role of an account manager is trusted with the process of project estimation. Since a business analyst has been provided with all the basic requirements, the role of the account manager boils down to calculations. It does not take more than a day to compile an estimation list for the customer.
3rd Party Team
It is very rare for a project to be self-contained which emphasizes the fact that there is no 3rd party dependency. Whether it is an enterprise, source data, architecture, an SDK or we can say internal API, a team handed the task of managing the curtain-raising of the product, the project team has to work with different teams apart from their immediate team. The basic role of a 3rd party team can be said to be that of providing tools required by the team and necessary documentation or extra support needed to build and implement the product in the correct manner.
Also Read: An Ultimate Guide to API Development
The key aspect for as far as the mobile app development team is concerned is that of communication between them and 3rd party. This comes under the role of scrum master and project manager. It is the responsibility of the project manager to ensure that both teams are on the same page and on another hand the role of the scrum master is that of ensuring that the project team is provided with everything they require to complete the task.
So, when you are creating a mobile application development team it is important that they can take care of everything from client interaction to conceptualizing to development to deployment. Also, you would need to be on the foot for the updates and any other maintenance that your client may require.
Since the app development team requires some staff to employ businesses, they choose to outsource their app development process. This makes it quite easier for businesses to make use of experience at an affordable price.
Conclusion
Hiring a mobile app development team full of professionals takes more effort than just finding the person for the exact role. If you go down this lane of hiring mobile app development team roles then you have to handle everything ranging from HR to legal issues. Here, at Octal IT Solution, we go the extra mile in this aspect that is why we are the most sought after. We have a team of expert developers who can look for all the technical requirements and bring an application that is technically sound and highly rewarding. So, just reach to us for world-class mobile app development and be ready to grow better.