No one ever is disheartened by this message. This excitement of having your product delivered to you by the courier service providers is of no comparison. The courier services that started off as a service in the US to deliver small packages and luggage in the 19th and 20th centuries have now grown to be a larger and more credible source for delivering happiness to your doorsteps. Courier Delivery Mobile App Development is worth investing in nowadays. Let's discuss Courier Delivery App Development with cost and key features, required techstack, etc.
The popularity of the services has led to the mushrooming of the demands for courier service app development companies.
The Story!
Overseas Courier Service is known to be the world's first firm to provide courier services. It was established in 1957 by a group of newspaper publishers in Tokyo as a global, to share time-sensitive business applications that make it easier for the service providers and users to access the right information in a limited time.
This was the story of the first international network that was dedicated to overseas air-speeding package shipping.
The Present Day Scenario!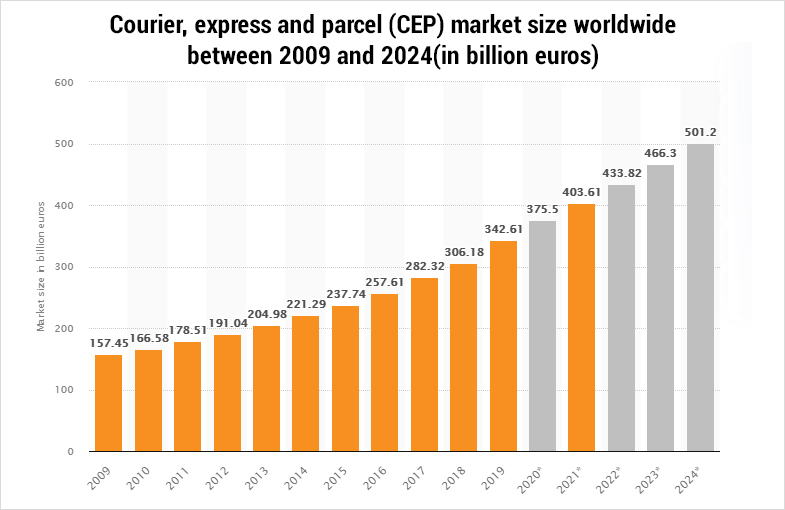 We talked about how everything began, let's further move and see how far we have come.
In 2020, the expected express, courier, and global package delivery market earned more than the estimated value of 375.5 billion euros.
FedEx one of the world's most popular courier service providers generated a revenue of around 69.22 billion dollars in revenue.
With the increased demand and ease of service providing, a lot of local business providers are looking forward to courier delivery app development companies who would help them build a strong presence in the market with world-class services.
Without much ado, let's see how to create a delivery service app that earns great revenue in a short time.
Building a Courier Service Application by Degrees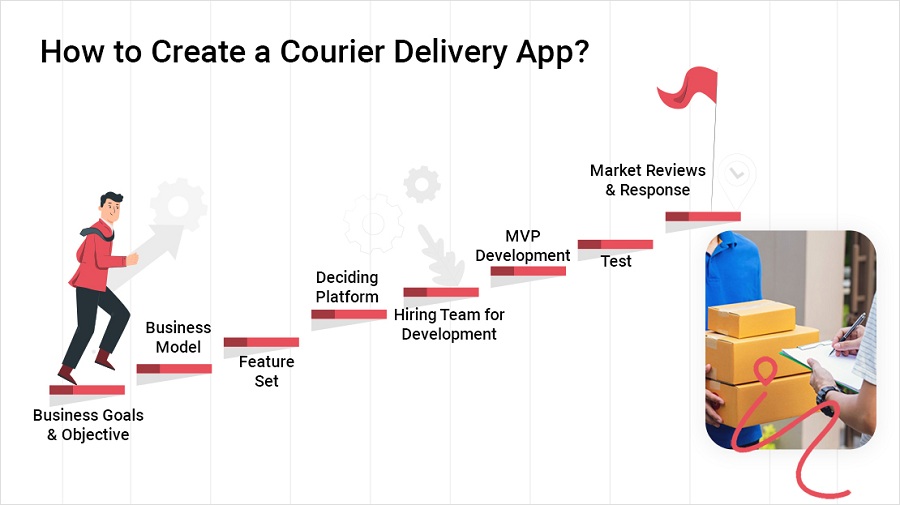 When it comes to building a strong courier delivery application, there are a lot of things that one needs to consider. Unlike other applications, the problem-solution approach won't work here. We would need a wider understanding and research to make an app that generates profits.
Our courier delivery app development team understands the idea behind on-demand app development and thus, connects with your business needs immediately.
When you decide to build an application for yourself, the most important points to consider are:
Business Goals and Objectives
Business Model
Feature Set
Deciding Platform
Hiring Team for Development
MVP Development
Test
Market Reviews and Response
Define Business Goals and Objectives
When you decide to enter the market with a well-defined business application, you need to be sure of the fact that your business productivity is not hampered.
Read Also: How to Start a Pickup and Delivery Service Business
Choose the Right Business Model
If you have an idea of how your business model would look then just share it with the experts and they would bring on the screen the most innovative and engaging solution that would help you earn a strong clientele.
Choosing the right business model is significant as this would define what profit margin you can have and what you can expect from your business. There are different kinds of courier delivery apps in the market. A few delivery things, some are gift delivery, some deliver postcards, etc. Just a little study of the market, then decide what would you like to deliver to them.
These services gain popularity and reflect in revenue as the businesses grow. There are a lot more things that need to be taken care of:
Ensure where would your business is operational.
What delivery services do you want to offer?
Would there be an average package size, weight, and packaging type that you'll entertain?

Popular Business Models in Courier Delivery Mobile App Development
There are some popular business models are there in Courier Delivery Mobile App Development. Let's discuss some of them.
Package Tracking Business Model
This is the kind of business model where we use real-time tools to build delivery courier tracking applications. These applications are used to reflect where your customer's courier is basically and when it would reach them.
The basic working idea is to collect the information from various courier service providers and then process it.
Also, you can add various packages to a particular idea making it easier for anyone to track their packages in just a few clicks.
Postal Courier Services
If you aren't sure how to start a delivery service app, take lessons from the market experts like FedEx. The service provider offers same-day delivery services that make it easier for people to deliver their important goods to their loved ones in a while. FedEx has been delivering happiness at the doorsteps for a really long and it is evident with their popularity even in third-world countries.
Brand-Based Delivery Services
Amazon delivery, e-Kart Delivery, Myntra Delivery, etc. are a few brands that run their own delivery services. When you decide to build a delivery tracking app for your business, you can keep it specific to your brand.
Uber-Like Delivery App
When it comes to talking about interesting business models, Uber gets a top priority. It is not just the service but the way they project it. Uber Drop has become one of the best ways to engage in the delivery process. The service has gained popularity due to the lockdown and has made it clearly evident that things are meant to work in a way that resolves the problems of the end users.
These are the fantastic four business models that you can use in your courier delivery application that would make it easier for you to build strong ground. Let your software development team understand what you want from your business application and how it would help you earn better.
Identify the Feature Set
It is important that the feature set of your courier service application is designed in a way that reflects the uniqueness of your business. It is important that the features of your application are designed in a way that is interesting and innovative.
Our courier app development service providers make it a point to the features that are associated with your business goals.
Basic Features to Make a Strong Courier Delivery System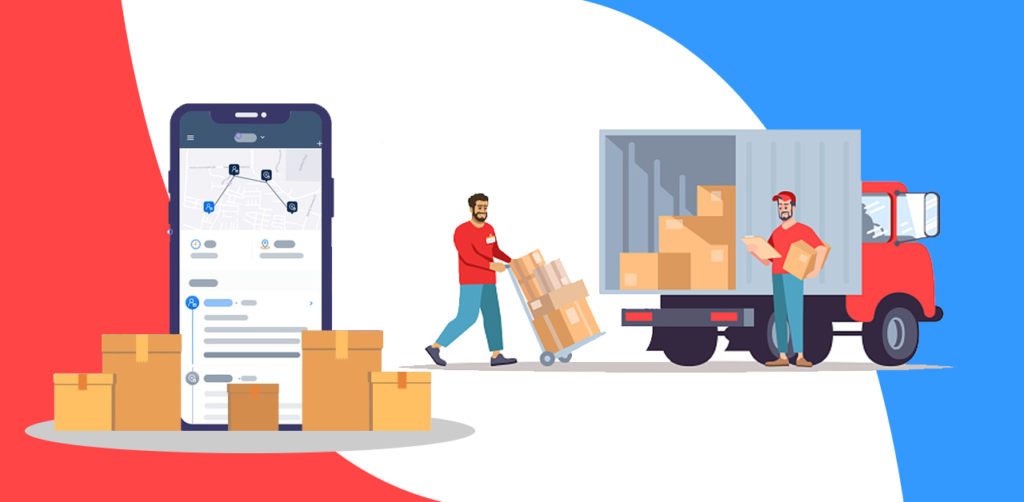 All Deliveries at One Place
Make sure you choose the right business model to move forward with your solution. It is important that the product you take to the market is exciting and has various loopholes that can be covered.
We make it a point that the solution that is delivered to you serves all kinds of delivery dashboards.
Auto Pickup and Delivery Dispatch
Let your business offer your end-users the facility of auto pickup and delivery dispatch. It is important that the solutions that are delivered to you hold clear command of auto pickup, dispatch, and delivery.
It is important that the solutions that you are working on are interesting and innovative.
Read Also: Logistics and Transportation Mobile App Development Cost & Features
Real-Time Tracking of Agent
When it comes to building an app that needs an agent who would carry the products or needs to travel, it is important to have a real-time tracking system. Most of us enjoy the time when our food is on its way or our favorite item is to be delivered.
We make sure to integrate GPS with your mobile application which lets you track the product and the delivery agent in real time.
Analytics for the Performance
Performance analytics is defined in a way that it earns the best results in no time. If you are looking forward to creating an application that gains popularity then a keen eye on its performance is all you need.
If the analytics for your courier delivery service application is good then the chances are your audience is loving your efforts.
If the analytics do not reflect in good numbers then you surely have to put in a little more effort for better results.
Integrate Existing System
If instead of building a new application, you want to integrate your old delivery system with the application then we can help you. We would also upscale your product to ensure that it works well in the changing times.
With expertise in technologies like Artificial Intelligence, Machine Learning, Big Data, Enterprise Mobility, etc. we make it a point that your product is in line with the latest happenings of the tech world.
Ratings and Reviews
When talking about ratings and reviews it becomes quite complicated for the people to deliver solutions that are in line with the last requirement. Also, it would be easier to see what modifications are required and what is selling. Over the years you would understand how well things start functioning for you.
These are a few important features that you wanted to integrate with your website. Other than these there are a few more things that you would need to take care of.
The application at any moment in time would be operational for three different groups of people.
End-User
Delivery Agent
Admin
Let's now explore the feature set focused on each of these groups.
Read Also: How to Develop a Property-house Valuation Estimator App like Zillow?
Some Exemplary Features to be Include in Courier Delivery Mobile App Development (End Users)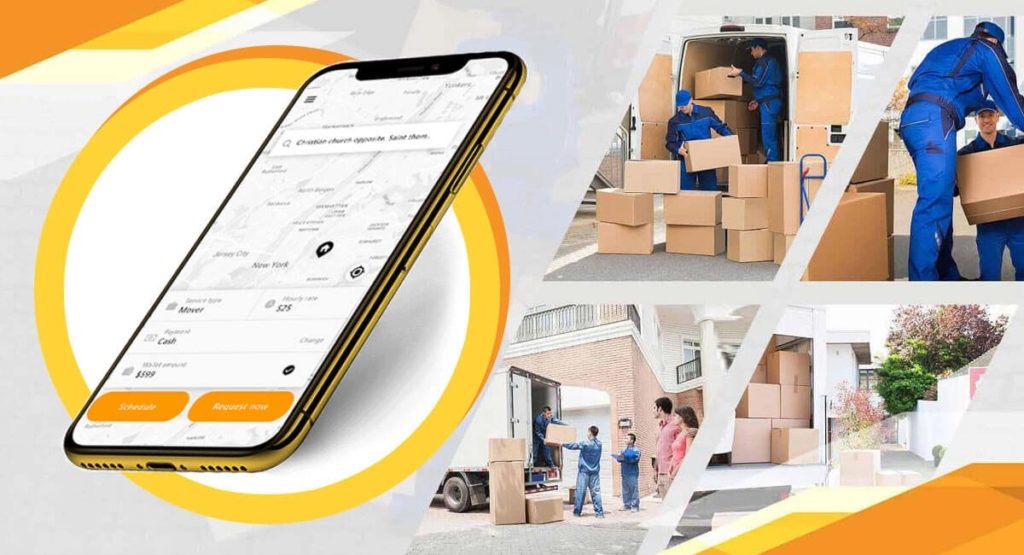 Registration/Login
Unlike any application, the delivery tracking app services would want you to create an account on their portfolio before you start looking for your product. This would make it really difficult for the delivery agent if there is no registered member whose address went missing. Let's some important features that should we keep in mind when we are going for the Courier Delivery Mobile App Development process.
Search
Let your users find the right services at once. Let them see what services they want and how the complete process would take place. A picturesque reflection would make it easier for them to decide what services they want to avail themselves of and how things could be taken forward.
Type of Parcel
It is significant to define the kind of parcel the user wants to send. It could be a small, light package or a big heavy one or just a few letters anything. It is important to define the kind of parcel to calculate the final cost of sending and delivering the product.
Confirmation and Payment
The obvious details that you would require to dispatch a parcel would be the receiver's address. Once the user defines both the shipping and the billing address the next step is to confirm the order.
With in-built payment applications, it becomes easier for people to deliver solutions that can let your users have the best experience of placing an order.
Track the Order
It is important that the applications that aim at delivering orders have real-time tracking where the users can track what is up and when things will be delivered. From time to time the user would know where their product would be and when it would be delivered.
My Deliveries
To record all the deliveries we make sure to have an alternative for past orders. This became quite clear that the deliveries and the orders were delivered at the right time.
Read Also: On-Demand Medical Marijuana/Cannabis Delivery App Development:
These are the basic features that would make it easier for your users to connect with your application and gain popularity among your audience.
Outstanding Features for Your Courier Delivery Mobile Application for Delivery Personal
Create a Profile
For the delivery personnel, it is significant to create a profile that functions as a book log. Here the driver can see his past deliveries and the future deliveries.
Delivery Information
It is important to update the delivery information of the new parcels. With the least human intervention, it becomes easier for people to get updates on your products and earn the best results.
Delivery History
This feature is integrated to ensure that the delivery history is clearly available to the driver so that they can make payroll and also track the amount that they can expect by the end of the month.
App Built-in Wallets
With built-in wallets, it becomes easier for the delivery agents to earn the best amount. They can receive and send money through these wallets and by the end of the month, they can easily generate the amount that they would earn.
The driver is the service provider here. It is crucial for the courier delivery development service team to deliver solutions that would make it easier for them to track their work and funds.
Interesting Features of Courier Delivery Mobile App for the Administration of the Application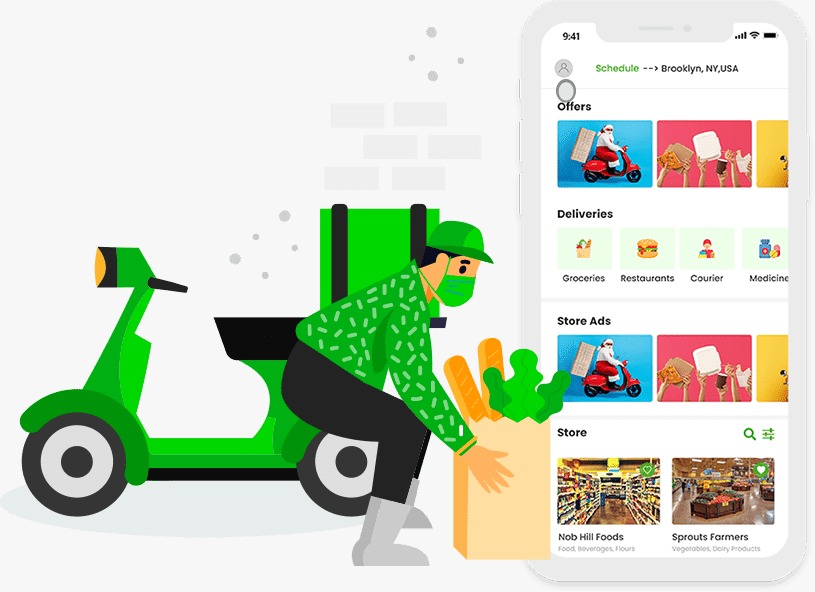 The admin can be taken as the owner of the application. It is important to consider that the application needs someone who would look into the whereabouts in all terms.
Dashboard
The dashboard built with the organization helps you earn the best results in a limited time. You can check what and who works well for you and what falls for you. You can track the delivery persons and the customers and keep track of what works well and further enhance it.
Read Also: Inventory Management Software Development Cost and Features
Notification Panel
The panel would update you on the things that work well for your business. It is important to take care of the details that are to be mentioned. What project leaves when and see how well things work for you?
These are the two important features that you would need for your owners. If you are looking forward to creating your own delivery app then just make sure that things fall in place.
Decide the Right Platform
If you are looking forward to a new application then you need to share on what platform you want to build your application. You can choose to build three kinds of applications:
The react- native mobile application would cost you a little less around $10k to $30k and for the hybrid application that works on both platforms, you may need to pay a little higher. Other than this the feature set would also define the cost of development of courier delivery applications.
How to Develop Courier Delivery App for Your Next Project
Hire a Team for Development
When you decide to develop an application for your business then you would have to hire an on-demand mobile app development team that would earn you the best results. When you hire the development team make sure you choose a team that works from Southeast Asia as their charges for mobile app development are really less when compared to the US and the UK. Here are courier delivery app development cost below.
Development Charges per Hour in the US: $150
Development Charges per Hour UK: $110
Development Charges per Hour South-East Asia: $60
Check MVP Development
As the development process begins, just make sure that the development is done the right way. We make sure to keep you in the loop so that you can connect with us and see the development of the application. With the agile courier service app development process we ensure to deliver you solutions that can help you build a strong presence.
Test Your Application
Once the development process is accomplished the application is put to test where experts ensure to cross-verify all the functionalities and the features of the application that are required. If these features and functions work well and you are satisfied with the solution, then only we take the application further and deploy it.
If you need any modifications be sure to share that with us so that we can help you through.
Market Your Product
Let your delivery tracking application be in the real market and see what your users have to say. Make sure that no complaints are left unheard. If the users feel their talks are heard they connect with the brand better. 3
Related Blog: How to Build an App for Handyman in 2024?
Conclusion:
Once you have decided to enter the market with a strong application and understand the loopholes in your competition you can surely be in a win-win condition. Our experts make it a point to share with you all the solutions that can help you build a strong presence in the market and earn great profits in no time.
We have been delivering top-notch applications that stand the test of time in case of revolutions. Although the time is tough and the business is going down, delivery app services are one of the few businesses that have a silver lining in the clouds. Our Mobile App development team has been working in the field for years and they understand the loopholes and pitfalls of such solutions.
Over the years we have made it a point to help our clients build a presence in the market that makes them earn profits and great results. If you are looking forward to standing in the market with a product that earns no less than high ROIs then you are at the right point.
Discuss your app idea with us over a cup of coffee and see how we turn your idea into a working reality!
FAQs: