When it comes to marketing your business, there are a plethora of options available these days to get your message across to the customers. The humongous rise in technology has virtually eliminated all the distance between the business and the customers. One important example of such technology is the iBeacon technology. iBeacon technology has risen to prominence in the past few years. Before learning about the amazing and multifarious benefits of iBeacon technology to the business, let us first understand what it actually is.
What is iBeacon Technology
Beacons are small, battery-operated, Bluetooth-enabled wireless devices that can be easily attached to a wall or a counter inside a shop. These intelligent devices sense human presence through their smartphones and then send relevant information, such as discount offers, deals, or other personalized shopping suggestions. This is an amazing technology that helps businesses capitalize on the nearby traffic and convert potential visitors into actual buyers.
iBeacon technology was first introduced in June 2013 by Apple. Ever since, it has created ripples in the retail industry, largely benefitting businesses across various industries. In fact, many marketing analysts are of the view that beacon will play a significant role in bridging the gap between online and offline retail stores, thereby greatly augmenting sales. Now let us have a look at some important stats associated with iBeacon. As per a recent study, it is anticipated that almost 2.5 billion retail businesses will make significant investments into this technology in the next five years. The Beaconstac reveals that about 71% of the retailers can apprehend consumer needs and market demand patterns using beacons.
How iBeacon Technology Works
Beacons are roughly the size of a standard Wi-Fi router and mostly look like mini-sized computers. These small devices form an inherent part of an indoor positioning system that senses the human presence and prompt pre-set actions to offer informational and personalized experiences. It is important to understand that this is a one-way communication, where the retailers can send informative messages to the customers, but the customers cannot respond to the same. These messages are displayed in the form of a notification on the customer's smartphone and can only be viewed through a mobile app, either the brand's own mobile app or a third-party app.
Difference between iBeacon and GPS
Now that you have understood how a beacon works, you must be wondering that it is quite the same as a GPS system. However, there is a significant difference between the two. GPS, Global Positioning System, comprises of three things- satellites, receivers, and a ground station. It is mostly used for navigation on the roads while traveling outside. It is not very suitable for tracking or navigation inside the premises. This is where iBeacon comes in. the amazing technology can benefit the customers by alerting them with new information as well as tracking their movements, particularly indoors.

Advantages of iBeacon Technology
As a firm, you might question the significance of deploying this iBeacon technology. So, here are some of the most prominent benefits of this technology that can help in persuading you. Let's have a look.
Tracking: In order to be successful and ensure growth, you need to gauge the gratification level of your customers. And the iBeacon technology indeed works for the same. Leveraging the beacons, you can gather valuable insights about your customers. As soon as a client walks into your shop, you can offer them relevant information about the latest offers and deals. And all this can be done without arranging for any employees. Additionally, you can track the attendance of your employees and keep a track of their leaves. Also, you can deploy beacons for tracking the time at which your shop experiences maximum footfall.
Automation: This is perhaps the most significant benefit of iBeacons. As a customer enters your store with a mobile with them, the door of the store opens on its own. The technology can also be used as an advertising medium. For instance, as a person walks past a specific checkpoint, he is sent a notification about all the latest products available at your store.
Cost-effectiveness: Beacons are gaining so much popularity primarily because they are extremely cost-effective. They are much more affordable than other technologies, such as NFC. NFC offers a range of 0.20 meters whereas, for iBeacons, the range can go up to 50 meters. Also, the hardware used for beacons is much more affordable and can be installed easily at any place, any time.
Micro Location: Although a GPS system offers the most exact and effective navigation and tracking, it cannot be used inside the premises of a building. On the other hand, iBeacons micro-location geofencing helps in hassle-free navigation even when set up inside a building.
Industries where iBeacon Technology Is Being Used
The global iBeacon market is all set to grow at a CGAR of 200.3% over the period of 2014-2019. Riding on the rising trend, many industries and leading brands are using this technology to offer valuable, interactive and personalized experiences to their customers. Some of the top industries leveraging beacons include:
Retail: This is one of the leading industries in adopting the iBeacon technology. Many leading retail businesses such as Walmart, Macys, Target, etc. have hugely invested in this technology to proffer tailored shopping experiences. In the retail industry, beacons can be used for serving a lot of purposes such as offering loyalty programs, updates on discounts, etc. Moving on, beacons can be used for learning about customer preferences and purchase habits across online and physical stores. Does this help in sending content and promotions to customers that are tailored based on their purchase history and browsing patterns on the store's online page or app.
Hotels and Hospitality: In the hospitality industry, the primary focus is always on customer experience. Consequently, this industry especially stands to gain from the amazing technology. Beacons offer peerless customer experience, which is both personalized and contextual. Beacon-enabled apps at the hotels can deliver numerous advantages including easy navigation, automated check-ins, personalized promotions, keyless entry, a hassle-free guest feedback system and much more. Marriot International, a leading chain of hotels, has installed this technology at 14 properties to propel enhanced customer experience.
Travel: Airports and airlines is another industry that is quickly embracing this impressive technology. Almost all air travelers carry mobile phones with them, which is why all airlines are constantly looking for new ways to engage and connect with their passengers through them. iBeacon technology at the airports helps the passengers in learning about their flight schedules, baggage collection information, etc. In addition, airlines, as well as duty-free shops, can leverage beacons to deliver personalized promotions and loyalty programs. Recently, Virgin Atlantic has started using beacons in London?s Heathrow airport to inform premium passengers about electronic boarding passes and the in-flight entertainment that awaits them.
 Also Read: Things You Need to Know About iBeacon & Its Impact on The Travel Industry
Banking: The application of beacons in the banking industry is also quickly gaining momentum. Offering the optimum channel to combine physical and mobile experiences, beacons are vital to both customers as well as the bank staff. They can be used for effectively communicating wait time updates, product or service videos and personalized offers to the customers. On the other hand, they can be effectively used by the bank staff for viewing branch analytics such as busiest days, etc. as well as other valuable customer insights.
Beacons are also being used for completing mobile payments. Recently, the Danske Bank launched its own beacon-enabled app, known as MobilePay for streamlining mobile transfers. Using the smart app, customers can simply wave their smartphones over a beacon. They will be prompted to enter the PIN and thus, authenticate the payment.
Events: The use of beacons in leading events is also on the rise. May it be prominent sports events such as NBA games, Wimbledon, etc. or technology events such as SXSW, Mobile World Congress, etc. or even music festivals, these beacons can be used for serving a plethora of purposes. From conveying live scores to assisting the attendees in seat finding and ticketing, they offer several opportunities for adding value to these events.
How to integrate iBeacon in Business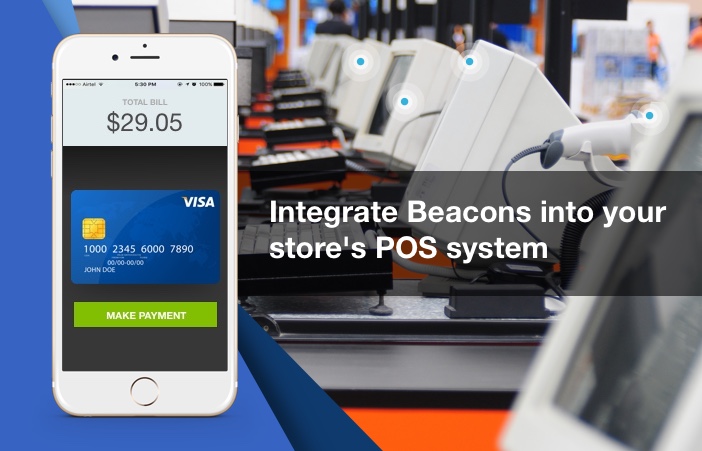 Integrating iBeacon technology into your business is rather simple. You just need simple iBeacon hardware that can be readily attached to the walls of your store or any counter. This hardware should have a battery-enabled Bluetooth connection. In addition to this, you must have an Android or iOS app for your business, which must also be installed on your customer's smartphone. If all this is in place, as soon as a customer enters in the range of your beacon, all the desired functionalities will be made available.
Related Article – Give Boost to the ROI of Your Business using iBeacon Apps
Why is iBeacon Technology So Compelling
IBeacon technology offers several interesting ways for a company to communicate and interact with its users. Amidst all complex tools and technologies, this offers a simple yet innovative way to revolutionize both- business and marketing. Besides, customers can gain from more interactive, engaging and personalized experiences, and retailers can gain profound insights into their customers.
Do You Want To Start Using Beacons for your Local Business
If you are looking to deploy this amazing technology and reach an increased number of shoppers, Octal IT Solution can help. We love to position our clients on the cutting edge of technology, helping their business grow by leaps and bounds.