The online world is today dominated by the users of mobile devices. From nearly 5 billion internet users, more than 90% of them are smartphone users. In this scenario, the demand for mobile app development has grown significantly over the years. There are several types of apps, but nothing beats the usage of social media platforms, like Facebook, Instagram, and Twitter.
The key reason behind the domination of social media apps is the ideas that these companies come up with regularly to entice the users. Video calls, stories, sharing, live sessions, private messaging, etc., are some of the features that keep everyone engaged. One such innovative idea has been driving the market for the last year, and that is a voice-based social media app introduced by Clubhouse.
Since its launch in 2020, the app became trending too soon with features that bring together the talkback radio, conference calling, and house party app. In fact, the social media giants, including Facebook, Twitter, and LinkedIn, are looking to add a similar feature to their apps.
The trend has also encouraged many other businesses and entrepreneurs to develop app like Clubhouse and serve the market demand. If you want to know about the things that go behind such an app or looking for social audio app development, we have got everything covered for you.
What is Clubhouse? How Does It Work?
The Clubhouse is a voice-based social media network app that was launched in the first quarter of 2020 when everybody was stuck in homes due to lockdowns. It took the app only a few months to gain traction in the market and reach new heights. By the end of 2020, Clubhouse had more than 600K active users, which further increased significantly to 2.5 million by February 2021. The revenue graph of the platform also grew at a rapid pace. There are reports that Twitter is looking to acquire Clubhouse for $4 billion.
So, what is so great about this application? How does it work, and how is it different from other social media apps?
Clubhouse, the leading audio social network app, brings together people where they can host, listen to, or become part of conversations. Everything takes place in the app community in the form of rooms. When users open the Clubhouse app, they see several rooms along with the participants in a room. A user can take part in the live voice-based conversations going on in the room. These conversations are related to different topics which the user can join based on his interest.
Why Create an App Like Clubhouse?
There are plenty of reasons to develop an app like Clubhouse. We have shared some of the main reasons here.
Simple and easy to use
One of the best things about an audio social network app like Clubhouse is that these are super simple to use. The UI design is quite simple, with several intuitive features, buttons, and UX. Along with this, the users don't have to show their face and get dressed up to appear in a conversation. Anybody can participate in conversations while doing other work without being worried about the look.
This is the reason an increasing number of smartphone users are installing Clubhouse, making the total count of downloads cross 18 million in April this year. Even celebrities and business leaders like Elon Musk, Kayne West, and Mark Zukerberg adopted the app. In the social networking category on app stores, this app ranks among the top 20 applications.
Low competition
The most significant reason to develop an audio social network app is that this market is less competitive yet. Not many big players have tapped this trend yet. The reputation of Clubhouse and the untapped market are encouraging factors for you to opt for social media app development with voice-based features.
Gain insights
With an app like Clubhouse, you can gain valuable consumer insights, such as the demographics, interests, behaviour, and aspirations of the users. With these insights, you can revamp your business strategy, improve user experience, and reach more targeted users efficiently.
Share knowledge
The last few months have been really difficult for people all around the globe because of the COVID-19 pandemic. With a voice chat app like Clubhouse, you can offer varied opportunities to users. They can learn new things, enhance their skills, and spread their reach. For example, the app can be used to share podcasts, conduct online lectures, and tips and tricks for the relevant niche.
Connect with influencers
There were several factors behind the success of Clubhouse. Along with unique business ideas and value, the app was being used by many top entrepreneurs and celebrities like Elon Musk and Robinhood Markets Vladimir. This brought more users to the app. So, such a mobile app can help people connect easily with influencers, famous personalities, and even celebrities.
Growing demand
The social media app market has been growing fast over the last few years. The use of social media platforms is the most popular thing to do on the internet. With nearly 4 billion social media users globally today, the average time spent per day is 2.5 hours.
By creating an app like Clubhouse, you can become a part of this growing trend and gain traction. Moreover, voice chat apps are a new trend in the market.
Business Model of Voice Chat App like Clubhouse
There are several ways to monetize a voice chat app and generate revenue. We have highlighted the primary factors contributing to the business model.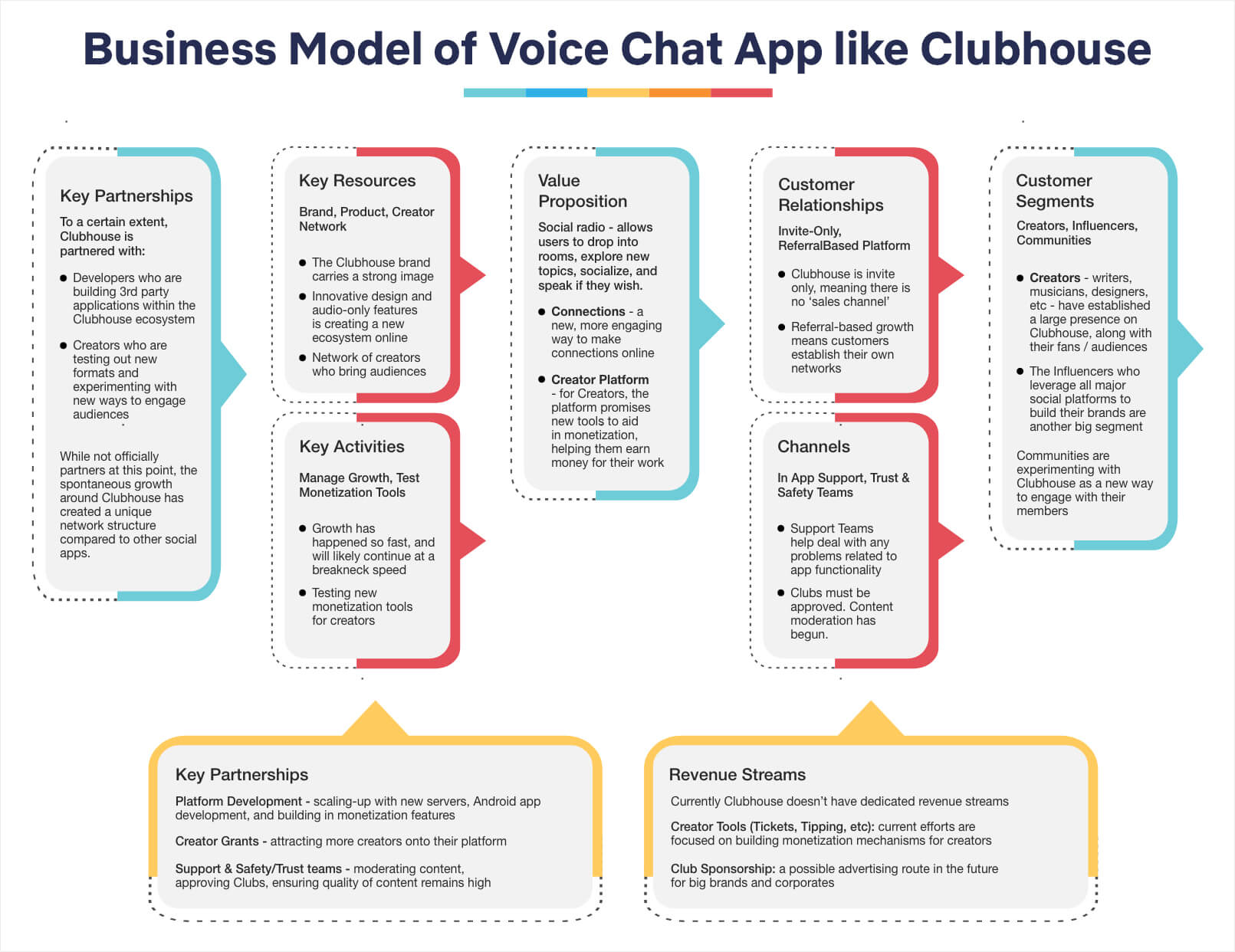 1. Advertising: In-app advertising by third parties is a common way of monetizing a mobile application. You can allow other businesses to show their display ads on the app and charge them on the cost-per-click (CPC) method. With this, you will earn money for every click on the ad made by the app users.
2. Sponsored content: You can allow content creators to host their audio events or share podcasts. Today, podcasts are a trend and preferred by a massive number of audiences. People prefer music apps like Spotify to listen to podcasts. You can charge the content creators to publish their podcasts and other content and find the interested audience.
3. Brand collaborations: The pandemic forced the brands to either cancel their physical events or go virtual. Initially, they hesitated whether people would prefer digital events, but this has become mainstream now. Every event is now happening virtually. For the app, you can build brand partnerships and allow them to host their events. Based on the number of people that can join a room, you can customize the packages.
4. Membership: As brands, influencers, and celebs join your app and share the content or start their rooms or clubs, more people will look to join the rooms. You can keep some rooms premium and ask users to sign up for a subscription or membership to join those rooms. It can bring a big amount of profits and revenue to the app.
5. Business meetings: Many businesses use Clubhouse to host meetings with their internal teams and client chats. By integrating the meetings option, you can offer a way to businesses to conduct meetings at a nominal cost and make it a part of your business model. Moreover, this feature is preferred more by introverts and people who are not confident on camera.
Key Features for Audio Social Media App like Clubhouse
If you are keen to develop app like Clubhouse, the following are the primary features to integrate: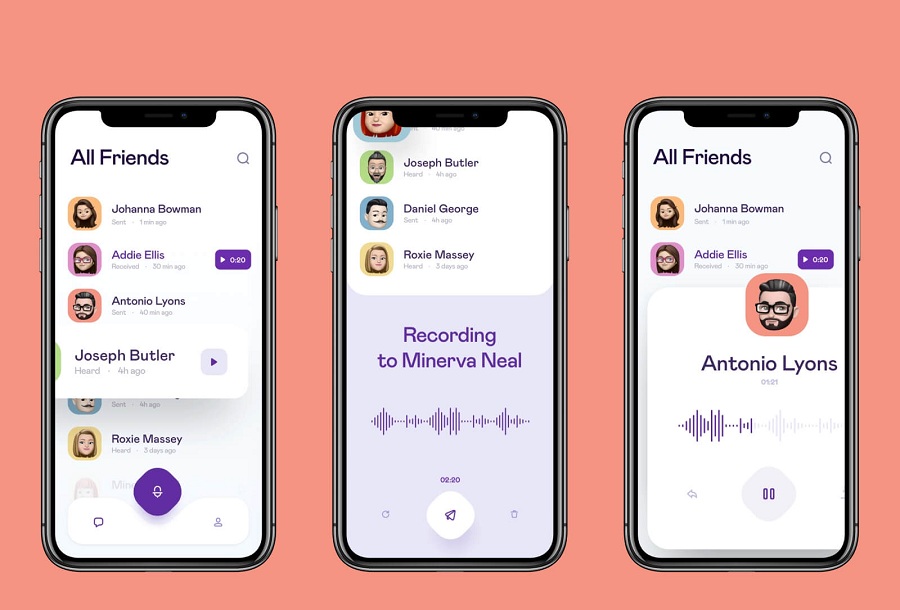 Registration: After downloading the app, users can sign up with their name, email address, and password.
User Profile: Once registered, the users can create and edit their profile, like adding a profile picture and short description. This helps users to know a bit about each other when they have joined a room.
Feed: In the feed, the users see the rooms with ongoing discussions. The feed shows the name of the room along with the number of members and their names.
Rooms: All the audio conversations will happen in a room. Users can browse rooms, take part in the conversations within the room. Moreover, the users can create new rooms to start a conversation and invite members to participate.
Create a new room: There should be a feature for users to create a room of their own to host a conversation and invite others to join the room.
Leave button: If users want to exit or leave the room, they can do so by clicking the Leave or Exit button.
Search: This is an essential feature that improves the user experience and makes things more convenient. Using it, people can search their preferred rooms based on interests or topics and join a room quickly.
Groups: You can have a group feature in the app where users can participate and form a community. New users can join the relevant groups, interact with them with voice chats, add new members, and start a discussion on topics of their niche or interest.
Activity: This feature will show the users a brief history of the activities they have done in the app, such as the name of the rooms they participated in, history of the account, actions in groups, etc.
Upcoming discussions: You must integrate an upcoming discussions feature showing the topic of discussion, schedule, speakers, duration, as well as a brief introduction about the conversation. This helps in bringing more users to a room and helps them understand the intent of the conversation.
Reminders: For the upcoming discussions or conversations, you can allow users to set reminders by clicking on a bell icon. When the conversation starts, the users get a notification about it.
Push notifications: This feature helps you to send notifications to the users to let them know about upcoming conversations in rooms, scheduled events, etc. It is a handy feature to improve user engagement.
Moderation: The host of a room should have the feature for moderation. For instance, some users may use inappropriate language or abusive words. The host can remove such users from the room or report their account, the way it happens in a great video conferencing app.
Crosstalking: In the room, the users should have the option to speak. Because it is about conversations. For this, an option like raising the hand before unmuting must be there so that the conversation doesn't become similar to a fish market.
Payment gateway: Since you will be monetizing the app in multiple ways like membership plans, and sponsored content, it makes sense to integrate a payment gateway. Users can pay for the service and utilize things the way they want.
Invitation: When users create a new room, allow them to invite their friends to the room. This can be done quickly by enabling contact synchronization.
High-quality audio: Since the app is all about audio chats, you must ensure that the voice and audio quality is high. Users should not struggle to understand what the speaker is saying.
Settings: The settings feature is for users to choose their preferred language, app theme, speaker and mic settings, etc.
Polls: During a conversation or conference, you can allow the host or some users to conduct polls and surveys. This helps people to express their views.
How to Develop an Audio Social Media App?
For social media app development, you should follow the steps mentioned below: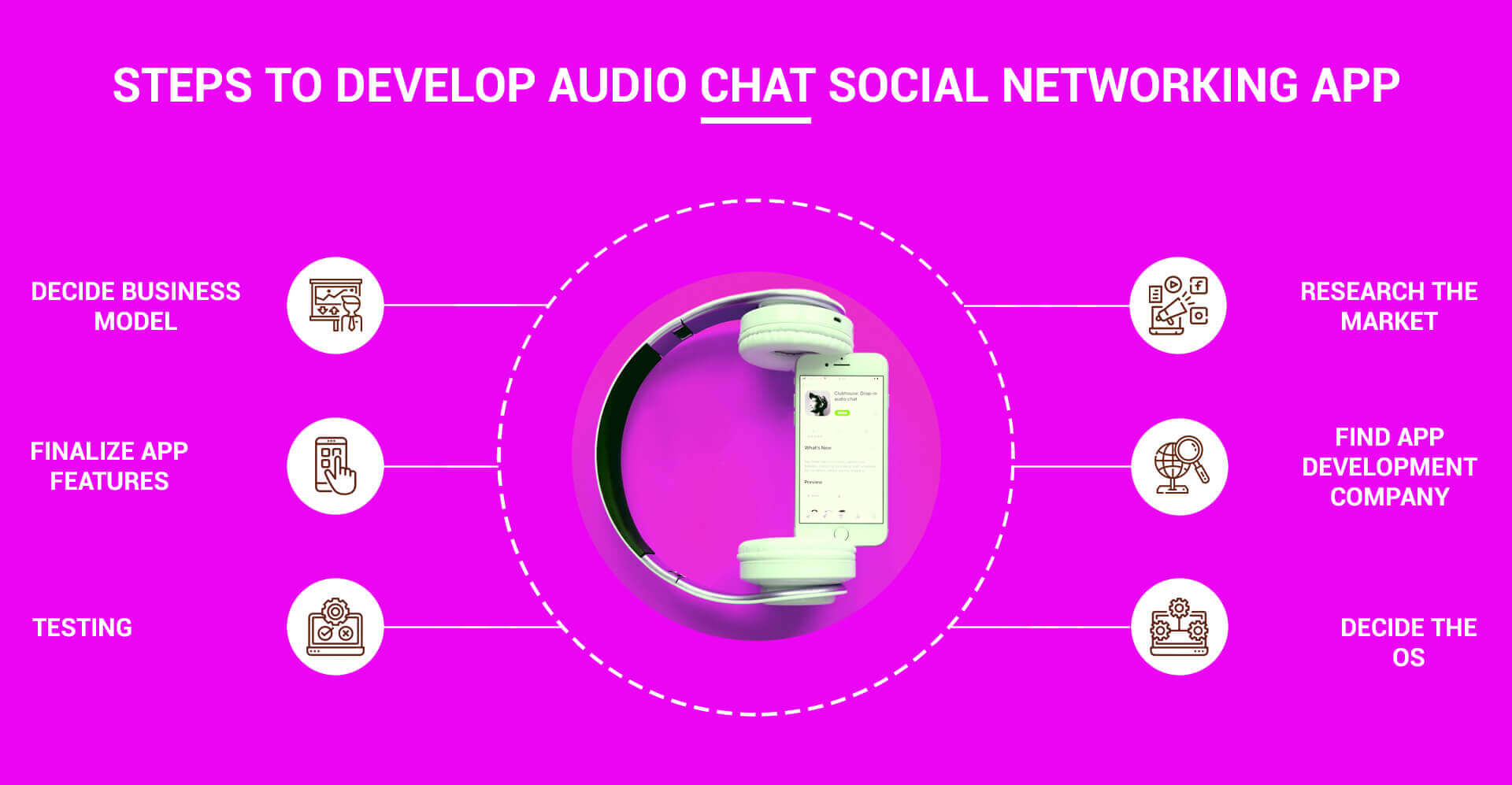 1. Research the market
The implementation of every successful business idea starts with thorough research of the market. You want to serve the users in the best possible way and make an impact. Before doing this, you have to study your target audience. By conducting proper research, you can understand what users are looking for in a voice chat app design, their expectations, existing big players in the market, the features they have, etc. It will help you craft the right strategy for your business.
2. Select business model
As mentioned above, there are several ways to monetize your app, like advertising, paid promotions, sponsored content, memberships, etc. It is not necessary for you to go with all these ways. You can choose your business model that you think will work the best for your target audience.
3. Finalize features
We have listed all the features that you can integrate into your voice chat app. However, it is not necessary to have all these features right from scratch. Initially, you can go with the essential features, and then add more features as per the need and demand.
Decide all the features you want to have in your app, ensuring that the user experience remains a priority. Create a list of some features that can serve your users in the best manner. You can also include some features related to UI/UX design.
4. Decide the OS
You can choose whether to build the app for Android and iOS. These are the major operating systems all around the world. Based on your market research, you can decide whether to get the development for Android, iOS, or both. Even Clubhouse had started with an iOS app only, then extended it with Android app development.
So, if the majority of your users prefer Android, you are better with an Android app. As the app grows and you target more regions, you can choose the other OS as well.
5. Find app development company
The next step is to find an app development company that can develop a reliable and fully functional app for you and meet your expectations. While doing it, you must check whether the app development team is experienced and skilled in voice chat app development or social media app development.

Once you finalize the development firm, share your expectations with them, like features you want in the application, functionalities, UI/UX design, etc. Moreover, it is better to let them handle the app testing and UI/UX design. Once you hand over the project, have a discussion on the time required to develop it ultimately.
6. Testing
This is the final stage in app development. The experienced team of testers will find the critical flaws and bugs in the app and fix them before deployment. This is crucial because you wouldn't like your users to have a poor experience because of the flaws that remain during development.
Cost of Developing Voice Chat App like Clubhouse
The final question is how much does it cost to develop a voice chat app like Clubhouse? Well, it depends on a number of crucial factors. These factors include the expertise and region of the app development company, operating systems, tech stack, UI/UX design, features, as well as app maintenance after deployment.
On average, the cost of voice social media app development will be somewhere between $25,000 to $60,000.
Wrapping Up:
The introduction of Clubhouse had caused havoc in the app market within a short period. Many big investors today want to invest in the app. The voice chat app is only growing in the number of users and annual revenue. Such apps are absolutely in demand today. By investing in a voice chat app like Clubhouse, you can make an impact and bring a profitable business idea to action.
Have any other questions or doubts related to app development? Connect with our experts or write in the comments below.