Every single year, Google Play Store and Apple App Store get more than 1.5 million new apps and the total number of apps is going to cross the 5 million mark by 2020.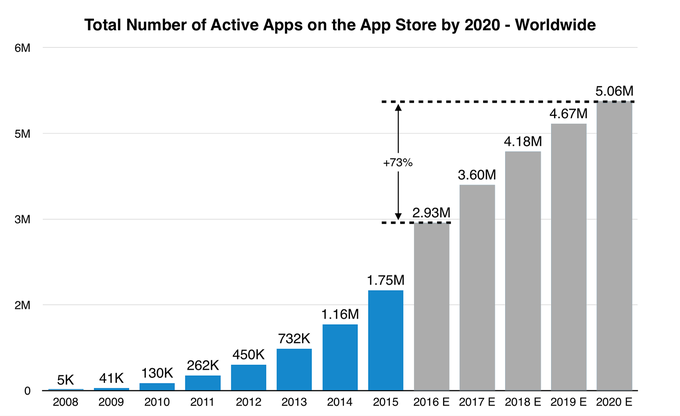 But how many of them actually make it big and get millions of downloads. The percentage of successful apps is drastically low. This is because people know how to create an app and they know how to submit the app to the app store. But they hardly know the steps behind these two activities.
I have seen people making a bunch of mistakes that result in their app landing in the trash bin. You have spent hundreds of hours in finding a great app idea and you have spent thousands of dollars to build your app. Now, if you really want to get the returns on your investments, you need to avoid some mistakes.
Here are Top-10 mistakes that you must avoid to ensure your app gets the treatment you desire
1.) No Pre-launch Plan
No one can build a perfect app in the first attempt. Even after a comprehensive level of testing and bug-fixing, there will remain some errors that you can't spot. Let your users do this for you. Allow your users to use your app before it's actually launched. It does not only let you fix the possible bugs before release but also spread valuable words about your app. Google Play Store allows you to list your app under the "Early Access" section, where you allow your users to install your try the app before it actually makes to the Play Store.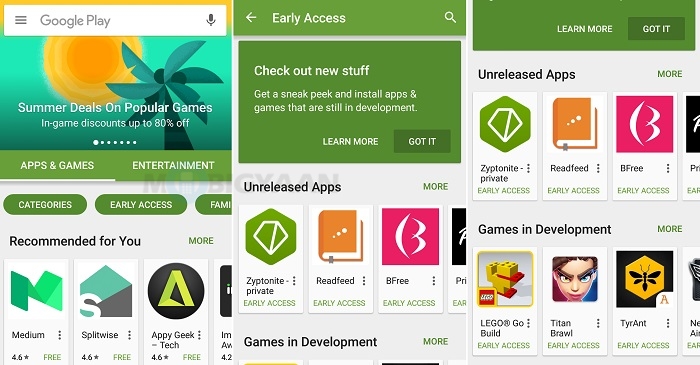 With this feature, you may also estimate the success of your app. The apps in Early Access are generally not liked by users too much, still, it will give you an idea of what changes you should make, what bugs to fix and what new to try.
2.) Not Conducting Market Research
Market Research can be segmented in a lot of ways, but the most important is understanding your users' requirements. If you build what millions of people need, your app will be successful. However, the easiest method of doing this is by conducting category research.
Games, Business apps, education apps and lifestyle apps are most popular among users.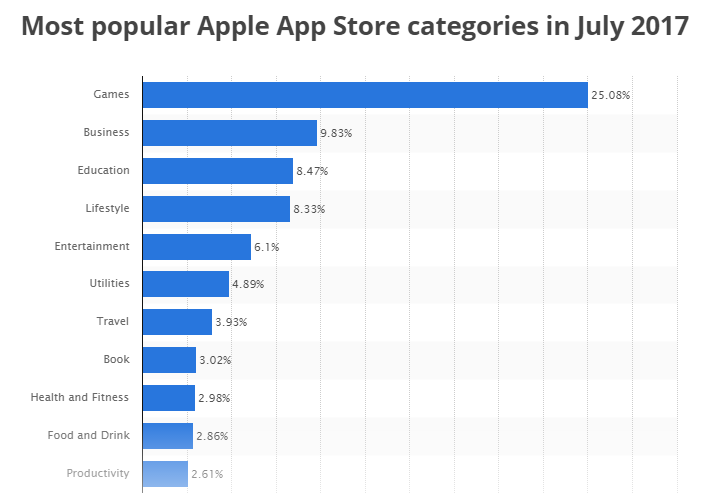 It's good to go against the conventional approach but it's also very risky. If you want to play on the safe side, deliver what people already like. Out there, in the flood of so many apps, some gain popularity while others fail. The reason being they are unable to deliver the focused requirements and lacks consistency. So, it is mandatory to graph users' requirements, the solutions they are using or searching and the community that you will target. It will make your app development more clarified and simplified.
3.) Ignoring User Reviews
Attention is the major thing that every user tends to seek, hence value your user evaluations and feedbacks in order to make them feel connected.
Users don't lie. So if you see lots of negative reviews about your app, it's time to act upon.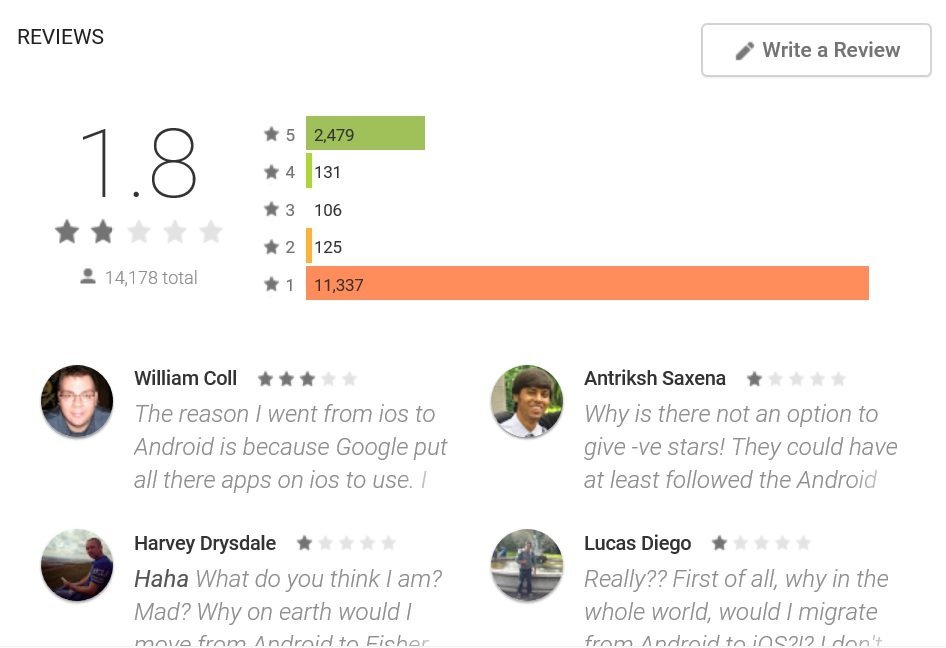 Reply them for their every negative or positive feedback, and implement their suggestions. Most of the app developers think that the rating should be considered only when the users have installed or downloaded your app. Well, this is wrong. You should give the priority to the user ratings and reviews prior to the launching of the app since it encourages the users to download your app.
4.) Not making ASO a Priority
Just like SEO is required for the success of your website, App Store Optimization is required to increase the app visibility on the app store. Most of the developers and business owners don't consider it an important step. App Store Optimization is an endless process. However, you must make sure to tick the basics before even launching your app. It starts with giving your app a name and continues till your app go viral.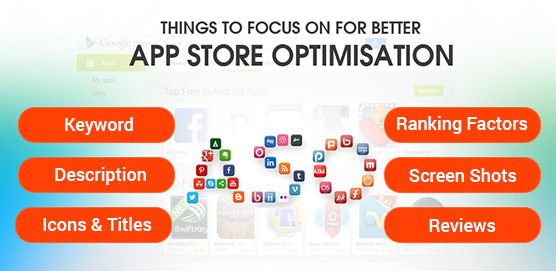 In case you have processed for ASO already, it becomes quite easy for users to reach your app with the help of a relevant keyword. Hence, implementing the right ASO strategies can help you to capture high traffic in the long run. If used properly, App Store Optimization may lead to your app getting featured in the app stores.
5.) No Creativity
It is very important to make your app sound on the basis of functionality, designs, and creativity. Users pay a lot of attention to it and it impacts your app reputation as well. Your app logo must be sound enough to speak about the features of your app.

Hence, selecting the right color combinations with suitable background images must be given a priority. Meanwhile, you can also opt for videos or screenshots to make your app more attractive.
6.) Avoiding Beta Testing
Beta testing is a must for identifying bugs and also helps you to gather user feedback. It allows you to accumulate your users and make them aware of your product. If you look into all the successful apps, you will find that most of them have released a beta version before the actual version came to the market.

Thus pre-launch testing makes your product functioning smooth and clutter-free. Before the launching of the actual app version, it publicizes your app through mouth marketing and helps in conserving user base in advance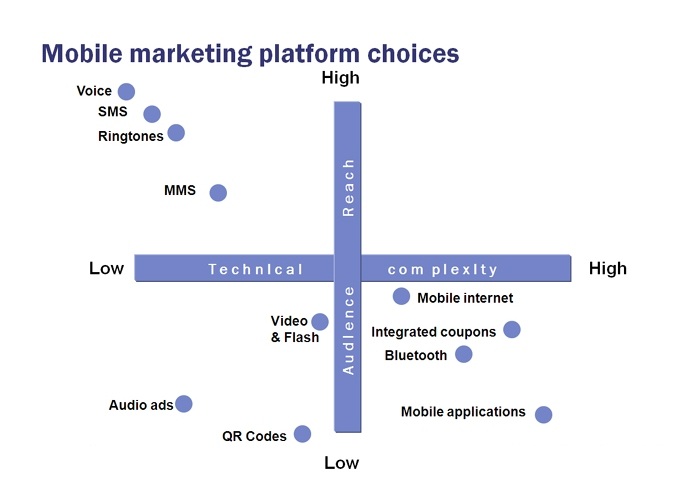 7.) Poor Marketing Plan
Well, the question that arises here is how to market your app effectively can be done by implementing correct strategies for referral campaigns and through the other existing social media platforms. There are tons of places where you can promote your app. Most of these are free to use.
Adding suitable viral elements can elevate your app reputation and at the same time can help it acquire a large traffic base. Thus, integrating the features that can attract the users will without a doubt motivate them to download your app.
8.) Being Scrooge with Advertisement
The role of paid marketing and content marketing cannot be missed here. It is seen that the developers or the business houses often miss upon the ideation of publicizing the app on platforms like Facebook, Twitter, Instagram, YouTube, etc. Promoting your app via the aforementioned strategies can make your app publishing successful, as you will be already conserved with a large user base.
9.) Ignoring Discovery Platforms
Discovery platforms such as PreApps help you in a lot of ways. If you visit their website, you will find complete heaven for developers and app users.

If you are not sure what type of app to build, the platform gives you unique & effective app ideas.
You may list your app for free, and you will get the valuable exposure through their unique category called Coming Out This Week. If you can manage to appear in the first-6 suggestions, there is no stopping for your app to go viral.

These platforms are known to be the fastest medium for reaching out to your target audiences. Discovery platforms display all your app-related information, functionalities, offers you are providing during the app download and more.
10.) The user at the Last
This is because the users are the bottom line of every business, including mobile apps. They need to sit at the top of everything.
Your app should be embedded with an interactive UI for executing all the functions in a flawless manner. Your mobile app must be such that it should allow the user to perform any of the tasks with a limited number of clicks. Developing a user-centric app, driven by quality and innovation is always supported by your clientele. Hence, make it embellished, secured, functional with a beautiful display, so as to make your app stand out of the crowd.
Summary
App development is undeniably an adroit task, but launching an app at the same time also demands loads of hard work and research. Hence implementing the right marketing and ASO strategies combining with all the social media platforms can make your app a hit in the current marketplace.