In today's time when everything has gone online, why must the necessities lag behind? Medicines are among the essential items that everyone requires at some point. Buying these medicines from a physical store may entail standing in long queues or the inability to procure the needed item at the right time. But with an online pharmacy or medicine delivery service, you can benefit from efficient and timely deliveries of all medications right at your doorstep.

In this article, we will talk about how Medicine Delivery App Development can help you boost your medicine business. We will also look at the entire process related to telemedicine app development as well as evaluate the cost involved.
What is Online Medicine Delivery App?
Online pharmacies or medicine delivery apps have proved to be game-changer in the world of medicines. These apps allow customers to dodge the effort of visiting a brick-and-mortar drugstore and instead, get the right medicines delivered to their doorstep.
With these apps, the customers can browse through the various medications available for each ailment and purchase the one that best suits their needs. With mobile wallets and other online payment gateways, they can even make instant payments to the online drugstore.
How Does Medicine Delivery App Work?
With medicine delivery apps, consumers can order medicines online and get the medications delivered to them in the shortest possible time. But how do these apps really work? Well, let's find out.
The users can download the app from the App Store and register. To successfully register, you will have to input details such as your email address, contact number, and a unique password.
Once the registration is complete, you can create a profile with all the basic information such as your name, address, contact details, payment information, etc. Additionally, you must mention the details of any medication you are taking on a daily basis. You can upload your prescriptions online for a medical expert to view them.
You can connect with expert physicians via these apps. Once they prescribe a medication, you can order medicine online.
Add the needed medications to your cart. Choose your preferred payment method to authenticate the payments and get the medicines delivered to your doorstep.
Moving on, the best online medicine delivery apps also allow users to get in touch with an experienced doctor before ordering any medications. Additionally, these medicine delivery apps come with an online map feature to locate the nearest pharmacy and get the delivery at the earliest.
High Demand for Medicines Delivery Apps Post Covid-19
During the Covid-19 pandemic, the online pharmacy business witnessed significant growth, especially in developing nations such as India. As people across the country were forced to stay indoors and restrict their movement as much as possible, they became acquainted with a new way of life – online purchasing. And this also boosted the adoption of online mail-order pharmacy stores.
With strict restrictions in place, people could not get out of their houses to get medicines. Also, physical medical stores dealt with the problem of shortage of medical supplies as people hoarded the shops for sanitizers and masks. To counteract these issues, people began turning to online medicine home delivery apps that allowed them to check the availability of each medicine and have it delivered to them at their doorstep.
Those scared to step outside the house during the challenging pandemic times found it a great relief to make contactless orders for medicines and get them at the earliest. Soon, the trend grew and people became much more inclined toward online pharmacy delivery services. And this marked an explosion in the availability of the best online pharmacy apps.
Why Invest in Medicine Delivery Service – Industry size and Stats
Ease of purchasing, high-quality services, increased accessibility to the Internet, and availability of a vast range of medications has led to a massive shift in consumer preference towards online pharmacies. Furthermore, a significant rise in the number of smartphone users is further impelling this cosmic growth of medicine delivery services.
Let's take a look at some noteworthy statistics of the industry.
A Glimpse of Few IT Solutions in the Pharmaceutical Industry
Other than online medicine delivery app development there are a lot more ways in which technology is transforming the healthcare industry. The mobile app development company shares here various solutions that technology provides.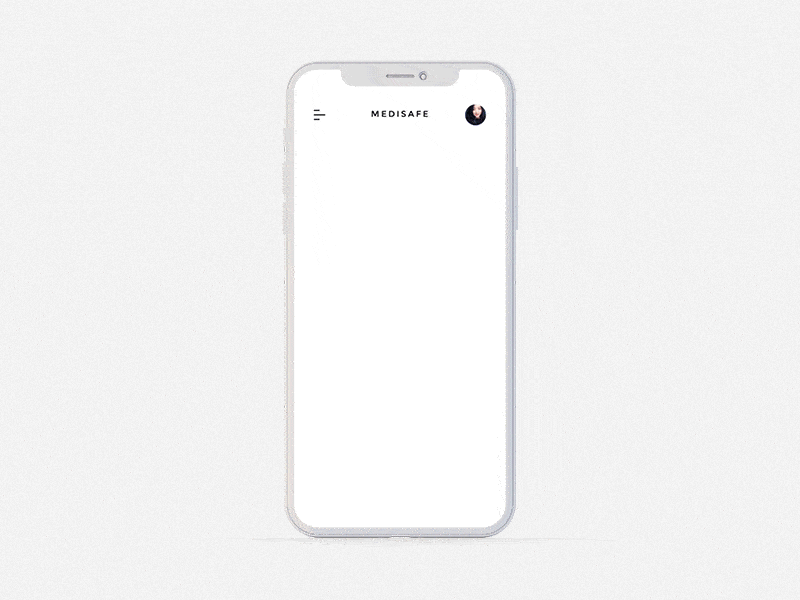 Technology has played a crucial role in the healthcare sector ever since the beginning. It is amazing to see how everything is clearly reflected and guided by technology. If you think you are one of those who can make use of the technology to its best then you are at the right place.
Pharmaceutical CRM Software: Customer Relationship Management software for pharma business is a vital unit. With such solutions, it becomes quite easier for business owners to track how customers are responding to the solutions and what can be done to enhance the business.
Online Medicines Delivery Mobile App: With medicines being available at your doorstep, the online online medicine app has seen great popularity in the market.
eCommerce Web Portals: When it comes to selling medicines online, an e-commerce web portal would be required. It has become quite easy for people as pharmaceutical businesses now choose to develop medicine delivery apps like 1mg.
Supply chain Management: Any pharmacy app development company would deliver a highly effective app only if the Supply chain management software works well.
Inventory Management Software: You can surely shake off the stress to manage your inventory manually with inventory management software integrated with your online medicine delivery app.
POS Software: Develop an online pharmacy app with POS software integrated for extended payment options and happy clients.
MR Reporting Software: The medicines delivery app development team associated with us ensures to integrate reporting software so that you can manage your resources and staff easily.
Sales & Distribution Software: When you intend to develop an app for delivering medicine like CVS Pharmacy or 1MG, you can easily track the sales and distribution and its popularity.
Who thought technology was evolving in the healthcare sector in such a great way. The healthcare sector has extended its functioning with technology and its efficiency has only seen an upward graph.
The feature list that any online pharmacy app developer in India and the USA offers is quite relevant and has the best results as they enter the market.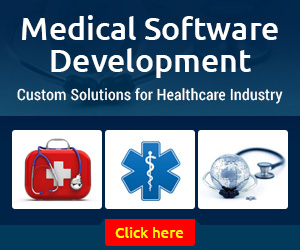 How Does A Medicine Delivery App Make Money – App Monetization
1. Commissions
This is a popular monetization strategy used by nearly all app-based medicine delivery services. With this strategy, the app owner can team up with pharmaceutical companies, allowing them to sell their products to buyers at predetermined commission rates. A percentage of commission can be set based on the size of the order or the number of sales made on a daily basis. This also provides customers with a variety of options and allows them to compare prices with multiple stores to get the best deal.
2. Advertisement
Another effective method of app monetization for a pharmacy delivery app is advertising. They can offer advertisement space on the app to partners such as pharmaceutical firms, insurance companies, hospitals, and others to generate revenue and acquire new users through targeted and relevant advertisements.
3. Featured Listing
Featured listings can be used to collect payments from retailers in exchange for their products being featured on the app. When a partner pays to promote their business at the top of the page for a set amount of time, a user will see their sponsored listing appear first in the app's search results, ahead of all other listings.
4. Subscription
The subscription model for app monetization allows a customer to purchase more products, content, or features as a premium subscriber. By giving free trials, introductory pricing, discount codes, and other incentives, online pharmacy delivery apps can boost engagement and retention with subscriptions, especially among recurring consumers.
Best Medicine Delivery Mobile App Examples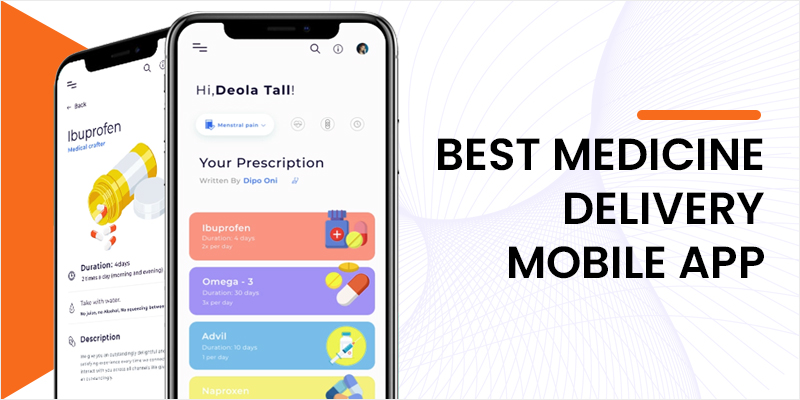 | Sr. No. | Application Name | Available On | Revenue Model | Publisher |
| --- | --- | --- | --- | --- |
| 1 | CVS Pharmacy | Android/iOS | Free | CVS Pharmacy |
| 2 | NowRx | Android/iOS | Free | NowRx Inc. |
| 3 | PillPack | Website | – | PillPack |
| 4 | Capsule Pharmacy | Android/iOS | Free | Capsule Pharmacy |
| 5 | RiteAid | Android/iOS | Free | Rite Aid |
| 6 | 1mg | Android/iOS | Free | Tata 1MG Healthcare Solutions Private Limited |
| 7 | Netmeds | Android/iOS | Free | Netmeds Marketplace Limited |
1. CVS Pharmacy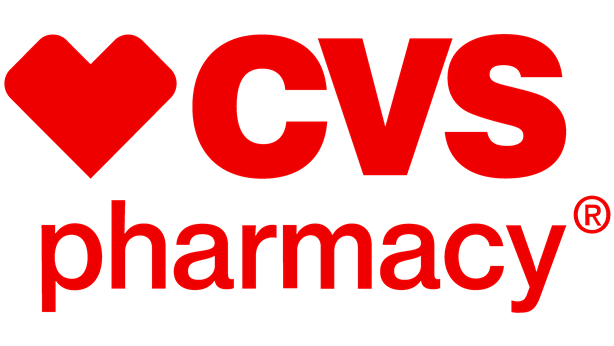 You can access a wide range of health-related tools and services by registering for a CVS Pharmacy account. One of the best online prescription delivery apps, CVS Pharmacy allows you to easily check out, save money, plan out your shopping, pay for your medications, order refills, check their statuses, view your prescription history, check drug interactions, and more. You can also find deals, rewards, and exclusive offers right from your phone or tablet device.
Features:
Video chat with a healthcare professional 24/7, 7 days a week.
Receive text messages about your medications & doctor visits.
Access your personal health information & medical records.
2. NowRx

With NowRx, you can get your prescriptions delivered right to your home or office, refill them online, or talk to a pharmacist about your questions anytime. You can also share your medical information securely with your doctor. The app delivers medications discreetly to you, in unmarked packages, and handles your personal healthcare information with the highest level of confidentiality.
Features:
Transfer prescriptions from your current pharmacy to NowRx and get them delivered at refill time.
One-hour to same-day delivery available in select areas.
Get reminder calls to remind you to take your medications and fill your prescriptions.
3. PillPack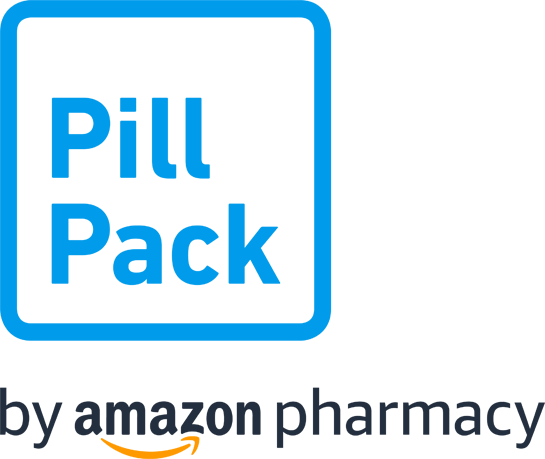 PillPack by Amazon Pharmacy delivers medications pre-sorted into customized packets designed for people with recurring prescriptions.
You'll only have to pay your copays because the service and shipping are free. PillPack is ideal for people who take three or more daily medications and prefer to have their medications organized by date and time.
Features:
Monthly shipped to your address in personalized packets or pill bottles
You can reach a PillPack pharmacist 24 hours a day, 7 days a week.
Monthly payments let you keep track of your monthly expenses.
Also Read: Doctor on Demand Mobile App Development Cost and Key Features
4. Capsule Pharmacy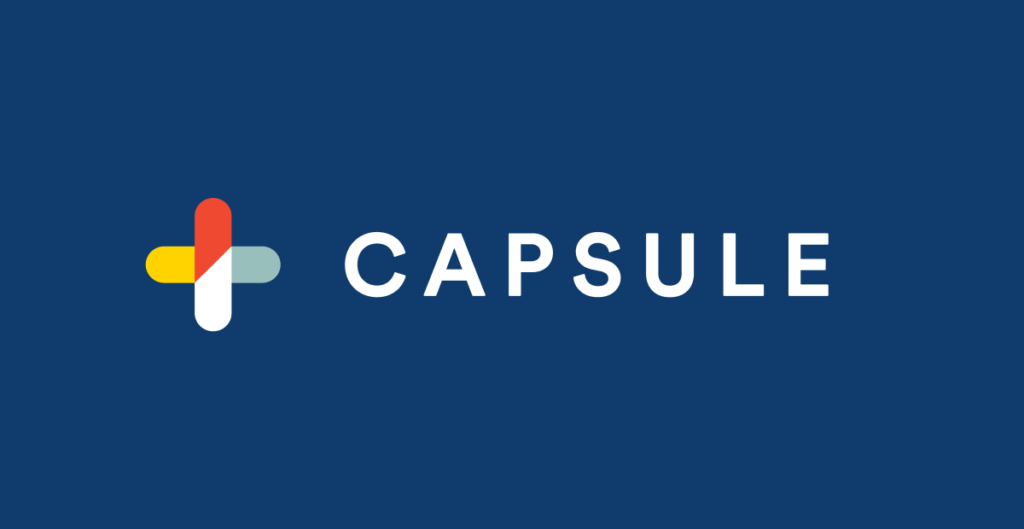 The Capsule mobile app comes with several interactive features such as viewing and adding data, initiating calls, and completing tasks. You can use the app offline, and your changes will automatically sync with the Capsule app when you're back online.
Features:
A convenient way to manage your prescriptions and refill requests.
It will manage prescription refills with your doctor and copays with your insurance company.
If you have any questions, you can text or chat with an expert pharmacist.
5. RiteAid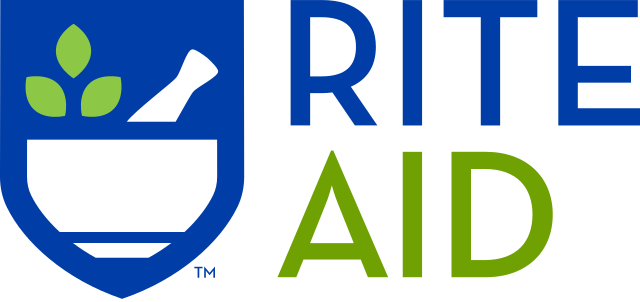 With the Rite Aid Pharmacy App, you can effortlessly track your prescriptions, browse for your health needs, collect RiteAid Rewards points, and convert them to bonus cash for even more savings. You can also access your Bonus Cash transaction history and check your point balance.
Features:
See your prescription history, add and manage family members' prescriptions, transfer prescriptions, and receive notifications when your prescription is about to expire.
View and store pharmacy information and services.
Save your Rite Aid Rewards account to your Apple Wallet
6. 1mg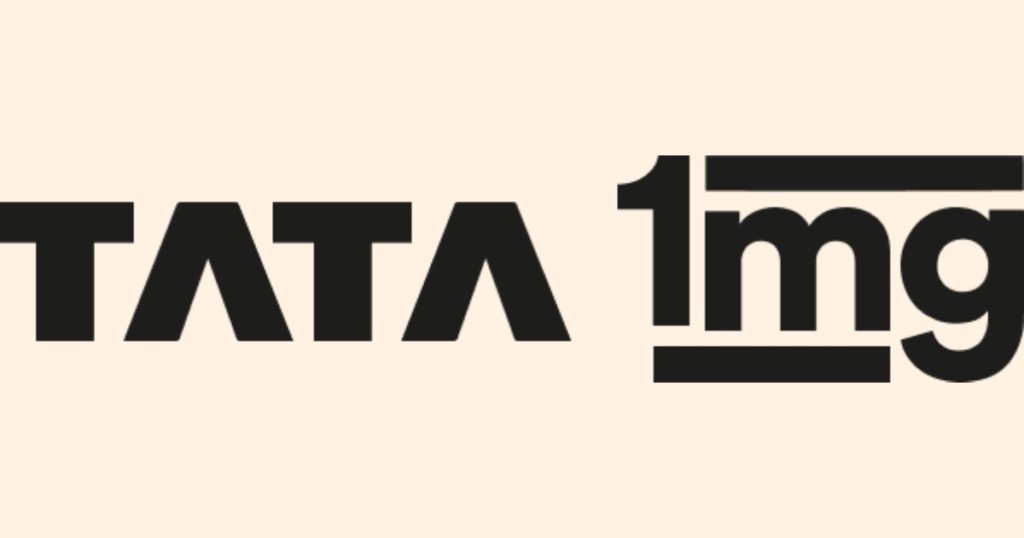 Tata 1mg brings together trusted healthcare providers, leading diagnostic laboratories, and top pharmaceutical companies under one roof. One of the best online pharmacy apps, it also offers a platform for users to access various types of healthcare information, such as general health tips, medication information, doctor consultation, and so on.
Features:
Access to over 2 lakh medicines across categories, including general medicine, Ayurveda, homeopathy, and dietetics.
Services include buying medicines, consulting doctors online, and booking lab tests.
Buy medicines online or directly visit any of the participating pharmacy outlets.
7. Netmeds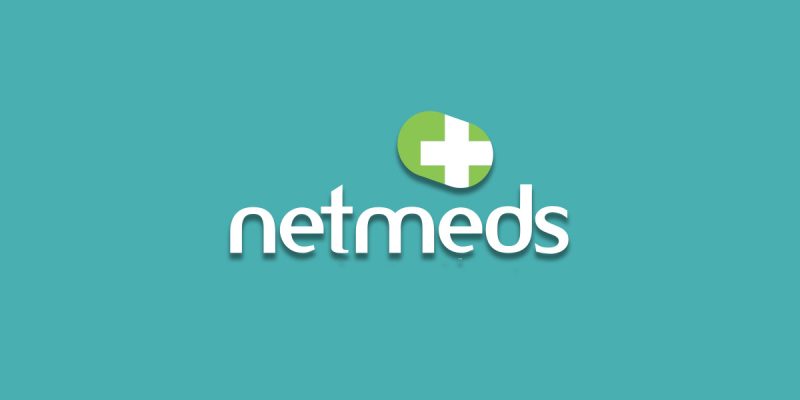 You can download Netmeds, a leading online pharmacist app to order your medications from just about anywhere in India. You can get timely reminders when it comes to refills, medication safety alerts, and up-to-date medical information.
Features:
Get regular reminders to restock your medicines when you run out.
Easy access to reliable medicine information at your fingertip.
Real-time tracking of your order status and order history.
Medicine Delivery Service – Business Model
Below are the two most common business models to choose from for your medicine delivery service.
1. Dedicated to Single Brand
If you have a pharmacy and wish to offer added ease to your customers with doorstep delivery of medicines, this model is for you. Using this business model, pharmacy companies can develop their exclusive medicine delivery apps where customers can place orders by submitting their prescriptions online. The managers can check for the availability of the product and get it delivered to the customer's address.
2. Pharmacist Aggregation
You can still develop your own medicine delivery service, even if you don't own a pharmacy. And this is possible with this business model that serves as an intermediary between pharmacies and medicine buyers. By developing a pharmacist aggregation app, you can obtain orders from customers and deliver medicines by procuring them through third-party pharmacies.
The business model does not require you to store any medicines. As the app owner, you are only responsible for obtaining, processing, and dispatching orders to medicine delivery drivers.
Online Pharmacy App Development Key Features
Customer Panel
Registration & Login: Users can quickly register and login into the online pharmacy app using their phone number and password.
User Profile: The user profile includes a short description, delivery and billing address, contact details, payment details, etc.
Upload Prescriptions: Users can upload doctor prescriptions from their phones.
Secured Payments: Integration with third-party payment providers to facilitate quick and safe transactions.
Browse Categories: Different filters to help users quickly find the required medications.
Order Tracking: Real-time updates on the status of order delivery.
Pharmacist Panel
Pharmacist Profile: Profile including a description and all personal details.
Availability Status: The pharmacists can check medication availability and input status and associated timelines.
Push Notifications: Pharmacists are instantly notified of any order requests on the app.
Delivery Status: Real-time information on product deliveries made to customers.
Order Management: An interactive dashboard to easily manage order requests and payments collected.
Daily Report: Generate order numbers, weekly or monthly sales, and cash transactions on demand.
Super Admin Panel
Intuitive Dashboard Panel: A powerful dashboard to keep a track of all pending and completed orders.
Inventory Management: Real-time notifications to alert about low stocks as well as the expiration date of medicines.
Real-time Tracking: Track medicine delivery agents in real-time using a specialized tracking module.
Manage Earnings: View and manage weekly or monthly earnings vs. expenditure.
Analytical Reports: Generate reports and comprehensive insights on business performance to boost profitability.
Marketing Tools: Create and customize campaigns to attract new customers and increase sales.
Delivery Boy Panel
Driver Profile: Quick and hassle-free onboarding of all delivery agents.
Instant Notifications: Real-time notifications of new delivery requests.
Delivery Status Input: A dashboard to input all details of the completed and pending deliveries along with the order status.
Quick Delivery: Route optimization with the help of Google Maps for swift deliveries.
Availability Status: Delivery agents can share their availability status by checking an online or offline status.
Payment Information: Various payment options such as credit/debit cards, eWallets, cash, etc.
How to Create a Medicine Delivery App – Advance Features
1. Social Signup-Login: Users must be able to quickly create an account in the application. Social signup is a great way to expedite the registration and login process. All users need to do is input their name and contact number to get started.
2. Push Notifications: Push notifications can be sent to users from time to time, reminding them when they are running out of their medical supplies and it's time to purchase new stock.
3. In-App Document Management: Users can easily upload their prescriptions on their online pharmacy apps and manage all the uploaded documents.
4. In-App Camera: With this feature, the users don't need to use their smartphone's camera to click a picture of their prescription and come back to the online pharmacy app to upload it. Instead, they can use the app's camera feature to complete the process quickly.
5. In-App Chat: This feature allows users to chat with the pharmacist from within the app and place their orders. Similarly, the delivery agent can get in touch with the customer when he is out delivering their order to inquire about the address details.
6. Chatbot Integration: Chatbots have become a crucial tool for customer support. An AI-based chatbot can enable the users to get in touch in case of any query and thus, boost the customer experience.
7. Pharmaceutical CRM Integration: A pharmaceutical CRM helps to store all significant customer data in one place and use it to deliver personalized campaigns that boost engagement.
8. Real-time Dashboards and Analytics: This feature allows the admin to keep a track of all real-time app activities including the number of sales, active users, shipment returns, cart abandonment rate, etc. And all this can lead to better decision-making.
9. Behaviour Tracking: The behavior tracking feature tracks the user's previously ordered items and presents them at the top, allowing the users to quickly reorder their prescriptions.
10. EHR Integration: EHR stands for Electronic Health Record. This is an excellent feature that allows the app users to share their medical profile with healthcare provider experts or organizations such as hospitals, testing laboratories, emergency facilities, etc. Inventory Management: There must be a comprehensive list of all the available medicines, sorted into categories along with the provision to set and change prices.
11. Inventory Management: There must be a comprehensive list of all the available medicines, sorted into categories along with the provision to set and change prices.
12. Collect from a medical store: Under this feature, the users can select the medical store from which they want to collect their medicines. In this way, users are not bound to remain available during the order delivery, as they can collect the medicines from the selected medical store and can learn about the dosage requirements to be taken per day.
13. Track nearby associated stores: With the help of this feature, users can check the nearby medical store for purchasing the required medicines. It might happen that users may not use the app for getting the medicine due to some doubts in terms of quality. In such a case, they can simply locate the nearby medical store and can avail of the medicines owing to his requirements.
14. Trust, safety, and guaranteed quality: In case the medicines and the health products delivered by you do not match the user's expectation, for sure it will reap harmful results for your business. Thus, provide medicines with all the necessary documentation, transparent expiry and manufacturing dates, and drug and salt compositions so as to keep the users assured about the products delivered. This works great in making the user ensure all the safety and trust issues.
15. Lab Aggregation: With the aid of this medicine delivery app feature, users can find nearby medical diagnosis labs for various categories such as thyroid, body check-ups, blood tests, and much more. They can grab an idea about the price related to the tests and can accordingly book their appointments.
16. Expert Advice: Users can seek advice regarding various health products and medicines. They can consult with the doctors and the nutritionist about the product's nutritional information, benefits, and per-day requirement as required or directed by the concerned physicians.

Required Techstack to Develop Medicine Delivery App
The cost to develop a medicine delivery app majorly depends on the technology stack used. The technology used must be the latest and the products are further scalable.
APNS (Apple push notifications)/FCM (Firebase cloud messaging) For Push Notifications
Twilio, Sinch, Nexmo For SMS, Voice and Phone Verification
Raintree, Stripe & PayPal For accepting payments
GWT For Powerful Programming
Datastax For Data Management
MailChimp Integration, Mandrill For everything related to emails
Debian, Macintosh, Ubuntu, CentOS The Universal Operating System
Database MongoDB, Hbase, Cassandra, Postgres
Cloud Environment AWS and Google
Real-time Analytics Hadoop, Spark, BigData, Apache Flink, Cisco, IBM
Needed Medical Compliance & Integration To Build A Medicine Delivery App
1. Health Insurance Portability and Accountability Act (HIPAA) – This is a federal law-mandated act that necessitates the creation of measures to guarantee the complete protection of patient health information being disclosed to anyone without his/her consent.
2. Health Level 7 International (HL7) – HL7 standards dictate how information is packaged and transmitted from one party to another. It also regulates the language and structure of data for seamless integration.
3.Food and Drug Administration (FDA) – FDA is responsible for ensuring the safety and efficiency of all biological products, human drugs, and medical devices. All medicines on your online pharmacy app must be FDA-approved.
4. U.S. Department of Health and Human Services (HHS) – HHS is another department that ensures the health and well-being of all individuals through effective and sustained advances in medicine and public health.
5. Integrated with EPA (Electronic Prior Authorization) – EPA can be understood as an electronic process set up by the NCPDP, i.e. the National Council for Prescription Drug Programs that ensures approval for medication prior authorization in real-time.
6. Certified with EPCS (Electronic prescribing of a controlled substance) – To build the best online pharmacy app, you must ensure that it is certified with EPCS. This means that medical experts can write prescriptions electronically, making them easily trackable for the pharmacy and the customer.
Challenges In Creating A Medicine Delivery App
Building an app with online prescription services isn't easy. The process encompasses addressing several challenges that may add to the overall cost and timeline involved. Here, we will look at the most common challenges in developing an online pharmacy app.
Meeting FDA regulations: Any app that is used as a medical tool requires FDA approval. And sometimes, getting this approval becomes tough as it also involves extensive documentation.
Maintaining data security and privacy: Every online medication delivery app must guarantee the complete security and confidentiality of patient data. No information about the patient's health or other details must be shared. Thus, the app developer must take adequate measures and adhere to HIPAA security guidelines to ensure the app's long-term success.
Replacing legacy medical methods: A lot of hospitals still follow the conventional practice of delivering healthcare services. Such organizations have not adjusted to the new system and find it very difficult to acquaint themselves with the idea of online pharmacies.
What Are The Benefits Of Creating a Medicine Delivery App?
Medicine delivery apps have not only benefited customers by facilitating easy procurement of medical supplies but also helped pharmacies boost their sales. Here, we will take a look at the various benefits of developing an online pharmacy app for customers as well as pharmacists.
1. Customer Benefits
Time-saving: Customers can quickly get the required medicine delivered to them right at their doorstep. Most of the pharmacies online provide same-day deliveries.
Regular updates about medicine availability: Online pharmacies send push notifications to the customers, informing them about the status of their medicine availability. Thus, customers don't have to roam from one medical store to another to find out if their medicine is available.
Frequent discount offers: Most popular pharmacy apps offer lucrative discounts and offers to customers that are otherwise not possible at their local medical stores.
Consultation with an expert: With medicine delivery apps, customers can easily upload their prescriptions online. They can also talk to expert medical practitioners to understand the dosage amount, associated risks, side effects, etc.
2. Pharmacists' Benefits
Enhanced customer experience: Online drugstores make it easy for customers to place an order from the comfort of their homes and get their stock of medicines almost instantly. This ensures an unparalleled customer experience and in turn, boosts revenue.
Established customer base: With online pharma apps, pharmacists get repeated requests from their loyal customers which helps them with a steady revenue stream.
Easy inventory management: Pharmacists can benefit from streamlined inventory operations. The app keeps a track of all the available stock and provides automatic information about expiration dates and other details.
No geographical barriers: While the physical medical stores are restricted to one geographical area, medicine delivery apps help to overcome this barrier and reach customers from far-off places. Thus, pharma companies can expand their business and increase their sales.
Medicine Delivery App Development Process
1. Competitor & Market Research
Every successful app begins with extensive market research and thorough competitor analysis. We know that medicine delivery is a flourishing industry and presents a lot of scopes. And the best way to leverage this growth opportunity is by evaluating how your competitors are performing and learning from their failures.
So once you have finalized your medicine delivery idea, you must direct your energies towards understanding the perspectives of medicine app development in a particular region. Assess the competitors, identify the possible challenges, study the market size, etc. before delving into the development phase.
2. Choose a Mobile App Platform
Your choice of platform for Medicine Delivery App Development is an important point of contemplation. You can choose to develop an iOS, Android, Windows, or hybrid mobile app. Evaluate your target audience and the platform they are using to find the answer to this.
3. Wireframe and UX/UI Design
The next step involves developing the app wireframe based on the initial app document. The designers, engineers, sound experts, etc. all come together to develop a product that matches the client's expectations.
4. App Development & Testing
This stage is the lengthiest stage that involves developing the code. Once the code is developed, a group of testers rigorously test every part of the app, beginning from UI/UX to frontend and code, etc. This ensures that the app is free from all bugs and glitches.
5. Start Marketing Campaign
In addition to Medicine Delivery App Development, it is important to spend time marketing the app to the customers as well as finding the right vendors and shippers. This will not only help you attract new customers but also increase your app's credibility.
What Team Structure Needed for Medicine Delivery App Development
For medicine delivery app development, you are required to explore a talented pool of key personnel such as project managers, mobile app developers, designers, and testers so as to begin in just the right direction.
Project Manager: Should be equipped with managerial skills and must be intelligent enough to identify the best in the mobile app industry landscape.
Developers: Android App Developer, iOS App Developer, Back-end App Developers.
Designers: Expert UX/UI designers, Graphic Designers.
Testers: A team of proficient and skilled QA experts for delivering a smooth and rich experience to users.
How Much Does It Cost To Build Medicine Delivery Mobile App?
The exact cost of the medicine delivery app development depends on several factors. For instance, it relies on the size of the app, chosen platform, scalability of the design, number of features integrated, complexity level, and more.
Apart from this, another crucial factor that dictates the overall cost is the location of the app development company. Most app development companies in the US charge between $70 and $300 per hour. Similarly, European companies charge between $50 and $180 per hour.
In opposition to this, highly experienced and specialized app development companies located in India offer exceptional development services at rates as low as $20 to $75 per hour. These companies guarantee superior results, making India one of the most feasible options for outsourcing mobile app development.
Typically, developing a medicine delivery app in India may cost up to $15,000 to $25,000 for a single platform. However, if you opt for highly advanced features and functionalities, the cost may even go up to $40,000.
FAQs
How do I start a medicine delivery app?
To start your own medicine delivery app, you need to undertake the following steps:
> Create a business plan
> Register your online pharmacy
> Identify the best monetization strategy
> Obtain all necessary licenses and permits
> Go for the insurance
Which app is best for medicine delivery?
Some of the best ones include:
> NetMeds
> 1mg
> PillPack
> NowRx
> RiteAid
> CVS Pharmacy
> Capsule Pharmacy
How much does it cost to develop a medicine delivery app?
App development is a slightly complex process and its cost relies on various factors such as the tech you choose, your developer's average hourly cost, the complexity level of the app, etc. With developers from Eastern Europe, you can expect to get your hands on a medicine delivery app for roughly $25,000 for a single platform.
Is there an app to deliver medicine?
Yes, there are several online pharmacy apps that deliver medicines to customers at their doorstep. Apps such as Practo and PillPack also provide same-day delivery.