Social Networking Portal Your Customers Love!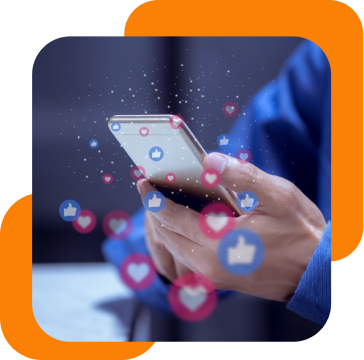 Social networking portal has brought the globe together, turning your devices to virtual get together platform. With the internet turning to a basic amenity, mobile application development has seen an exponential demand too. Social media apps keep you in-touch with your friends and family and help you have a look into their lives have grown in popularity over the years.
At Octal IT Solution, we make sure to turn your app idea into a working reality. Our social networking website development team would communicate with you and record your requirements. Further, we prepare a framework, customize quirky designs, and integrate the features as requested. With technical aficionados in the team, we cater to your needs and make sure your social media portal is nothing less than the best. With immense competition in your domain, we leverage the power of technology to bring to your users' screen a never seen before experience.
For a feature ladened and highly aesthetic web and mobile app that brings in high returns on your investment it is important that you have a clear picture of the looks and functions of your mobile app and what it brings on the stage.
Stages of Social Apps Development
Our social networking web app development services are known to be one of the best around the globe. The solutions we deliver are developed to perfection and are designed for an engaging and fun user experience. The stages of social apps development process are:

Analyze Customer Requirements
As you share your requirements with us our experts look into it and work on various wireframes for the same.

Design App Interface
Our UI/UX design team prepares a rough draft of how the app interacts with the user, admin, or you. You can always check your requirements.

Build the Database
Our social networking website development service providers build a database where the details of various users are stored.

Understand Navigation Structure
With a clear navigation structure, your users would engage more time with the app and help you boost your revenue generated.

Module Development
Once it is decided how we would proceed with the app, a module is developed for your app.

Module Integration
After the module is developed, it is next integrated to check for its functioning and operations.

Test on Local Server
The software testing and quality analysis team checks the functionalities of the app on local server.

Test on Live Server
After being tested on local server the social app is tested on the live server for its functioning and features.

Train Your Team
Our community web portal development service providers ensure to train your team about the basic functioning and feature of the solution delivered.

Launch the App
Once your team understands how the app responds we are ready to launch it in the market.

Check Client Review
Client review is an important aspect that you need to take care of when working on your app. List down the aspects that are performing well and we can experiment with them.

Maintenance Support
We provide after delivery maintenance support to affirm your app is always ahead in the game. If you have any issues you can surely get things resolved.
Social Media Website Development Experts Deliver Feature Ladened Apps
01

Edit Your Photos and Videos
We integrate a range of multi-media editing features with your app so that your users can edit their images if required.
02

Share the Location
Users can share their live location and find suggestions from their phone contacts if anyone is nearby.
03

In-app Messaging and Call
Considering the problem of hoax users and privacy infringement we let users message and make calls via app without sharing their other details.
04

Choose Your Language
The social networking portal that we offer would be available in various languages to extend your reach.
05

Behavioral Analytics
See your audience's behavior and let them enjoy the services relevant to their likes and preferences.
06

Easy Signup Options
Let your users sign in to the app with the basic details. The website development team ensures, signing in with your app or website is never troublesome.
Cutting Edge Community Portal Development Add-Ons

Social Apps with Integrated Messenger
We integrate chat messengers with your social app, so that your users can directly communicate with each other or form groups to continue some discussions.

Analytics of Social Network
Our social network web development team adds the feature of analytics of social network that helps you predict the behaviour of the user and show relevant content to each of them.

Photo and Video Based Social Networks
We let you post videos and photos along with interesting social media captions. Let your users flaunt their images and videos in style.

Social Publishing Platforms
Let your users share their interesting posts on various social publishing platforms at once. We integrate social sharing buttons with your solutions.
What Makes Us the Buzz of Tech Town
Here's what our business partners say about us.
Tech Talk: Stay Up-to-Date with Our Latest Insights
We have our eyes on what's new in the tech world and bring you the latest updates here!
Octal In The News
Octal IT Solution Has Been Featured By Reputed Publishers Globally
Let's build something great together!
Connect with us and discover new possibilities.






Gain More With Your Field Service
We're always keeping our finger on the pulse of the industry. Browse our resources and learn more.
Let's schedule a call