With the recent years witnessing an exponential expansion in terms of digital transition and online presence for the businesses, full-stack development has seen a great demand too. Most businesses have made a global presence breaking the boundaries of the nooks and corners where they had been surviving for years.
With technological advancement in the picture, the solutions are turning out to be not just user-friendly but technologically advanced and interesting. Full-stack development services have survived the test of time and made it quite easier for developers and businesses to enter the market with solutions that are bound to reflect well.
Understanding Full Stack Development
Full-stack development entails both front-end and back-end development, making it very simple for developers to bring an entertaining and technically sound solution to the screen. Web applications and web pages are both possible projects for the developers here. They have experience with the product's frontend, backend, database, and troubleshooting.
Any Full Stack Development Company's MEAN and MERN stack developers have the ability to revolutionize the way things are done. Various businesses have recognized them as valuable assets, and they are in high demand.
The three major aspects of any web-based solution are: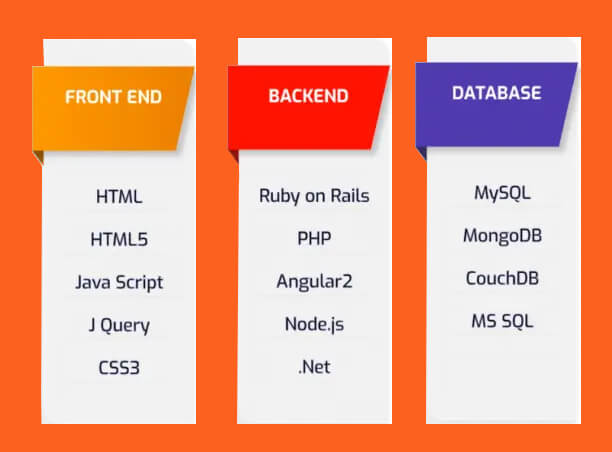 How Does It Look?
Presentation is an important part of your online presence. If the solution that you take to the internet doesn't reflect your business idea then it would bring in no sales or profits. If your business solution talks bluntly about the services the users would be attracted to be involved with it. Thus, there has to be a mindful blend of creativity, innovation, and simplicity in the solutions that are offered to you.
This is the front-end development part of the full stack.
Front End Full Stack Services That Reflect in Excellence
The first thing that holds you to any website or web app is its look and feel. This is where the front-end development comes into the picture. Front-end development plays a significant role in web development as it is here where the user interacts and accomplishes certain activities. If this portion does not include the customer, your application will be unsuccessful.
Languages Used in Front-End Development
Some of the dominant front end development programming languages that most developers use are:
HTML or HyperText Markup Language is quite an easy and interactive markup language that is commonly used to construct the front end of web pages. It's a hybrid of markup and hypertext, as the name implies. Hypertext refers to a link between two or more web pages. Developers can implement the language to produce written documents that contain tags that mirror the structure of web pages.
JavaScript: JavaScript is the best solution to build interactive solutions. The web application and website's fundamental capabilities are mostly created in Javascript, making them easier to interact with and build.
CSS stands for "Cascading Style Sheets," which is a simple style sheet language. This is primarily used to improve the appearance of the pages. This is important for web page layout and definition that reflects greater user engagement and a positive user experience.
How Does It Function?
When talking about any web-based solution it is important to consider its functionality. The codes that form the backbone and the base of the solution are to be looked after. We make sure that the solutions that are designed for your business function exactly how it is meant to be and the codes are easy to run and bug-free.

Technically Strong Backend Solutions for Great Revenue
Anything over the internet is evaluated by the features and functions they can offer to the customer and the overall system's functionality. The operations and functioning of the product deployed come under server-side development and need a little more expertise in the technical part. Mostly the customer instructions are used to manage the APIs and databases.
Some of the most popular languages that the full stack developers would be using for your product's backend development are:
One of the most common scripting languages that are at the heart of many of the websites that we visit on a regular basis is PHP. Because of the convenience, it provides to developers and the efficiency it represents, this is one of the most widely used programming languages in the sector.
C++ was one of the earliest and easy to comprehend programming languages, and it taught most programmers how to reason logically and write their first effective codes. This is a general-purpose backend programming language that is widely used all around the world.
Java is one of the most popular and frequently used development platforms, with solutions that are both efficient and scalable. Java components are readily available on the internet and can be used with ease.
How Does It Deal with Data?
Working with databases is an important aspect of the solution. We make sure the solutions that are deployed can manage the data and work on it easily. We have been working on strong solutions that can manage and control expenses easily. To manage data easily, all you need to do is let your development team decide what would work for your product.
Some of the most popular technologies that they would most probably look forward to are:
MySql is an open-source relational database management system that works well for applications of all sizes. It is crucial that the screen sees solutions that can hold max data for you and your business.
MongoDB is a document-based cross-platform database program that makes it easier for the product to hold the data it is fed and offer solutions as per the instructions defined.
This is how full-stack development has been easing down things for all of us. The solutions that are dropped to you are engaging and help developers stand the test of time and reflect great profits.
Other than these technicalities there are a lot more things that make Full-stack the most popular choice for your business development.
What Makes Full Stack Development a Strong Solution?
If you consider the technicalities that we have discussed, then you may infer that Full-stack technology is actually the most efficient solution to get your vision to the screen without any heavy hustle. The accolades associated with the full stack development team, bring to the picture a solution that is easy to understand and explore.
The most dominant reasons why you need to work with full-stack development are: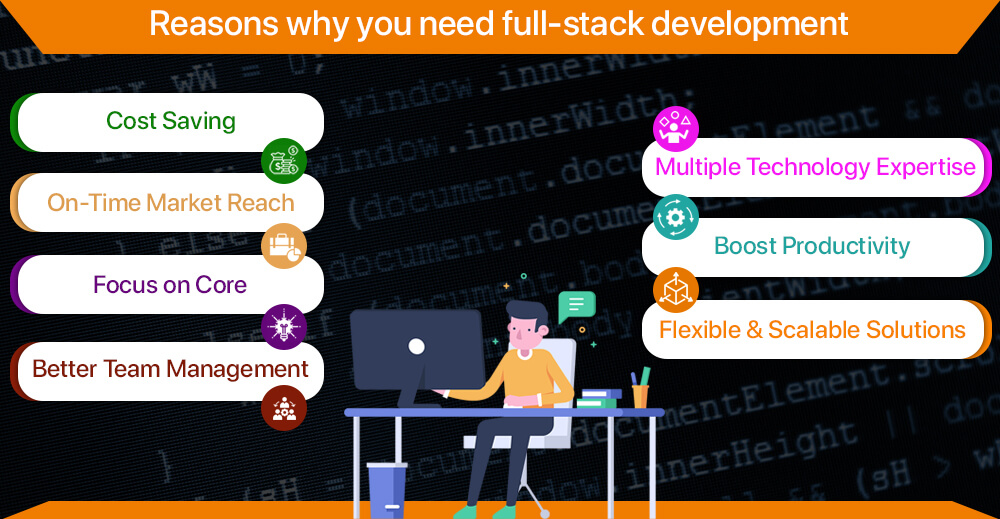 1. Cost Saving
Hiring a full-stack development team can save you tons!
You would not need to hire a backend development team, a front-end development team, and another QA team to get things done. Just one full-stack development team on board and you have your solution deployed as and when asked.
2. On-Time Market Reach
Hiring a full stack team is not only saving money for you, it would save you a lot of time. Thus, with efficient and quick developers you can launch your solution in the market without any delay and enjoy the privilege of being the first in the market in your specific domain.
3. Focus on Core
As the development team works on your digital journey you decide how you would take that journey further. Think of the ideas to market your product and how to better your product before the launch.
As your team works with you on the core competencies, working on the development part is taken care of by the experts.
4. Better Team Management
As we talk about the solutions that are to be marketed, you need a team that affirms that things are in line with your business objectives. Experts focus on the solutions that are always tested before the solutions go live.
5. Multiple Technology Expertise
Full-stack developers are well acquainted with the recent development solutions and they bring to the screen solutions that are interesting and engaging. We have been working in the direction of bringing to-stage solutions that are interactive and engaging and affirm that you get to stand out.
6. Boost Productivity
Since the team works within a stringent deadline and the development process takes place simultaneously the efficiency of the solutions increases several folds.
7. Flexible and Scalable Solutions
We make sure that the solutions that go to the screen are interesting and engaging. With advanced technology, it becomes quite easy to further develop your solutions and modify them with changing technology.
Wrapping It Up!
If you are running a business your priority is always high ROI. When you reach a Full-stack development team, it becomes easier for your business to save tons and make great money. Investing in solutions that can make things easier and better brings to the table a product that is user-friendly and intriguing.
If you are looking forward to building a solution that takes your product to the digital domain, hire full-stack developers from a reliable outsourcing company today!