Investing in stock markets has always been risky as it involves financial transactions of hard-earned money. The scenario was very different in the past, with a lack of proper guidance, an inability to check the latest stock market trends and data, etc. However, things have drastically changed now with the advent of stock trading mobile app development. Do you also want to know about the trading platform development process, how much does it cost to build a trading platform, key features, and guide for how to build a stock trading application, then keep reading this article.
There are several share market investment apps available today that reduce financial risks for users. These apps follow the latest stock market trends, and modern technologies, and bring together everything a user should know while investing in the market. They don't need to check the news channels to see the share pricing or stock points. If you want to know how to build a stock trading app for Successful Business then Read this Article.
Stock mobile applications have significantly transformed the way of trading and investing in the share market, and have made the lives of users smoother, easier, faster, and more reliable. Furthermore, stock apps also save brokerage costs and other additional charges so that more people can reap the advantages of this market.
Here you will know how to build a trading app and this is why stock trading applications are in demand today. If you are looking at how much does it cost to build a trading platform then you must know about several aspects of it.
In this comprehensive guide, we have covered everything for you, from the definition of a stock mobile app, reasons for investment, market statistics, and key features required, to the complete process of development and cost to create a trading platform.
What is a Stock Trading App?
A stock trading application is the digital or mobile version of a traditional stock platform that enables all the functionalities and access to the trading facilities. It allows users to view the trades on a smartphone, access those trades, check suitable stocks, find market updates in real-time, get timely alerts, view historical charts, and eventually place the trades wisely. If you're wondering how to build a trading platform or how to create a stock trading app, understanding these core features and functionalities is a crucial starting point.
Such applications can be downloaded from the Google Play Store or Apple App Store and can be used with a simple registration. Today, stock trading applications have become mainstream.
The best aspect about these mobile apps is that they give users complete control. Whether it is about making short-term or long-term trading, choosing suitable trades, or placing orders at any time, it is up to the users. This is why these apps are handy for not only experienced traders but also beginners or amateurs.
How Does a Stock Mobile App Work?
The working of stock trading mobile apps is quite simple. Once the users download and install the application, they need to register or sign up there with a phone number and email address.
After successful registration, they need to link at least one bank account to the app. Users have the choice to opt for one-time transfers or periodic deposits. Using the balance from their bank accounts, they can buy the stocks. When they see profits in selling the stocks, they do it and get the amount credited.
While buying and selling stocks, users can view the latest market updates within the app, check the history of stocks, and make decisions wisely.

Benefits of Stock Trading Mobile App
There are several benefits of stock trading app development. These apps make the lives of traders and beginners easier when it comes to investing in the stock market. Let's talk about the primary advantages.
Quick and Easy to Use
Investing in the stock market was a big challenge in the past because of a lack of knowledge and the right information. However, stock apps have made trading very easy and quick. People can check the numbers and data right within the app, find tips and tricks, and do the trading seamlessly.
Convenient than Traditional Trading
Traditional stock trading involves checking news channels and newspapers to analyze the market health before investment. However, stock trading applications have everything in a single platform. The process of buying/selling stocks is also fast and more convenient compared to the traditional ways.
Stock Market Updates in Real-Time
Before investing, users can see the latest market updates in real time so that they don't end up making decisions on the basis of just history. This is one of the primary benefits of such an app.
View Historical Data and Reports
Along with seeing real-time market updates, users can also view the historical charges and reports of specific stocks, their performance over the months, etc. This helps in getting a better understanding and making good decisions.
Find Better Companies for Investment
Yet another benefit of stock mobile app development is that users can check a broad list of companies to invest in along with their complete details. They can see the financial status of the company, the performance index in the stock market, and much more. This is a great feature for investing in the best companies.
Mobility in Trading
Stock mobile applications enable users to invest in the market from wherever they want and whenever they want. Whether they are traveling in a bus or train, sitting in a cafe, or whether it is a day or the night, trading remains ON always.
Overview of the Stock Trading Market
Here are some essential and valuable statistics from credible sources that reveal the current state of the stock trading market:
In 2021, the US held the largest share in the stock market worldwide, having nearly 56% of stocks. Japan and China are the next big players on the list, followed by the UK, France, and Switzerland. The NYSE and the NASDAQ are the biggest stock exchange operators in the world, reports Statista.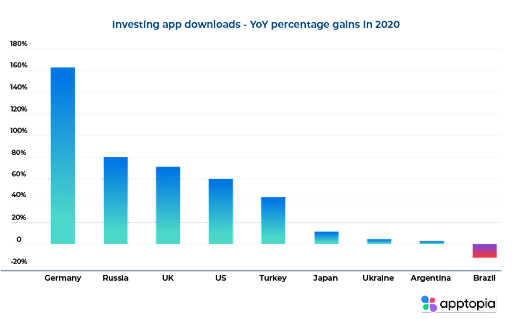 According to the Mobile Finance Report 2020 by Apptopia and Adjust, the stock investment apps are growing fast when it comes to the number of downloads in various countries. The report shows that from January to June 2020, the average sessions per day on these apps increased by 88%. Moreover, the investment applications are the second-fastest-growing vertical.
In the last couple of years, the investment vertical has witnessed a buzz. Wall Street Journal reported that E*Trade, a leading stock trading platform development, onboarded more than 260k new retail accounts in just one month (March 2020). It was more than the number of new accounts registered in a full year on average.
In November 2020, the stock market around the globe reached a record-high $95 trillion in capitalization.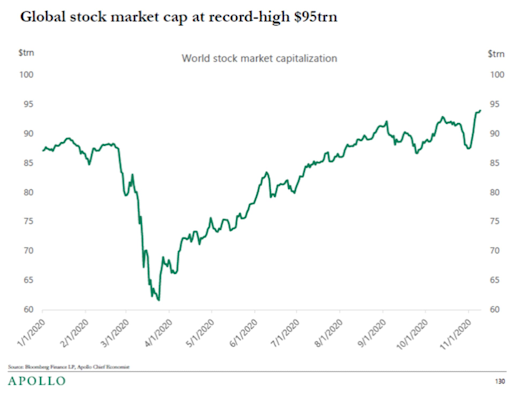 Another recent report by Statista shows that Finance apps are among the top five categories when it comes to the highest number of downloads. These applications are specific to Android's Google Play Store.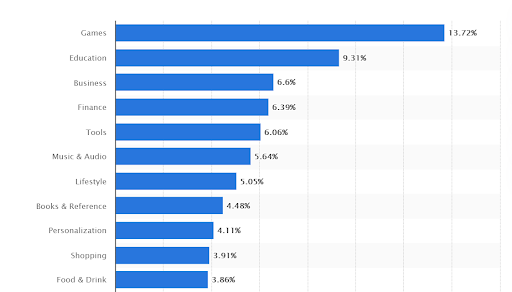 Why Invest in Stock Trading App Development?
This is a crucial question because you would want to know the reasons for developing a stock trading mobile application. The stats shown above are proof that the audience base of such platforms is huge and it is only increasing over time.
Following are some benefits of stock trading mobile app development that you must know before investing in your idea:
Read Also: Decentralized Exchange Development Cost & Key Features
1. Huge User Base/Investors
As reported by several types of research, the number of investors is only increasing day by day. They want to seek growth and make the most out of the stock market. Stock market apps have made it easier for users of every age group to invest in a secure manner from anywhere. Before investing, they can check the latest updates to make good decisions. Earlier, the process was not that smooth and involved high risks.
2. No Brokerage
These applications connect the users directly to the stock market, instead of having a mediator or broker between them. In traditional ways, the investors needed to pay some commission of the profit to the broker, which reduced the amount of profits. However, these apps remove the brokerage fees and bring users all the profit. This is a big reason behind more investors choosing mobile apps for stock trading.
3. Data Analytics
Mobile applications are smart and reliable sources of smart insights and data. When people use the right trading app, they can see the original data in real time. Traditionally, this involved risks because the adversary businesses sometimes displayed the manipulated data.
Data plays a crucial part in investing and purchasing the stocks that can drive profits. Moreover, this data helps the users to sell the stocks at a good cost for maximum results.
4. High Profit and Revenue
Talking about the business model of a stock trading platform development, the revenues and profits are always high. As the number of your app users and daily transactions increase, your profits also increase significantly. All you must do is ensure that your app is easy to use and has several functionalities and features, with robust security features.
For this, you should rely on a good stock trading platform development company that holds expertise to create a trading platform like apps and software. Moreover, security should be a high priority because your app will have financial transactions.
Key Features of Investment App Development
Below are some of the primary features that an investment app development should have for a great user experience to create a trading platform: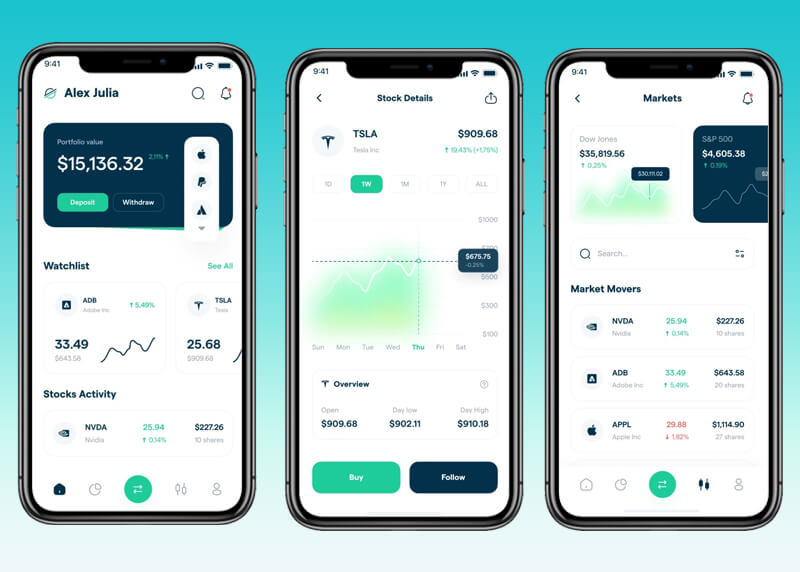 Secure Registration & Login
The sign-up process should be easy and fast so that users can register within a few clicks. On that front, you should allow them to register using a mobile number, email address, Google Account, any specific social media networking, or Touch ID system powered by biometrics. The process should be authenticated and secure so that the user data doesn't get compromised.
User Profile
After registration, the users should be able to make changes to their profile whenever they want. There should be a section where they can edit their profile photo, phone number, name, etc.
Two-Factor Authentication
It is an important feature to keep the user accounts safe from unauthorized access. You can make it mandatory for your audience to set up two-factor authentication so that they don't lose their financial assets.
Filters & Sorting
This feature will significantly improve the user experience by allowing the audience to apply relevant filters and browse the stocks of their interest. Using the sorting feature, they can fetch the required details from the ledger and get the desired results instantly.
Stock Search
The search bar is another handy feature for an improved user experience that allows users to directly hunt for the stocks of their choice. It reduces the time & effort required to find a stock.
Details About Stocks
After the users have found the relevant stocks using filters/sorting or search options, they should be able to view the details about a particular stock. It will help them to decide which stocks are the best ones for them to invest in.
Transaction History
There should be an interface where the users can check and see all the transactions they have ever done on the app. This app feature will keep the records so that users can manage their payments and browse previous orders easily. Here, you can also enable filtering to make the user experience convenient.
Latest Trends & Updates
The stock market is a sensitive business that holds financial risks. To reduce these risks and help investors make data-driven decisions, the app should show statistics and updates based on in-depth analysis of the trades and transactions.
Push Notifications
It is another handy feature for improving the engagement on the app and makes the users invest more in stocks. You can send regular push notifications to alert or inform users about any new stocks, the performance of the stocks they have invested in, the latest updates in the market, and much more.
Real-Time Analytics
This feature will show users data analytics in real time by analyzing the transactions, trades, and investments. Users can view the different types of performance charts and reports.
Dashboard
A unified dashboard from where the users can access almost everything in the app. This includes the transaction history, order status, balance, charts, watchlist, profile settings, etc.
CMS Integration for trading platform development
By integrating the right content management system (CMS) into the app, you can make it easier for your admins to handle the content and manage important aspects of the app.
Support for investment app development
The support feature helps you to win the trust of the users. When they know that they can seek the support team if things go wrong, they feel confident about trying out new functionalities. It increases user engagement and brings in more audience.
Multiple Payment Methods
To make the transaction experience convenient for users, you need to integrate multiple payment gateways. It is vital to have a variety of options for users so that they can transact with the gateway or method of their choice. For instance, they can pay using debit/credit card, net banking, or e-wallet app development PayPal, UPI, etc.
Loyalty Program
The role of a loyalty program is to keep users engaged with the app. When you give them rewards for trading stocks, they will like to invest more. Eventually, it will help you to increase your profits and revenue and retain customers for a long time.
Watchlist
While browsing the stocks, allow the users to save the stocks of their choice for later. This can be done with a watchlist feature. They can check these stocks whenever they want to and stay updated about the latest trading costs.
Trending Stocks
Along with showing the filtered and sorted stocks, you can also show the top trending stocks in real time to attract users to those stocks. It is a good feature to attract investors to trending stocks and boost revenue.
Personal Stats
In addition to transaction history and the latest data about stocks, you can keep a feature to show users their personal stats. These can include the profits they earned over time, the current costs of the stocks they purchased, and much more.
How to Monetize Stock Trading Application?
Below are some great ways to monetize a stock trading application and make profits from it:
1. Membership Charges
You can ask for a subscription/membership fee from the users to be able to invest in the stock market. Since they are going to make profits using the application, they will go for it. The more the number of users, the more money you make.
Moreover, in this revenue model, you should offer different types of memberships on the basis of the duration chosen by the users. For instance, keep the membership charges lower if the user subscribes for a year. This will make more users subscribe for longer durations.
2. Transaction Fee
For every transaction made by the user, whether it is buying a new stock or selling an existing one, there is a transaction fee. You can charge a specified amount for it to make money from your stock market app. However, ensure that you keep the transaction charges low, so that users don't feel being charged unnecessarily. This can force them to jump to your competitors.
3. Sell Financial Services
Through your mobile app, you can also provide several types of financial solutions to the audience. These solutions can be Mutual Funds, Digital Gold, and Insurance, to name a few. If you don't have your own services, you can become an affiliate or partner of other businesses that are into this field. For every recommendation, you will earn a commission.
Read Also: P2P Cryptocurrency Exchange Development Cost & Key Features
Since your audience will be too relevant for this type of service, the revenue model will work for you and help in maximizing profits.
4. Advanced Alerts
We talked about the Alerts features in the app through Push Notifications where you can notify the users about the latest updates and stats. You can keep this as an advanced feature. Those who pay for it get the relevant alerts before the others so that users can make the most out of it. This is another good way to monetize a stock trading app.
5. Sponsored Ads
In this revenue model, you will show the sponsored advertisements of other businesses in the financial industry. You can keep some banner spaces or video sections in the app where you promote the services of other businesses. These will be paid ads where you charge those businesses for promoting their services on your platform. As the audience grows, you can increase your charges significantly.
How to how to Build a Trading App?
1. Start with Market Research
Before investing in stock trading platform development, and diving into the intricate world of trading, it's crucial to ask, "how to build a trading platform?" To answer this question, you must research the market carefully to know about the latest trends, current scenarios, expectations of the audience, and much more. This will help you to understand what to include in the app, what to skip, and what additional you can do compared to the top competitors in the market. If your competitors are lacking some features that users would love, you can integrate those features in your app to stand out.
2. Choose the Right Operating System for trading platform development
You can get the app built for both Android and iOS users as these are the most preferred operating systems around the world. However, if the majority of your audience is using one of the two, then it doesn't make sense to invest in developing for both platforms. As your platform grows, you can then expand and get it developed for the remaining OS.
This decision will depend on your market research. For instance, if your target audience is in India, you will like to go with an Android app because 95% people use Android devices.
But if the US is your target, then you would like to go with both Android and iOS. It's because 52% of people there prefer iOS and 47% prefer Android.
3. Don't Forget the Compliances
When it comes to financial apps, it is crucial that you meet all the regulatory compliances and data norms, like customer privacy security, data protection, money laundering, etc. On that front, you should opt for a fintech app development company that knows about such norms and can help you comply with necessary regulations quickly.
4. Hire App Development Company
Once you have done the market research and finalized the OS, it is time to look out for the best app development team for your project. This is an important project with financial and security risks, so it is vital to hire experienced app developers from a reputed company.
Discuss your project with them to finalize the features, functionalities, UI/UX design, business model, etc., so that they can initiate the development process accordingly.
5. Testing and Deployment for Trading Platform Development
Once the iOS or Android app development is done, the application will go through the testing phase. Here, the QA teams will test the app to identify the potential bugs and flaws in the product that can hamper user experience and cause other errors. After finding them, those issues will be fixed.
When all looks good, the app developers will then finally deploy the app and make it ready to go for the official release or launch on the app marketplaces.
Stock Trading Platform Development Cost
Coming to the final question: how much does it cost to develop a stock trading app?
Well, the accurate answer will depend on several factors, including the app complexity, features & functionalities required, operating systems, experience of a Mobile app development company, security features, etc.
On average, the stock trading mobile app development cost will be somewhere between $30K to $60K.
Wrapping Up
So, this was all about stock trading platform development and how to create a stock trading app, the right way, and the best ways to monetize it. This is a trending idea today that is one of the most profitable ones as well. Regardless of the platform you choose, you should never compromise on security, user experience, and compliance. On that front, it is important to hire the best Mobile application development company for your project.
For any further questions, feel free to connect with our team.
FAQs