Octal IT Solution announces that its Software Development Unit has been appraised with Level-3 of CMMi Institute's Capability Maturity Model Integration. The appraisal was performed by Maverick Quality Advisory Services Pvt. Ltd.
Octal IT Solution is a leading provider of innovative IT solutions to enterprises and startups. Our services include mobile applications, web design & development and cutting-edge technology solutions including Big Data, Blockchain, AWS, Business Intelligence, Cloud Computing, CRM, IoT and Enterprise Mobility. Established in the year 2007, the company has its offices located in India, the USA, the UK and Singapore.
Mr. Arun Goyal, the Appraisal Sponsor & Managing Partner of Octal IT Solution, had a few words to thank and congratulate the Octal team on this achievement. "It's a result of the collective efforts of the entire team. Since our inception, we have always remained extra careful about quality while building and delivering the solutions for our clients. This appraisal is a testimony of our efforts we put into our work."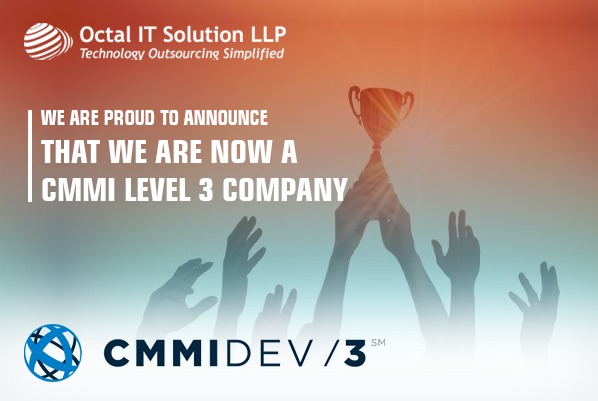 "This appraisal comes with bigger responsibilities. Being a CMMi-appraised organization, we understand the expectations our clients have from us. And we are committed to keep delivering the top-notch solutions without compromising with the quality", he adds.
About the Appraisal:
An appraisal at maturity level 3 indicates the organization is performing at a "defined" level. At this level, processes are well characterized and understood, and are described in standards, procedures, tools, and methods. The organization's set of standard processes, which is the basis for maturity level 3, is established and improved over time.
About CMMi Institute:
CMMi Institute is the global leader in the advancement of best practices in people process, and technology. CMMi institute's promise is to inspire cultures of continuous improvement that elevate performance and create sustainable competitive advantage.