In the fast-paced lives, we're leading right now, we have everything at our fingertips, in the form of smart devices. Quite literally, mobile apps have the answer to most of our questions. And for the majority of people, news and Newspaper App Development has already become the source to access news & other crucial information.
Smartphone users around the world are expanding. It is practically difficult to track down somebody who doesn't own a cell phone. Add to this, mobile applications have made our lives much easier. These days there is an application for everything. Regardless of whether you need to purchase garments, request food delivery, or take care of service bills, and so on you can do it from the solace of your home with the assistance of an application.
In the world of digitization, newspapers are turning out to be out of date and their deals have gone down impressively. The papers have adjusted with the goal that they can get by in the advanced age and have made news mobile applications. News app development company is monetizing on the trends and there is a boom in the industry for the same. A normal person, in any case, scrolls for around two hours on their cell phone checking the notifications, and other updates so they are bound to read the news on the application than purchasing the paper. News mobile app development is certainly not an easy undertaking to invest in and consider. There are a ton of challenging points when putting resources into application development. Most considerably, there are a ton of information applications accessible so it is imperative to investigate the opposition so you can make a remarkable and drawing in the application.
Before we proceed further on the cost to develop a newspaper mobile app & its features let's first see what do numbers suggest.
News App Usage in selected countries worldwide
Yes, newspapers are pass? and it's time to welcome news mobile applications. With people spending most of their time on smartphones & tablets, news apps tend to be a welcoming change. In fact, there has been a major decline in print newspaper circulation, as people no longer prefer buying a newspaper to get their daily dose of news and information. They choose to stay updated 24×7 with news apps instead.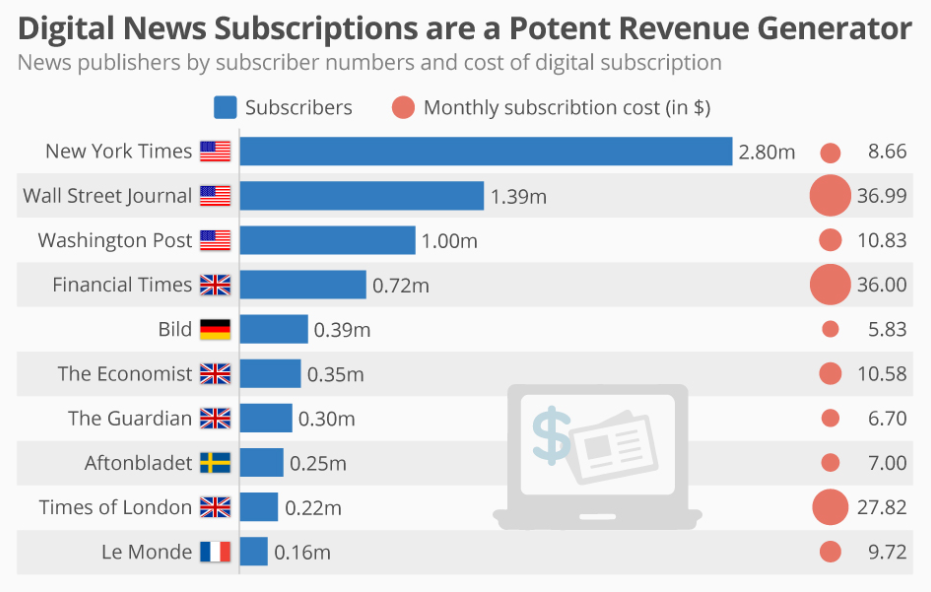 Statistics revealing that news app is the new trend
If a recent survey conducted by the Pew Research Center, is anything to go by, only 2% of the Americans voted for the print medium as the most useful news source. On the contrary, social media & other news apps/websites scored way higher ratings. Another survey conducted by Knight Foundation on 9,000 iPhone users, states:
People like to spend more than 2 hours of their mobile time reading news via apps.
70% of people head to Facebook to satiate their craving for the latest news.
Hence, it is clear that users are gung-ho about the Newspaper App Development, but how does it benefit a publisher. Let's find out next.
Monetization of Newspaper Mobile App
A lot goes into the making of a news app development and as an investor, everyone wants results. I mean profits are what we all work for, isn't it After all, no one plans to make an app without any hope of high earnings. Hence, it is vital to have an effective monetization strategy in your mind before you put that huge sum of money into developing a newspaper app.
Here are a few of the options:
Paid Subscriptions: Quite a prominent and the most effective way to monetize your app. After all, there is no point in making your app entirely paid, simply to have more users on board. The most probable solution is to offer a paid version, along with a free one. Keep the paid version advertisement-free and offer expanded functionality along with it. When you reach us to develop newspaper app we also let you choose the freemium version of the application where few services are free and for others, the user would have to pay.
Advertising: As the owner of a newspaper, you must be constantly pestered for advertising. However, things will be entirely different in the case of in-app ads, as it immensely differs from the advertisements on a website or a paper edition. Ads within the app have a special format, like:
Splash advertising at the time when the app is launched;
an inconspicuous ad unit that remains constantly on the screen;
Events: This kind of monetization comes useful once your service has successfully grabbed the users' attention. This way, the firms that organize social events will be glad to advertise their social occasions with your help. The news app proves to be ideal for such purposes.
What our news app development experts have shared here are the basics of monetizing techniques. You can use any of these or come up with a better plan and our experts would deliver you exactly what you want.
What are the types of News applications?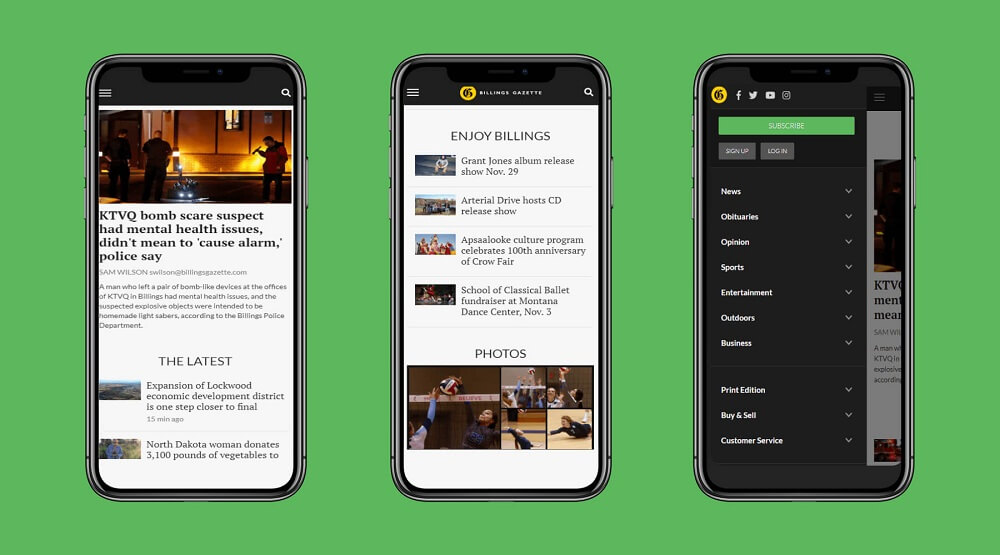 Before you decide to enter the market with any magazine or news app, make sure that you have a clear idea of what kind of application you want to develop. If you aren't sure about what kind of news and magazine app development you want just read further.
Here we have divided news apps into two groups:
News aggregator: This kind of news app covers various happenings around us (be it in a city or the whole world). With an astute approach and the right choice of a monetization plan, this service will prove highly beneficial to the owner and also caters to its users with important news & events around the world. There are a number of useful apps that have secured a permanent place in your smartphone and you must not let this wonderful chance slip away from your hands to create such an app yourself. Type of content relevant to this type of app:
Important events across the world will instantly grab users' attention, like, the results of elections conducted in the US or some other nation.
Major happenings within the city/region. Like, cultural fairs, jewelry exhibitions, weather reports, etc.
Announcements regarding forthcoming events in the city, such as musical events, exhibitions, concerts, etc.
Coverage of political events
Mobile apps for news resources: So, if you own a news informational source (like a web resource, or a newspaper), then you should think to develop a mobile & web version of your news resource. This will be your absolute way to succeed and claim fame instantly. Reasons why news resources should go for newspaper app development:
Enhanced user-engagement
It's highly efficient as readers can read the news immediately on their devices once it's been placed. Thus, keeps readers informed about crucial events.
Boosts user interactivity with the app as the user can himself pick the categories of his interest and what notifications s/he is keen to receive. The audience can also be enticed by the variety of media content in the form of pictures, audio, video, and text.
With a news app development having a wider reach, there will certainly be a boost in your audience.
Also, being the owner of the news resource, allows you to place targeted in-app ads and this will have a positive impact on monetization.
So, no matter which of these applications you want to take to the market, our experts would be available to help you through. The estimation to develop a newspaper mobile app highly depends on the type of application and the features you want to integrate.
Key things to remember while developing a News mobile app
When it comes to develop newspaper app there are a lot of things that our experts need to consider. We need to make sure that it fulfills your business purpose and is easy to use. Some of the key points that our experts take into consideration are:

Understanding of user requirements: The idea behind a news app is not to just indifferently report news, but it is more about being interesting to users and answering their questions.
Format: These apps can cover not just regional news & events, but also broadcast the latest updates from the arena of sports, fashion, lifestyle, relationships psychology, etc.
Monitor content: As a news organization owner, ensure that the content being published on your app is constantly monitored along with the authenticity of the publications.
These are some of the crucial points that would make your newspaper app interesting and engaging. Along with these cost to develop a newspaper mobile app is also determined by the features that you would integrate with the application.
Our on-demand mobile app development team studies your competition well for the loopholes and fixes it in your product that ensures that your product gets an edge in the market. These features are unique to your business and are integrated only to ensure your audience has a memorable experience.
What are the crucial features of a Newspaper Mobile App?
Here we have discussed the integral features that shouldn't be missed in a newspaper mobile app in order to create a robust and feature-rich app.
Registration: Using this feature, the app user will be able to sign-up for the app account. A user can register using email, google account, phone number, or via social networking accounts.
User profile: Once the user registers into the app, the registration page directly leads him to a personal user page, where he needs to fill in the necessary information. In case, the user registers using a Google account or social media account, then the information is directly taken from his profile.
This data is crucial as it will allow you to gain a better understanding of your customers and to offer personalized content.
News App Developed by Octal IT Solution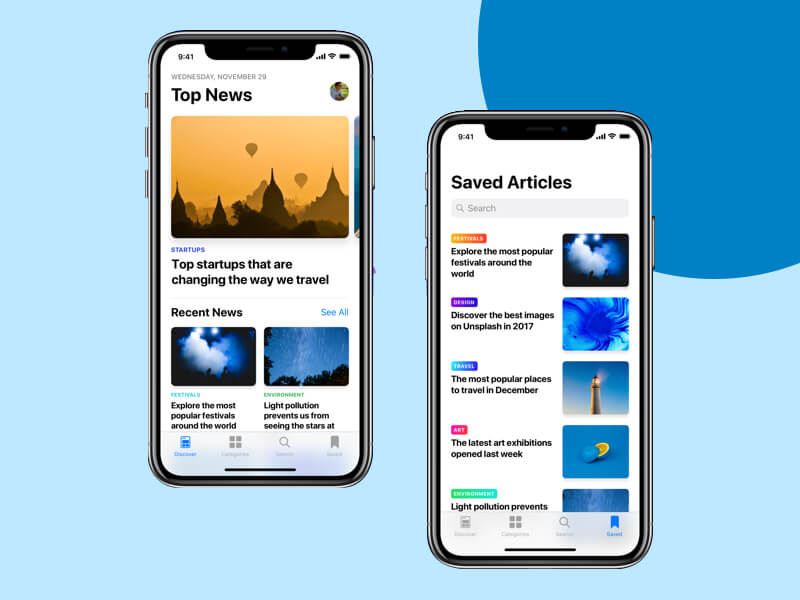 Smart-filter: In your news app, provide the option to filter news by rubrics, for example, political, sports, economic, entertainment, etc. Additionally, the news can be segregated on the basis of "Most popular", "Breaking News" & "Live News".
Insert media options: To create an app that gains the audience's attention and grabs higher ratings instantly, you can provide the option of online broadcasting of TV & radio channels.
Push Notifications: This technology work wonders to enhance user engagement with your app. Like, it can be used to constantly remind the users regarding your service and also to notify about important news.
Search: This feature allows users to easily find the kind of news content and articles they are looking for.
Add News Updates: This is a feature only available to admin, so to constantly monitor and update the latest news content into the app.
Favorites: Enable your users to save the news articles by using the "Favorites" feature. This feature should be very handy and will be liked by your audience.
Social Media Integration: Users like sharing important news & certain articles with their friends on social media apps. Hence, integrating this technology will definitely make your app likable to the users.
Offline access: While using an app, users desire ease-of-user & smooth-sailing, without any sort of hindrance. So, ensure that your app works even without an internet connection. This feature is helpful in attracting the user category that can't afford to be online 24×7. For this, just ensure that the news gets stored in-app cache when there is internet connectivity. This allows users to access the app and its content even when offline.
Infographics: In order to make your content appeal to the user's eyes, try integrating infographics. This is certainly a convenient and prominent way of transmitting information.
Customization: Enhance the user experience by allowing the users to customize the mobile app settings as per the desire, like by changing the color& size of the font.
Audio-format: Being always on the go, often users don't have time to read news articles, like while driving a car or cooking a meal. In such scenarios, users prefer listening to music or radio. So, it'll be useful to allow users to transform the news into an audio format & synchronize it for offline playback. Serves the purpose well, doesn't it?
Video Integration: News app integrated with video features are immensely popular among the users at the moment, hence if you are looking to make a quality app and integrating video resources will prove useful. Like, consider attaching video-recorded news items, political debates with a news piece.
Virtual?Reality: Even though it is an expensive feature, yet it has a great tendency to appeal to the users. By integrating VR technology into your app, you allow users to not just read about the important events, but to also be literally present over there. Certainly, a sure-shot way to enhance user experience and increase app users.
Additional Features:
Personalization: This feature allows the app owners to serve content to users as per their individual choices.
Robust CMS System (For back-end): This feature needs to be managed by the back-end developers where they managed the content published in the news app.
Live Streaming: This feature enables the users to watch Live News on the app.
Poll Conduct: Polls should be conducted on the news app from time to time on important topics. Usually poll conducting proves useful for political and social reasons, so as to understand the viewpoint of the audience.
Advertise Management: This feature is useful to manage advertisements published within the app.

How to Develop a News Magazine Application?
There are certain stages that your newspaper mobile app will go through during the development process, like:
Clearly define requirements: You must clearly define your requirements from the app to an app developer, thus leaving no room for any confusion later on. Ensure that everything is being documented and the paperwork clearly states the project deadline.
Wireframes: At this stage, the app developer will create prototypes of each of the app screens.
UI/UX Design: The qualitative app design entails a user-friendly interface, a clear & simple navigation system and it should conform to the trends.
Development: At this stage, the work of the back-end app & mobile developers begins. They are required to write clear & understandable coding which ensures the smooth operation of the app, sans any glitches.
Testing phase: From here QA experts take over the job, where they check the coding and functioning of the app to ensure the app is capable of meeting the client's demands & expectations.
Release & Support: Here you reach the last stage of the development process, where the app will be released to the app stores.
Once, you have gained a clear understanding of the newspaper app development process, next it's time to understand how you should find skilled app developers.
Required Team Structure:
Well, to ultimately create a mobile app, you need app experts. The news app development team should consist of:
Project Manager
Mobile developers (Android and iOS);
Backend Developers;
UI/UX designers;
QA experts.
Now as you choose the newspaper app development company, keep a few things in mind:
The company should have enough experience in the arena of app making, so to enough a good understanding of the market, tools, techniques, etc.
Look into their portfolio to find out about their past projects. Accordingly, you can do research on their past performance.
The newspaper app development team should consist of specialists in the arena of app development.
Cost to develop newspaper app?
Well, a simple news mobile app for a single platform (Android or iOS) with neat navigation, appealing UX/UI design, & categorization will cost somewhere from $10000-$20,000). However, if you desire an app with great functionality (animations, customized audio/video content, self-curated user-feeds), then the cost can go up to $30,000.
Keep It Simple!
We make it a point that our magazine & newspaper app development team delivers solutions that not only generate high revenue but also help you make an identity in the market. You can always talk to our experts for their suggestions and assistance. We would go the extra mile to make sure we bring on the screen only what is expected of us. We have been turning dreams into reality for over a decade and are dedicated to delivering futuristic solutions.