We have really advanced in terms of technology, in fact, there are new products emerging every day to make our lives and job simple. Needless to say, mobile apps have been a great invention, as this along with your mobile device is capable of doing a lot, even things that you had never thought could be possible. Now even though the legal industry is often targeted for being slow in adopting new technologies, but it did choose to make a difference as it came to cash into the frenzy caused by the mobile apps. Law firm mobile website development is still a limited service, but yes the industry is trying to walk the trends.
It was in 2013, we heard of the growing prominence of mobile apps in the arena of law and it may sound surprising but between the periods of 2012 to 2013, there was a significant rise of 62% in app usage in the American Lawyer 200 & Global 100. Thus, today, it is way old-fashioned approach to optimize a law firm website, as research says that 87 percent of consumers are spending most of the time of the mobile apps instead of a mobile browser.
These stats are a clear reflection of the fact why law firm app for clients is becoming popular in the recent days. They make it easier for the service provider and the users to get the most of the services in the limited time domain.
There are a lot of advantages of working with the law firm that can help you at the comforts of your home.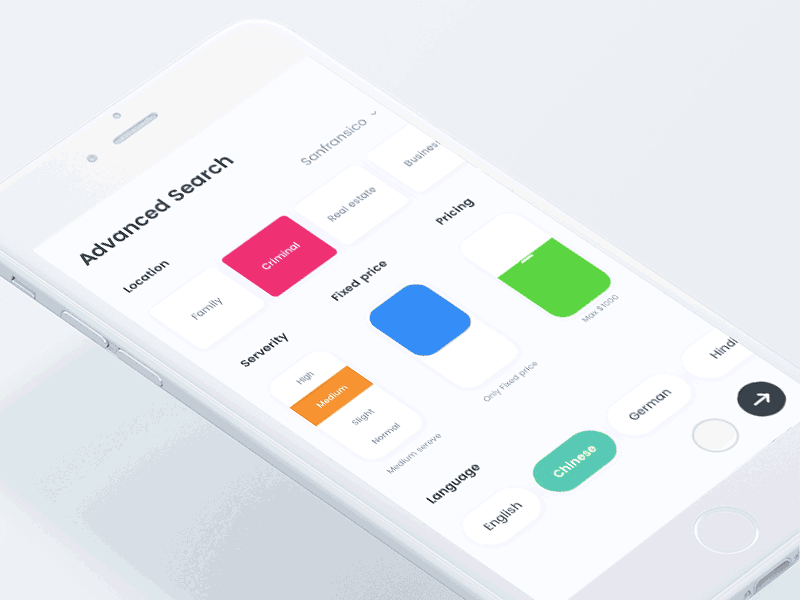 How Your Law Firm Can Benefit from a Mobile App?
Going by the statistics, around 76% of adult Internet users within the US, search for lawyers via online resources, while 36% of the search via smartphones/tablets. As per the studies, nowadays users prefer mobile apps instead of mobile websites. The reason being, they tend to spend 86% of their time on mobile apps and just 14% to search the web. At the same time, the average time which users are spending on the apps is constantly increasing from year-to-year, whereas browsing is certainly decreasing. Hence, there are many reasons why getting android development for law firm should be preferred. Here we have listed the significance of mobile apps for law firms. They are like:
The apps are useful to enhance efficiency within a law firm.
The apps allow clients management in an organized way.
The apps are useful for better productivity of a law firm.
The apps are useful to enhance client satisfaction.
The apps help in easily sharing information with the employees.
The apps are useful in collecting information and stay in touch with clients.
The apps are useful for law firm advertising to potential clients.
The apps are useful to be ahead of the competitors.
The apps are useful to maintain the content in one place and enable to easily access it.
The apps are useful in a way that they make it easier for the clients to access the new updates cases.
These were the few advantages of developing a law firm mobile application. Next, let's explore the types of Law firm apps.
Types of Law Firm Mobile apps
Prior to beginning with the mobile app development for attorneys, it is advised that you define the purpose and objective of the app. Few statistics on the topic reflect vast ranging purposes to which you can dedicate your law firm app.
Well, in the year 2014, when law firm mobile apps gained prominence, around 68 mobile apps were developed. Now out of this total, around 4% were dedicated to the recruitment, 12% were for the events (both internal & external), 22% offered usual firm info & client communication, while 62% were for legal resources & tips of many types. Now 71% of these mobile apps are offered on iPhone while 29% on Android.
Now, you may think that mobile app development for law firms is just about customer care, but that's not just true. In fact, potential users of law firm apps are not just limited to the clients, but may also include media & publishers, as well as various members of the legal community. Besides, the app can serve internal goals & objectives also, by offering convenient tools to the attorneys, supporting their law practice. This way, law firm apps can be categorized into two:
Apps providing services to clients
Apps providing services to attorneys
Let's get the understanding of the two:
Attorney-oriented law firm apps:
Nowadays, 91% of attorneys are using mobile apps for professional purposes. There are a variety of apps with core functionalities facilitating the daily routine of the lawyers. These functions may help in professional networking with the colleagues, also comprising of chats & recruiting, taking notes & recording of meetings, Organizer, can be used for meetings set-up, calendar, hotel & flight booking, transform voice to text, store & share documents, manage documents, calendars & lists.
Once these features are put into an app properly, you will get a great idea for a solution that can impressively enhance the productivity of your law firm. In this scenario, the apps can be useful in supporting partners by offering them mobile access to the information on all of the firm's services.
Besides, as an additional feature, apps may also allow users to electronically sign the contracts. Another way of using the mobile app is as a document library, where the employees can be allowed to work on the contracts and other legal documents as they are on the go, and can even electronically submit them at their own pace. In such a case, special care needs to be taken of the back-end part of mobile apps to provide file storage. Besides, one can go another way as well as use cloud computing technologies. Besides, they are wide-ranging products that offer lawyers with a list of laws, and thus they would be able to leave heavy volumes at homes & everything that's needed on their mobile devices.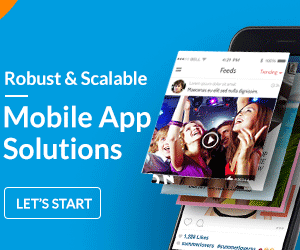 Customer-oriented legal apps:
Initially, legal apps were only about app versions of the law brochures and there wasn't much it offered in terms of functionality & feedback. Then, it gained recognition with the potential to serve the clients. Hence, law firms started competing in order to succeed. And now, it is clear that offering clients with the best services in this arena is integral to boost credibility & promote customer loyalty. As per the recent findings, it is discovered that it is easier for certain people to schedule an appointment in writing instead of picking up the phone. Hence, the capability of scheduling legal consultation in a single click is quite necessary, when one aims for a powerful & impressive solution for client engagement.
Besides, these apps also enable lawyers to easily and effectively communicate with customers. Lawyers will be able to provide legal documents directly on the customer's phone. Like, push notifications can be sent advising on the legislation changes, to deliver the latest updates, & also to ensure that they have the access to necessary legal information. In fact, in order to offer excellent service & seamless user-experience, a mobile app can be dedicated to a particular issue. Like, some choose to focus on crisis management. Herein, via mobile apps, these firms can help the clients in responding to the arrival of the government agents or a subpoena. For instance, DLA Piper Global Law firm provides Rapid Response.
It is an app providing legal crisis assistance at just the tap on the screen. Usually, legal apps for customers include features like Hotlines (offering instant access to the crisis management law specialists), Tips (Top tips that can help in a crisis situation as you wait for legal advice), Plan, etc.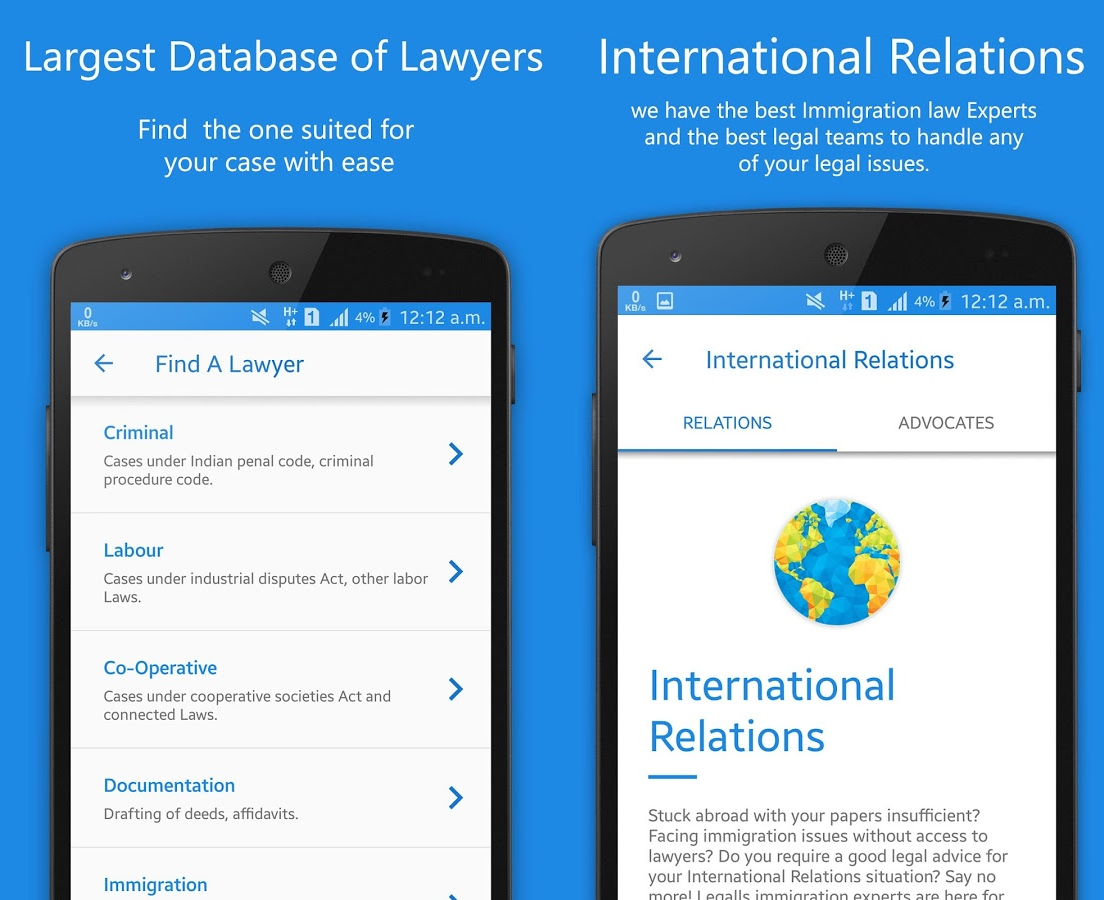 Why Do We Need an App for Lawyers?
Over the years, every sector of the society has become highly dependent on the technology and legal sector is no different. It too needs to be advanced to a stage where you can easily connect with the profession and get in the picture easy accessibility to justice and lawmakers.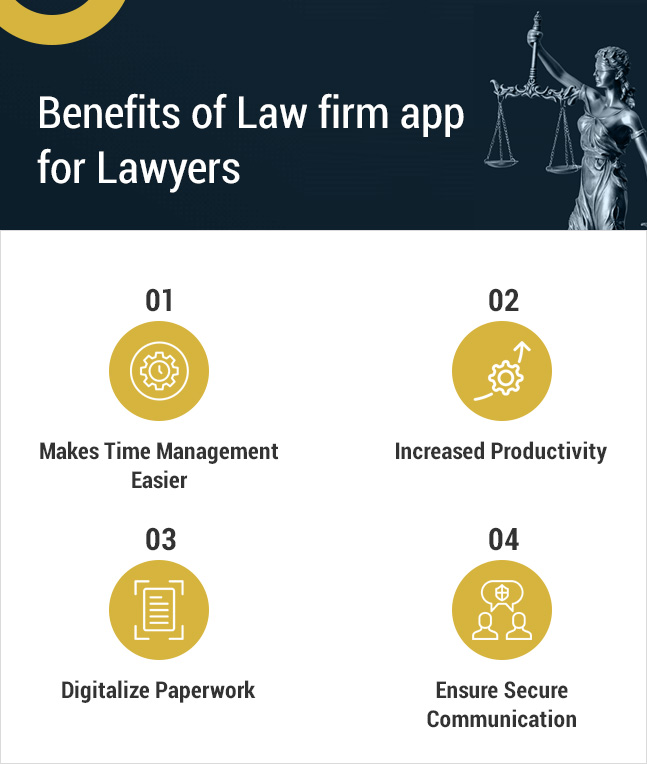 The major reasons why lawyer app development is gaining popularity are:
Makes Time Management Easier
A lot of time it becomes quite easier for the lawyer, lobbyists and attorneys to track the number of hours spent with the clients. A mobile application that has tracking features makes it easier to track the billable hours. It also becomes quite difficult to schedule meetings with the clients and Google calendar which can be integrated with your app.
Increased Productivity
As the lawyers need to refer to their previous cases often, they need to have mobile applications with a digital library that can easily be worked on and moved forward. One can review legislation, precedents, and keyword searches can appreciably increase their productivity. This becomes quite easier to focus on the working of the tasks.
Digitalize Paperwork
How cool is it that you need not carry your papers with you and still have access to all the documents that need to be worked on. You can carry everything important in your phone and access your documents as and when you want. Sounds like a great idea? It is!
Ensure Secure Communication
A law firm mobile application development would ensure that you have encrypted messaging facility that would make sure that you can work on the aspects of building client relationships and make it easier for yourself to gain work.
It is important that app development for lawyers too gain popularity. Owing to the hectic profession it is important that the mobile application that is developed is ladened with features and results in the best solutions to the general problems lawyers face.
What are the Features of Law Firm Mobile Apps?
First, we will begin with the basic features. Now, a legal app consists of four panels, varying from:
Super admin web panel
Law firm/ attorney/admin web panel
Layer/employee app/web panel
Client app/web
Here let's start with the law firm panel.
Features of Attorney/law firm panel:

Login/register
Verification process via email to build trust & remove bots & spammers app usage.
List of services the Attorneys offer to the clients.
Manage Bookings/Clients
Manage Lawyers working for an attorney or law firm
Manage Tasks/Cases/Case Documents
Recent Activities
Timer to track time for each case
Manage reminders for meetings & events
Manage expenses for a task or for the entire case
Manage invoice
Date Calculator displaying actual days and business days, thus attorney can calculate the date of the case ending
Export & Import clients, employees, cases in bulk though in little time.
Messages, so law firm is able to communicate with lawyers & employees
Updates in form of emails, push notifications, etc.
Work Flow to make work easy by creating steps
Manage permission & access for modules for lawyers to be set by the law firm
Earnings displaying total firm profit, income from clients & payment made for subscription plan activation.
The dashboard shows recent activity, upcoming events, reminders, meetings
Referrals & offers/discounts
Sign Contract, here firm can send a contract with signature and firm seal to the client to sign the same. It is best for privacy and secures the client's crucial information private & secure
Manage subscriptions where user upon buying a plan and making payment, gets access to the panel.
Reporting & analytics for real-time reporting

Features for the Lawyer Panel:

Login
Handle Cases, where attorney upon being assigned a case, will get notified and able to view entire case detail & client name
Notes/Documents: The lawyer can handle the case and will have access to create & manage notes and documents
Reminders for meetings & events
Manage Tasks
Client Engagement while handling the case
Message to chat with law firm & clients
Push Notifications
Add Expenses related to the case so they can be tracked by the law firm
Manage Profile, where the lawyer will be able to manage the profile and accessing account info and reset password

Features of Client Panel:

Registration/Login
Search law firms using GPS to view nearby firms or via prominence
Book Appointments
Sign Contract send by the law firm
Send Documents
Manage cases, as all cases will be listed here, where he can view pas cases & open cases
Reminders & Calendar for meetings
Payment Invoice
My activity
Refer App to friends & relatives to receive points/offers/discounts
Manage Profile
Push Notification
Online Support

Features of Super Admin Panel:

Login
Dashboard offering overall statistics regarding app performance, like plans, total users, total earning, data and date range
Manage firms
Manage User Profiles
Content Management System (CMS) to manage system content, both in text & Image form
Manage Subscription Plan, like new plans, can be added and managed from here
Online Support offering help to the users
Law Firm App Advance Features:
CRM Integration: CRM feature can be integrated in order to manage clients' relationships & communication as they can apply for help and get instant help on call or chat.
Cloud Storage Integration: This feature allows to store the user data with full security and privacy.
End-to-end Encryption: It helps both lawyers & clients to send the documents & contracts with security, and with end-to-end encryption, no third-party will be able to access data or documents.
GPS integration: Identifies users' current location and shows nearby law firms
Social media API: This can be integrated allowing users to connect social media accounts and this will require API integration.
Translate voice into Text: This is an ultimate feature that converts voice notes into text. So, as lawyers & clients meet to discuss, a lawyer can save clients words as voice notes and converted it to text to study the case in detail later.
Role-based Dashboard: Super admin has access to manage dashboards for users and if the user is paid, then Super admin can set customized dashboards for those users or his employees.
Post-release service: Here users can get services even after the project has completed, such as for error resolving and system upgrade, etc.
Good UX/UI: UI/UX design allows the app system to have good and attractive visuals to appeal to the user.
In-App Video Chat – One of the important features to be included which can be helpful for all lawyers, Agencies, and clients
Document scanning: Allows lawyers to scan documents at the time of the meeting.
GDPR – GDPR refers to the General Data Protection Regulation. Now what we see in general is that data gets a list, it gets stolen, it even reaches those people who should have never seen it. So, how to avoid all of this and more. GDPR seems to be the best solution.
The features that we have talked about here need to be well looked after and it is important that when you reach to us for the android law app development you get solutions that help you earn the best results.
Which are the popular law firms which created Legal Apps?
Here we have provided a few examples of the prominent law firms that are offering their own apps:
Bird&Bird: This international firm has many internal apps, and also has two other apps available to the general public on the Apple Store & Google Play. Though, it's the most downloaded public app is Digital Marketing Law, which intends to facilitate the work of marketers with marketing laws & online advertising as per the country.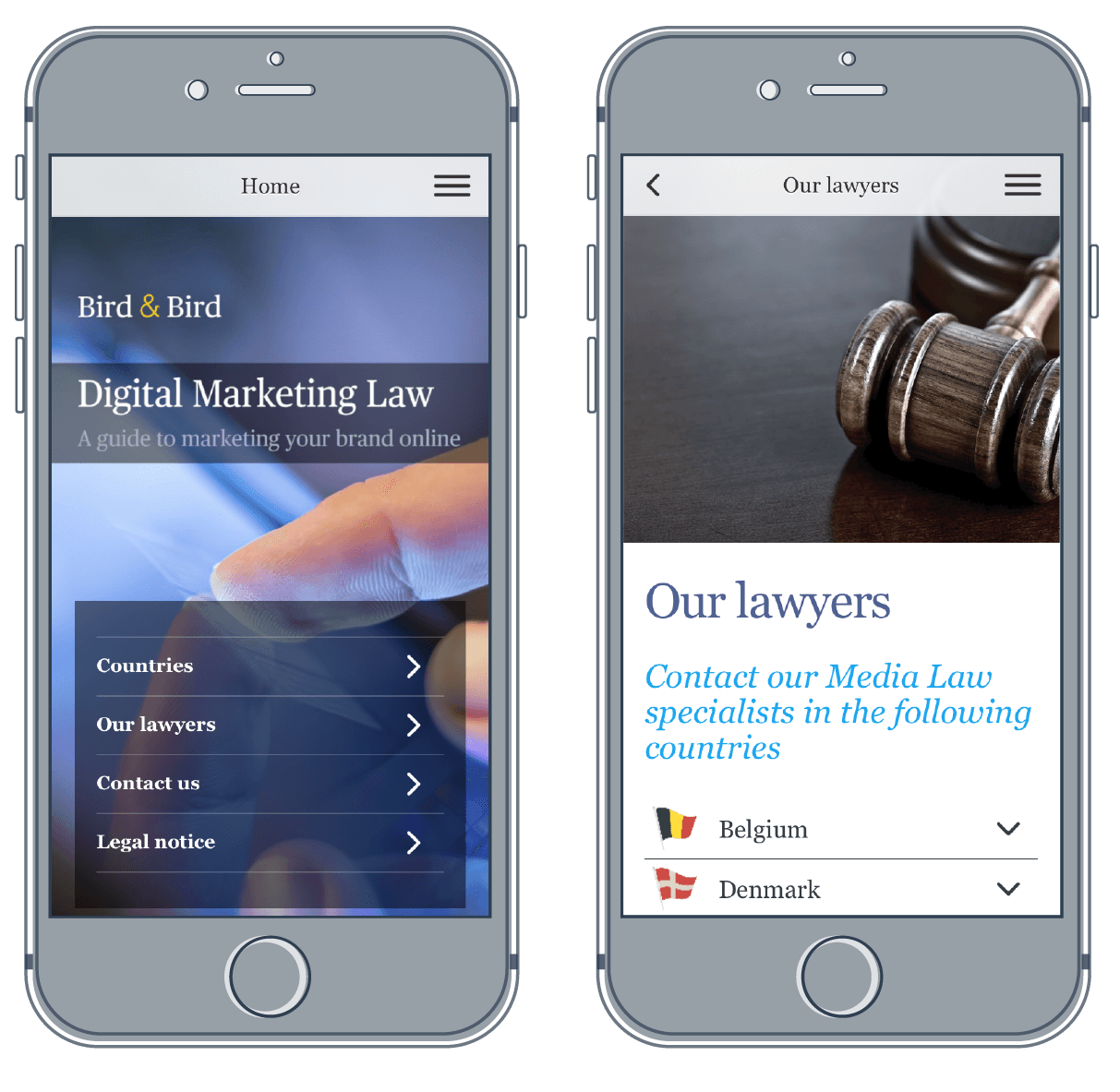 Sheppard Mullin: This happens to be among the top American Law Firms, dealing with the financial & corporate law while half of the firm's clients being Fortune 500 companies. The firm has created the app for iOS & Android, named Sheppard Mullin Interviews, helping graduates to prepare for the interviews by providing tips & examples of the questions that can be asked.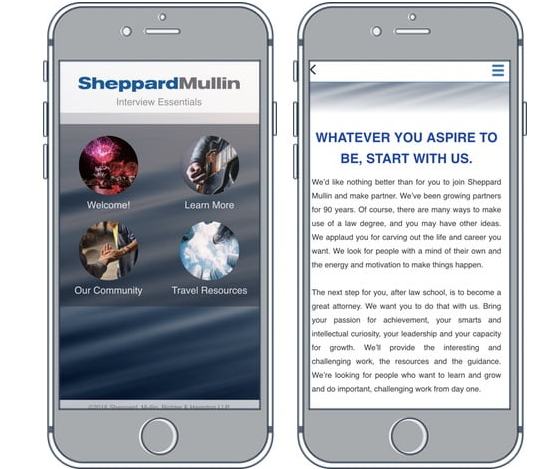 McCullough Robertson: This Australian firm came up with this interactive iOS app named IP Health Check that provides its users with guidance to protect their intellectual property under Australian Law. This firm says that intellectual property is often overlooked even though it holds the same value as a company's physical assets. Hence, this law firm app attempts to change this scenario, allowing companies to protect intellectual property in the right manner.
Allen & Overy: This firm has over 5000 employees that work in 44 offices placed in 31 different countries across the globe. The company aims to bring innovations in the law industry and thus created law app Access Assist. This iOS app assists different businesses handling requests related to personal data the company stores, no matter who has made the request, whether a customer or an employee or some other individual. Hence, it is clear that these legal apps are making life easier for millions of professionals who work in the law industry.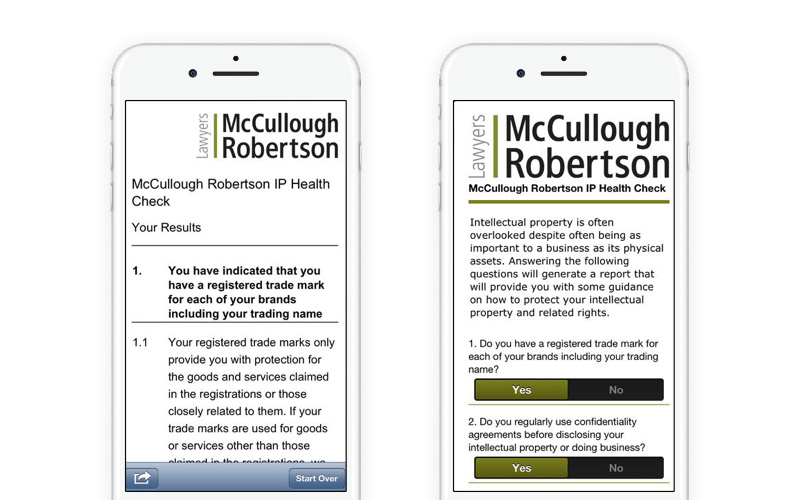 These are some of the most popular law firm applications that can help you have a base for your business idea.
How Much Does It Cost to Develop a Law Firm Mobile App?
Well, a lot of factors need to be considered as you ponder to develop a law firm mobile app, like the firm, you must hire a good app development firm that offered a brilliant team of mobile app developers, designers, project managers, and QA Testers.

Ensure the team is well qualified and is able to comprehend your requirements and desires with the law firm app. Now your intention must be to create a great app with less money. Usually, the app may cost $20,000 to $40,000 depending on the business needs and objectives. Other factors that affect the cost are app complexity, features, advanced features, platforms for which it is developed (iOS, Android, or both), a region where the app is being developed and qualification of the team. I hope, now you have gained a clear understanding of a law firm app development.
The Final Key Takeaway!
When it comes to talking about a law firm app, you certainly have a choice to modify it to fit your needs. Hire top law firm app developers who can help you build an identity in the digital domain and earn great clientele. Thanks to the members of your team that they can help you win so many cases. As a reward simply let's make their work easier by letting them have everything they want in a click.