In the times of uncertainty that we are trying to survive, who is sure of what the future holds for us? With so much happening around the globe every day, we all want an assurance of a little security. This need for security has given rise to mushrooming of general insurance app. With umpteen insurance companies in the market, it is a tough choice to decide which one to choose.
To take the game forward some insurance companies have now chosen a digital medium to reach their clients. With the outbreak of the pandemic, social distancing, contactless communication, and being locked indoors were some of the elements that became the new normal. To make sure that the customers do not miss out on their insurance, many insurance agencies went digital with mobile applications. If you want to develop a vehicle and general insurance app like ACKO, you are at the right place.
Digital insurance has been in the market for a while now and the reason they have survived the market so easily is that security would always be a cause of concern for most of us.
No matter what domain we think of, mobile applications have become a game-changer, and the insurance industry is no exception. The digital transformation here bridges the gap between insurers and policyholders by providing fast and seamless solutions. The policyholders can review and check their insurance information on the go. Not just this, the insurance agents see a boost in their productivity with faster policy closures. With the need for every business to go digital more than ever, even the well-established insurance agencies need to explore the need to develop mobile applications.
As a result, it's time to cooperate with an experienced software development provider to digitize your insurance operations and processes.
Better Safe Than Sorry!
Challenges to Develop a General Insurance App
When you're young, fit, and full of drive, it's easy to think that "it will never happen to me." But this is the myth of invincibility.
To bust the myth, be sure that you move forward with a smart game. Considering the competition simply move forward with a strong and reliable General Insurance app development that would make things easier.
With a general insurance app that is ladened with features, things become easier and more sorted. If you want to lead the market, hire mobile app development experts who are well acquainted with the industry and can deliver solutions that your audience would like.
Not to Miss Features of Insurance Mobile App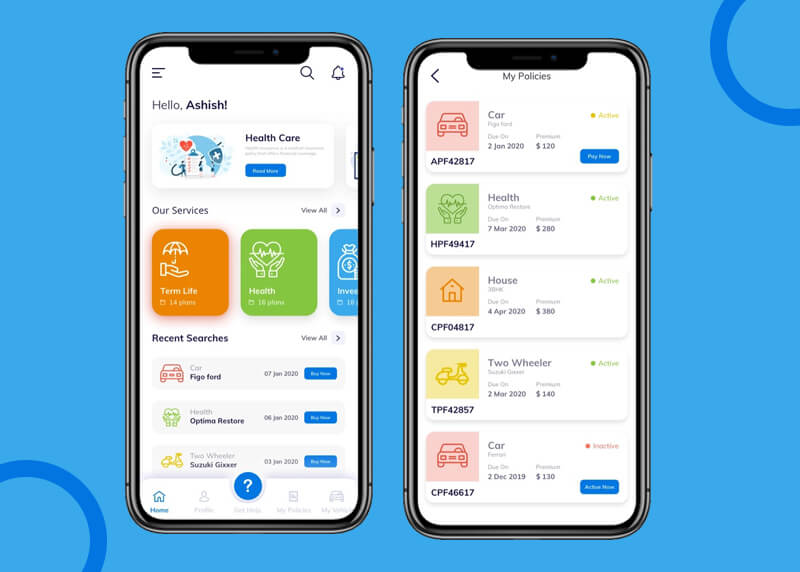 1. Signup/Sign-In With Robust Authentication
To make sure your audience finds it easier to interact with the application, the sign-up and sign-in process must be convenient. To make the signup process easy one can integrate social accounts. It would be uncomfortable to fill in long details before one starts using the application. Registering via social accounts helps the end-users ditch the long process and use the app with just a click.
2. Multiple Insurance Categories
This feature is helpful to filter policies to choose what is best and offers excellent returns, with just a tap on the screen. They can also search from General Insurance app development and pick what suits them the best. Also, they can go ahead searching for more refined versions of policies.
3. Compare & Save Policies
With a lot of policies available in the market, finding the right ones becomes a challenge. Why not let your app do the effort for you? Let your app take the pains of your customers and bring forth the comparison on their own.
We develop apps like ACKO with extended features to make things easier for you.
4. User-Dashboard
The dashboard is available for the end-users to help users keep a check on the current status of their policies and finances. Also, here they can track down their past policies, amount saved, premiums, receipts, etc.
A sorted user dashboard makes it easier for the user to be updated with their activities and helps them make great profits.
5. Admin Dashboard
We make sure that the solutions we offer have a well-defined dashboard for admin too. You would need to have a record of insurances and the policies that have been bought. Also, when it comes to clearing the claims you have to be aware of all the details that make the process less lethargic and hustle-free.
6. Live Chat Consultation
Taking calls is always a setback. In the busy world, no one is available to talk on long calls and understand various schemes. With AI-Based Live Chat solutions integrated with your insurance app, it becomes easier for the policyholders to talk with you. No calls make it quite convenient for the insurers and the policyholders to connect and close deals.
On calls the most frequent response is "I am busy with something, can I call you in a while?" and this never comes up.
7. In-app Call Solutions
With in-app calls, it becomes quite easier for the solution providers as well as the policyholders to connect. One can even request a consultation call back to clear the confusion around the policy. One can decide the time slot for the call as per their convenience and you can further arrange the call.
8. Search, Filter & Quote
To save time one can use the filters or simply search for the policies they are looking for. With the quotes available on the app itself, it becomes easier for the policyholders to make a decision. They can compare various insurance companies, or simply connect with the right agent who can guide them through.
9. Set Reminders for Premium Date
In a busy life, we tend to grow more forgetful. Sometimes the policy owners miss the premium dates and are slapped with heavy late fees. With an in-app reminder setting one can make sure that the application reminds you of the solutions easily. Thus, the user can make sure to pay the premiums on time and maintain their credibility with the application.
10. In-App Calculator
One can calculate the value of the policy and the payment installments via the app. They can be sure of what to expect as the policy matures and what would be the clear investment. We have been working in the direction of providing solutions that are designed to reduce the efforts of the users.

11. In-App Document Scanner
If one is buying a policy online they would need to provide a few documents for verification. We affirm integrating an in-app document scanner that makes the process easier. You would not have to leave the application to upload or update your documents.
12. In-App Document Management
Users can easily benefit from the document management feature as they can save their policy documents and other details with the app. This makes it quite convenient for them to manage the details and share the right papers as and when required.
13. Easy Claim Processing
With everything available on the application, the one-click claim feature makes it easier for the policyholder to get things settled. The major reasons for the delay in the physical process are missing details, lack of tracking, etc. With an easy claim process, the functioning of the system becomes smooth.
14. Push Notifications
With constant push notifications, it becomes easier for you to be updated with the details. With constant alerts, it becomes easier for you to keep your user aware of what's up with the app and how things function.
15. CMS Integration
A well-defined and smart CMS makes it easier for you to share content with the users. You can always work on the content that goes on your application with the least technicalities involved. Integrate a solution that would make things much better and easier.
16. CRM Integration
A CRM solution would make it easier for you to maintain your relationship with the customers. Our online insurance app development team integrates a well-maintained CRM, where you can have a review of your application and what works and what doesn't work for the app.
17. Real-Time Analytics
One can keep a check on the customers' activities on the application and see if there are any particular sectors where they face trouble. Also, the engagement would reflect on the popularity and ease of your application.
18. Loyalty Programs
When you are looking forward to building a community, you need to make sure that your customers stay with you all the while. With impressive loyalty programs and rewards, you can always hold your customers and expand your services.
These are some of the most dominant features that you need to include in your Acko like a digital insurance app to make sure you can lead the market confidently.
Well, there are a few challenges that we as a mobile app development firm face when working on your solutions.
Challenges of Developing Digital Insurance App!
When it comes to talking about finances in anyways there are a few things that need to be taken care of. You have to go the extra mile and be more alert when working on applications that deal with sensitive topics like these. We have been working on solutions that are easy to use, safe and secure. The major challenges that we may face are:
Fraud
The traditional insurance claim method may seem a little time-consuming but it does verify a particular information number of times to affirm that the insurance claim is true. If you are talking about a digital insurance app, then it is not just the responsibility of the insurance company but also the development company to bring a solution that is safe and secure. We have been working in the direction of building strong solutions that can make things easier. With time we have moved forward to bringing on the surface solutions that are engaging and interesting. Not for once are we talking about the solutions that are complicated and confusing. We make sure to drop to you the solutions that can bring to the surface the solutions that are defined by the great responses.
Data Breach
Another reason that people do not trust such applications is the fear of data breaches. We make sure to integrate the best DBMS that fits your budget that would keep your data sorted and safe. The cloud solution that we include in your application would be ladened with safety features and reflect in keeping your data safe and secure. We understand how significant it is for you to enter the market with a solution that keeps the data safe with no privacy infringement.
The data breach could be a strong reason why your customers may quit using your application.
Lower Revenue
No matter how hard you try breaking up a stereotype is a challenge. With online insurance app development being new in the market, we understand the challenges it brings.
Digital insurance still isn't as reliable as the traditional methods. We make sure to build your app the way that it reflects in high engagement, yet working on such solutions is a little difficult.
You have to be firm to stay in the project to make money. Maybe digital insurance isn't growing at the expected pace but it is going to reflect wonders in the coming time.
These are a few challenges that we as a team would have to deal with when working on digital insurance app development.
Why choose Our Mobile App Development Services?
As you want to enter the market with a solution that is highly rewarding and secure, you need to hire mobile app developers that can cater to your needs. Choosing the right mobile app development company is a challenge.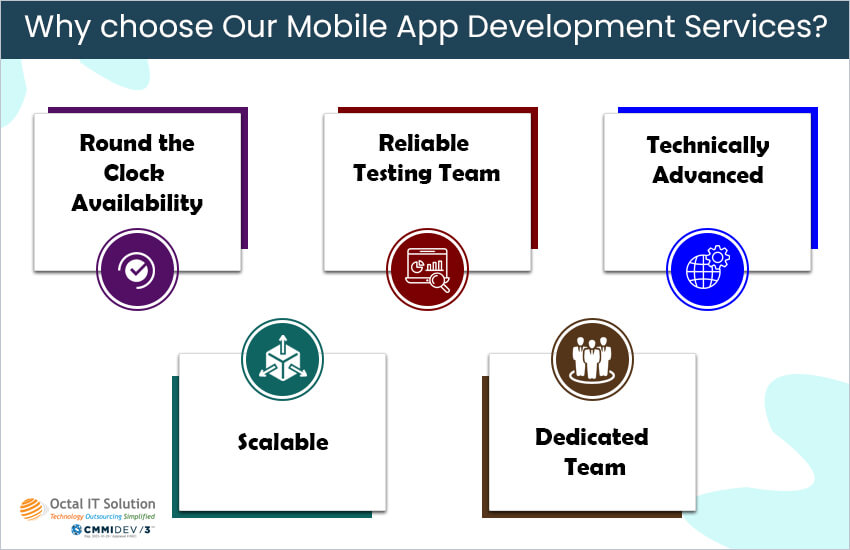 Round the Clock Availability
Our team is available round the clock to help you. You can reach us for any modification or changes that you want in the product we are developing. We make it a point that the solutions that are developed cater to your business values and are a clear reflection of your business on screen.
Reliable Testing Team
A reliable testing team helps us affirm that the solutions that are dropped to you are interesting and can bring great responses. We have been working on the direction of reliable solutions that make it easier for us to bring to you solutions that are safe and secure.
We affirm that a dedicated team works for your solution without making it a fuss.
We have been working in the direction of reliable solutions that are easy to understand and can bring to the screen great solutions.
Technically Advanced
We offer solutions that are technologically ahead of the competition. With Artificial intelligence and machine learning being in the picture for a long time, we make sure that you do not have to struggle with the safety features. As we develop app like ACKO we affirm that the solutions that we deploy can stand the test of time.
Scalable
The scalable and flexible solutions that we work on are trustworthy and credible. Thus if you want to make a few changes according to the recent trends the team can easily help you through. We have been working in the direction of earning great solutions that can walk the test of time and help you be in the lead.
Dedicated Team
Unlike other General Insurance app development companies, we do not assign more than one project to a team. We make sure that you get a mobile app development team that works exclusively on your product and delivers solutions within the defined time limits.
The Cost of General Insurance App Development
The cost of online insurance app development is defined by various factors including feature set, technology stack, team composition, region of your development team, etc. When it comes to developing a native application with a basic feature set, the cost of development would be around $40k to $75K. And if you ask for a solution that is hybrid and has an advanced feature set with an intelligent solution the cost of development may rise from $65K to $110k.
Our mobile app development company offers the best in the market price for your solution with a continuously dedicated team. You can rely on us with your business idea and we would turn your business plan into a working reality.
Wrapping It All!
Over the years, digital insurance has made a comfortable place for itself in the market. We make sure that the solutions that are dropped to you are engaging and bring in the best results. Our experts have been delivering similar solutions and are well acquainted with the customer base that you target.
If you are looking forward to building a solution that gets the best results we are just a click away!