Looking at the way technology is impacting our lives on a large scale, there are no inhibitions in accepting that all of us have been long waiting to see the impact of medical apps on patients and society at large. But the wait is over now as we can already see that technology, i.e. mobile apps in healthcare industry have started bringing a series of changes in how patients are relating to doctors, and vice versa.
For long patients have been trying to have control over their medical decisions but weren't able to until today. With medical mobile applications, people already feel empowered with more knowledge and say in their medical decisions. This certainly is a stellar announcement for those who have been keen on taking a more active role in their own healthcare. However, they have been unable to due to a lack of visibility in their own personal health data. But now mobile medical apps are changing healthcare technology and have started to level the playing field in the favor of patients and are ultimately bound to bring the big change in health care forever.
How are mobile apps changing healthcare?
Now with the help of mobile apps, doctors or healthcare professionals are able to speedily cater to medical emergencies and offer enhanced patient services. This way mobile apps have successfully brought in a digital revolution in the healthcare industry. They are rapidly becoming an integral part of the doctor's practices. Like, starting from medical prescriptions and viewing blood reports and x-ray to track and monitor symptoms and patient recovery, these e-prescription apps allow doctors to diagnose patients, treat & monitor them for many common diseases while being on the move. Healthcare mobile application development has been in trends and the stats here are a clear reflection of what is up!
Statistics reveal,Health & fitness have been regarded as one of the topmost industries to speed up the growth of digital devices.
Additionally, the mobile health solution market worldwide reached $90.49 billion by 2020 from $21.17 billion in 2017, at a CAGR of 33.7 percent.
The adoption rate of mobile devices among health professionals is significantly high Since 2012, the trend of mobile apps has been on a constant rise in the healthcare industry.A major number of physicians are using tablets at work, among which half are directly used at the point of care.
The same can be said about nurses as Lippincott Williams?& Wilkins survey reveals that 71% of nurses nowadays use smartphones for a number of operational purposes.
During the US stay-at-home requests in spring of 2020, utilization of virtual specialist visits went up half or more. A similar pattern remained constant for other difficult to-upset ventures, like online instruction, which saw a general traffic increment of 234%.
What Is the Role of Mobile Apps in the Healthcare Industry?
When healthcare is concerned, medical professionals need to make prompt decisions and implement them timely in order to save lives. Good IT infrastructure is crucial for healthcare solutions to make quick decisions, and mobile apps for healthcare professionals further make the decision-making process a lot quicker. Mobile technology is helpful for doctors & nurses to keep a check on patients' health records in real-time with the use of apps and patients can also themselves monitor their health conditions. This data can even be used by policy-makers to further improve and create new effective healthcare programs.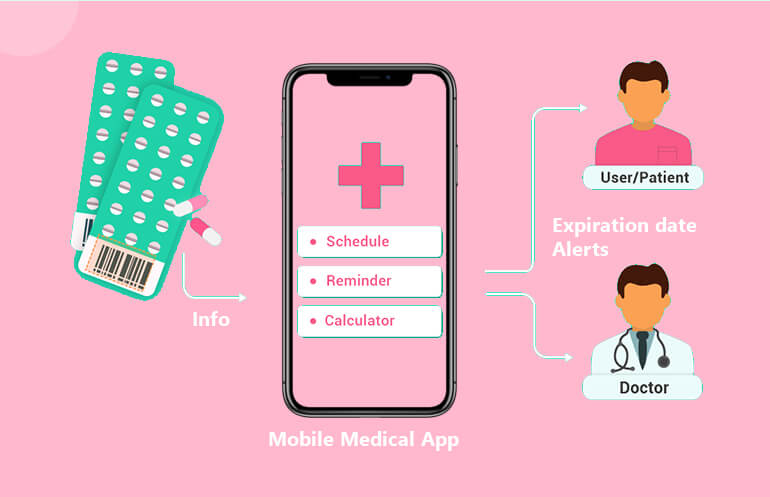 Here let's discover the zillion benefits of mobile apps for hospitals and how they will change the future of healthcare:
How Healthcare Mobile Apps Benefit Doctors and Nurses?
It is crucial for healthcare app development team to have in-depth knowledge of their patients in order to offer round-the-clock care. So, being able to easily access all x-rays, many tests prescriptions, ultrasound, MRI, via an app, medical professionals can very well handle emergency situations. They can also offer instant treatment to their patients through the app like the doctor, as in the case of mobile apps, information is an exchange in just a matter of seconds. This enables doctors and nurses to offer better care to patients.
How Are Healthcare Apps Beneficial to Patients?
With medical mobile apps, community portals patients are able to take part in their own health programs in an active manner. The apps keep track of their medications being taken on time while also observing the dynamics of the recovery procedure. Accordingly, it reports doctors and nurses if there is any change in their condition.
How Can Health Apps Improve Your Mental State?
The emergence of these apps in the mental health arena may prove critical in lessening the stigma related to mental health issues. Going by the fact that mental health is actually the leading cause of disability in the U.S. for people between the age group of 15 and 44, more of such treatment options for these issues right on your mobile phone is nothing but a godsend. An app, which is presently at the testing stage, might be able to determine early signs of mood shifts in those with bipolar disorders with all of it being detected by the subtle characteristics of a person's voice patterns in everyday phone conversations.
There are many such apps in making to keep a track of your mental health and further improve it. In fact, some studies have also taken place where an app isn't even needed to monitor a person's mental health; as just a smartphone would do it for you. A Northwestern Medicine study tracked people's behaviors by analyzing their smartphone usage and GPS locations to determine that more time on your phone and less time in various places correlates greatly with being depressed. Hence, it is clear that smartphones will be playing a great role in mental health discipline in the future.
How Do Medicals Apps Help Patients Saving Money?
Now doctor visits can be quite expensive, but health apps can change this significantly in the coming future. In fact, we are already coming across a lot of changes. So, basically, your smartphone can possibly replace an in-person doctor consultation, and your virtual appointment with a real doctor can be a lot cheaper as compared to these real-life doctor visits.
How Can Mobile Phone Attachments Possibly Conduct Blood Tests?
Earlier to get the medical tests done, you needed to visit a doctor, however, now it can be done right through your mobile phone through an app like doctor on demand. There are a few simple attachments required to supercharge your smartphone into a portable laboratory of a kind. This can be life-saving, as some blood tests are deciding factors for life-and-death, like fatal viruses or even routine checks to monitor blood sugar levels. These convenient and ingenious smartphone attachments can be used for basic blood tests for liver, kidney, and thyroid function to urine, breath, and sweat analysis. Then there is an added bonus of these being cost-saving, for both patients & medical laboratories.
How These Apps Make Doctor-Patient Relationships More Cooperative?
Before the arrival of healthcare apps, doctors & patients were required to be in the same place for the treatment to take place. However, now this limiting requirement has been eliminated with mobile apps as an appointment to discuss issues like health concerns, test results, medication, follow-ups, can take place virtually via an app. This, especially, comes around as a blessing for the ones living in rural areas unable to have direct access to professional doctors.
Further, the apps also manage everything in concern of patient recovery & safety, like reminding them to take medications, monitor any kind of side effects of therapy, and also transmit this data to their providers, in form of text messages or emails. This is extremely beneficial for patients' safety. Case studies show that patients record information into the mobile apps more honestly, as they might be shy of revealing some details face-to-face to their doctors. Hence, it is a win-win situation in every manner.
How Can Hospital Apps Be Beneficial to Facility Managers?
Through clinical mobile apps, it will be helpful for facility managers to better connect to the infrastructure of hospital buildings. They can conveniently monitor the usage of resources, such as temperature, energy, and equipment, using mobile apps. Hence, avoiding a shortage of resources, mainly in cases of emergency.
How Can Mobile Apps Be Beneficial to Hospital Executives?
These hospital mobile apps enable administrations to effectively monitor statistics such as room availability, the flow of funds, and several other logistics. Being able to easily access information, it becomes simple to make instant decisions, while at the same time, the app successfully automates processes connected to insurance processes and payments.
Increased Patient Demand for Medical Apps
As the patients are enjoying increased control over their health and cost savings they are receiving from medical mobile apps, the demand for these healthcare mobile apps from patients is on a constant rise. Can you believe when I say that there are 97000+ mobile apps associated with health and fitness In fact, this is one app category that will only keep on growing with the patient demand for these apps growing constantly?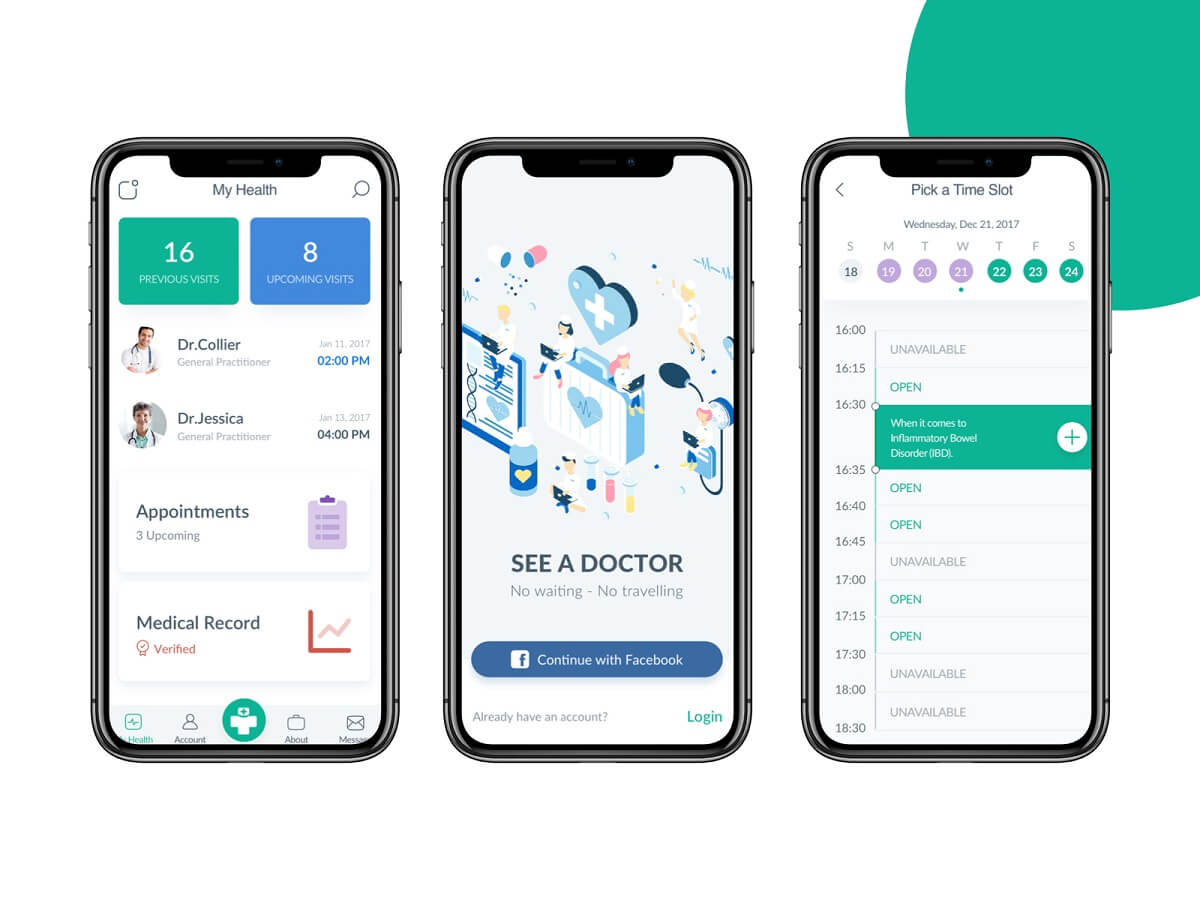 Furthermore, the top ten medical apps produce 4 million free and another 300,000 paid downloads each and every day. Hence, not just there is a market for this kind of app, but the market is in fact very strong and large. It is expected that by next year, 50% of all smartphone users will be having a health app on their phones while the entire mobile health market is expected to total $26 billion. The most prominent medical apps usually downloaded by users are:
Weight loss (50 million)
Exercise (26.5 million)
Women's health (10.5 million)
Sleep and meditation (8 million)
Pregnancy Care (7.5 million)
Tools and instruments (6 million)
Other (18 million)
Now, let's find how medical mobile apps are developed. A well-designed mobile app is the requirement of every hospital today as it is able to encompass the whole hospital ecosystem. In the case of medical mobile app development, it is better to stick to native app development, and this will require mobile app designers and developers to develop a custom product for each operating system from the beginning itself, be it Android, iOS, or any other. These are four critical aspects to be considered by the app markers while creating such an app:
User-defined
It is crucial for decision-makers, with the help of developers, to define the target audience of a medical mobile app and recognize the roles of every user, while they must also customize the app to fit this data.

Platform agnostic
It is vital for the app to work well on every user's device, and screen and in this aspect native app development meets all the criteria. This approach ensures that all app features and device capabilities perform together in a cohesive manner.
Intuitive User-Interface
Every minute is critical in the health industry as it can be life-saving for patients. Hence, the interface must be self intuitive and user-friendly. Inaccuracies and ambiguity must be avoided at all costs.
Security & Privacy
It is crucial to take care of health data and maintain its privacy at all costs. In the U.S., there is a Health Insurance Portability and Accountability Act (HIPAA) that is provided on the part of app developers.
Let's talk about some of the most talked about medical apps that have created a revolution in the industry.
Best Healthcare Apps for Patients
Our healthcare app development experts share here some of the best medical services applications for patients. These applications are meeting patient assumptions, yet surpassing them. We make sure when you reach to us for your product we integrate the best features from these applications into your application.
1. Generis: DNA and Nutrition
Generis is set to assist individuals with improving their lives by understanding their qualities. This creative medical services application is fueled by a person's DNA. From the outset you understand that the interface is not difficult to utilize and stylishly wonderful which might be the reason patients love it.
Generis gives DNA-based counsel, wellness suggestions, food, sustenance, and supplement proposals, and then some. This medical care application means to assist clients with understanding their qualities while giving protected, exact, and noteworthy advances. The objective is to engage clients through training to be simply the best form.
2. Teladoc – Every Minute of Every Day Admittance to a Specialist
Teladoc associates patients to a board-confirmed specialist all day, every day through the accommodation of telephone or video visits. This application furnishes patients with speedy and simple correspondence with specialists who are prepared to tune in and resolve their issues.
This application has more than 227,000 appraisals and 4.8 stars. Patients love the comfort and generally usability of Teladoc.

3. Better Help – Online Counseling
This mobile medical services application is a pioneer in guiding. BetterHelp permits patients to have speedy, economical, simple admittance to psychological wellness experts. BetterHelp is an advantageous method to get proficient assistance from authorized specialists and instructors on the web.
4. MySugr – Diabetes Tracker Log
This medical services application's adage is to "make diabetes suck less!" MySugr permits patients to follow their glucose, carbs, bolus and assess HbA1c all initially. Clients say that MySugr has changed their lives. Logging their information every day has permitted them to have better command over their condition. Specialists are additionally permitted to audit the information to more readily treat patients.
5. EyeCare Live
EyeCare Live permits you to associate with your own eye specialist through the comfort of your cell phone. It isn't prescribed to utilize this application in the event that you are encountering genuine conditions. This medical care application turns out best for patients encountering dry eyes, red eyes, hypersensitivity eyes, or inquiries regarding contact focal points.
6. Heal – Physician House
Doctor house calls were a typical work on tracing all the way back to the 1930's, and it's fame fell progressively in the twentieth century. Recuperate is resolved to bring the doctor house gets back to. Because of the COVID pandemic, Heal gives true serenity, permitting patients to keep away from openness to infectious infections at the specialist's office or critical consideration. With over 3k positive appraisals, Heal is moving to the top as outstanding amongst other medical care applications of 2021.
The Future of Healthcare Apps
Medical care experts are working industriously to change their administrations and furnish patients with the consideration and accommodation wanted. The inventive domain of mobile medical services application advancement will proceed to develop and improve. These applications are not generally great however are at present giving clients the consideration they need, when they need it.
Final Note:
It is significant for clients to comprehend that these applications actually don't totally supplant face to face yearly registration and patients should in any case genuinely report to experts when vital. In any case, as we've seen with the Coronavirus and comparable scourges globally, startling recent developments can rapidly demonstrate advances to be basic. In any case, these applications have changed the existences of numerous to improve things and will proceed to.
It is pretty evident that the coming years would prove to be great for mobile health and hospital apps. There are exciting market prospects and the advantages are distinct for every party. However, in order to execute such a huge task, you will require a team of well-skilled and experienced healthcare IT Solution Providers, medical app developers, and marketers. Hence, find the right development partner and then start off with the project.