Whoever said travel is breathing couldn't have put it better. Looking at the super busy lives of people nowadays, it is imperative to take a break, relax, and come refreshed to face the monotony of daily life. Hotel booking software development is worth investing in nowadays. So, tell me how long does it take from dreaming of a trip to experiencing one? Well, as per Google (which virtually all of us depend on), it simply involves two tiny steps: planning and booking. We have shared a complete guide that quickly explains how to develop hotel booking app? Checkout in this blog all the hotel booking mobile app development process with features, cost, etc.
And what makes these steps much easier? A simple hotel booking app. Sounds like an idea isn't it?
Well, if you are into the travel and tourism business and want to create a hotel booking app, all you need to do is have a quick look at this article.
A Glimpse at Hotel Booking Market & Business Model
The travel and Hospitality industry is growing at a rapid pace and today customers have inclined towards online booking. In fact, in the USA alone, there are 88% of residents, prefer to use a digital channel for hotel booking. Booking your stay via a mobile app is quick, easy, and enjoyable. And hotel booking app development cost has never been so affordable and rewarding as it is these days. It is estimated that the global market volume for online hotel bookings will exceed $124 million in 2023.
Around 45% of Online Travel Companies operate via mobile applications instead of websites.
Most last-moment reservations, around 80% of them are accomplished using a mobile application.
Hotel reservation applications are gaining popularity these days due to contactless reservation systems and payments. Add to it the world trying to adapt to the new normal and travel restrictions being lifted, people tend to make plans and go on for a little break.
Booking your stay via a mobile app is quick, easy, and enjoyable. And hotel booking app development cost is not very high. It is quite affordable and rewarding as it is in these days.
Even though hotel reservation is the core of the hotel booking mobile app, there is a lot more to it. Some of the hotel booking app features allow its users to book a restaurant, taxi, flight, package holidays, or even a cruise; they get to discover new and refreshing travel destinations or places to see, read reviews given by other travelers, their stories, and a lot more.
So, it isn't wrong if you imagine your hotel app as a travel app. If you are looking to create an online hotel booking app, but have no clue about how to proceed, worry not as here we will be taking you for a tour of the essentialities of hotel booking mobile app development.
Read More: How to develop a taxi booking app
Types of Business Models for Hotel Booking Software Development
First things first, you need to understand the types of business models in which an online hotel booking system is set. When you reach our hotel booking app development company we can offer you various models like the Merchant Model, Aggregator Model, Advertising Model, and dedicated Model to choose from.
Here are some hotel booking software development business models. Let's understand each of them:
Merchant Model
Well, what happens here is that the hotel mobile app owner enters into a contract with the hotel to get rights over a number of rooms which they get at a discount due to the wholesale rate. Later on, they offer these rooms to their app users with an average margin of 10-40%. Now the prices of each of the rooms and hotels can be very flexible and may change as per the travel demands. Expedia is the best example of this type of app, as it controls a huge part of the world's digital travel business, which is 17%, and it offers a myriad of choices in more than 200 countries across the world. However only massive capital gain gives enough resources to Expedia to use the merchant model.
Aggregator Model
This type of hotel booking app happens to be the most commonly used due to its very simple logic. Well, these kinds of apps are connected with a number of online booking services, hence as a user starts looking for a place for his/her stay, a unified list of hotels is displayed to him but with several price options from various reservation platforms. Once he chooses the appropriate accommodation, he is redirected to the website of the corresponding booking platform. The best examples of this type are HotelLook and Booking.com.

Advertising Model:
This is the third type which allows you to make money on your own hotel booking app. Owners can get a specified amount on each user that has been redirected to hotel websites. Even though this is the least profitable model, it also doesn't require any investment or any risk. For example, there is Tripadvisor. It gains its most profit from advertising models as it charges cost-per-click.
Dedicated Model
This is the most often used approach by renowned hotel chains, like Hilton, Grand Hyatt, and Marriott, who have their own apps uniting all of their hotels and resort brands. Meanwhile, having a separate mobile app for your hotel or chain will be reasonable only if it's famous and big enough. Besides, these apps aren't just for booking purposes, as they also take in special requests made by users during their stay, such as ordering an ironing board, extra pillows, a cup of coffee, or whatever they need. For your business needs you can hire app developer from our company.
With such a big and expansive market it becomes quite easier for you to make some good money and share innovative ideas that are in line with your business objectives.
Checkout More: Embedded Software Development – A Comprehensive Guide
Online travel booking revenue in selected countries worldwide in 2018 (in million U.S. dollars)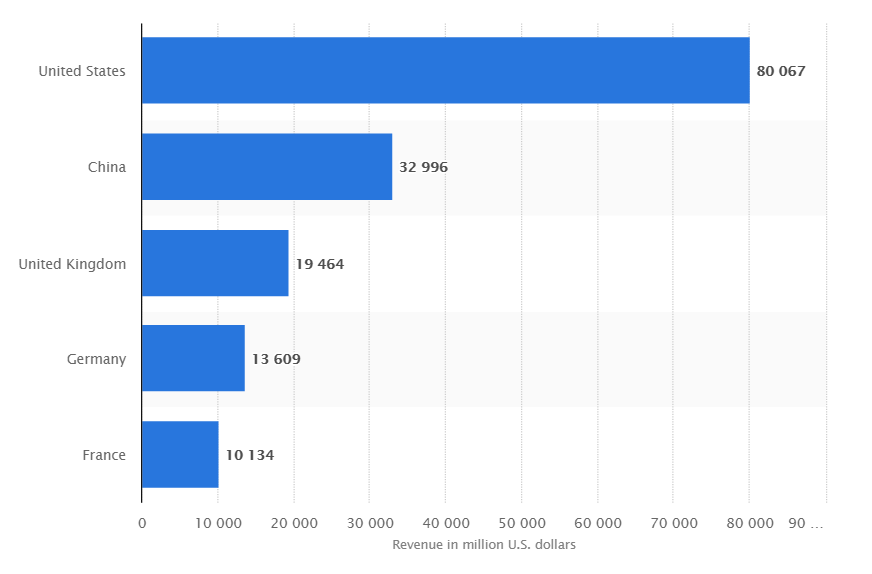 Why Choose Hotel Booking Software Development in 2024?
In a world that seeks ease and fast results being available with a click is an advantage. It keeps you a few steps ahead of your competition and helps you build goodwill that can not be soiled easily.
Hotel booking mobile app development is a great choice to make. You can take some advantage if you invest in hotel booking software development.
Customers: They get many benefits like Security, Convenience, Discounts, Efficiency, Reliability, Best value for money, and whatnot. It's a one-stop solution (the entire trip can be arranged from the app itself).
Hotel: It's beneficial to attract direct bookings as you can sell at higher rates. Then there is a lot more like Automation, User-Data, Direct Reach, Brand Promise, and Customer Loyalty.
Travel Agent: You can give a boost to your business as an app allowing for new market exploration, unleashing creative spirit, user data, user engagement, and brand recognition.
App Business Owner: They get to seek endless benefits ranging from user engagement, user variety, and multiple revenue streams (subscription, commission, ads, fees, etc.
So if you want to make use of technology and expand your horizon to an extent where you can be a pioneer in your industry then catch up with our on-demand mobile app development team. These members build solutions that are engaging and interesting. Easy to navigate and accomplish any task. This makes it easier for the customers to make the right decision.
Sounds like a reliable alternative? Well, you can surely work on one and see your business earn the best profits as you expand your business better.
For great results, you need to enter the market with an application that is laden with features. There have to be several unique features that would help you build an impact in the market and let your competition work on their loopholes.
Visit Also: 25 Best Mobile App Ideas For Travel Apps in 2024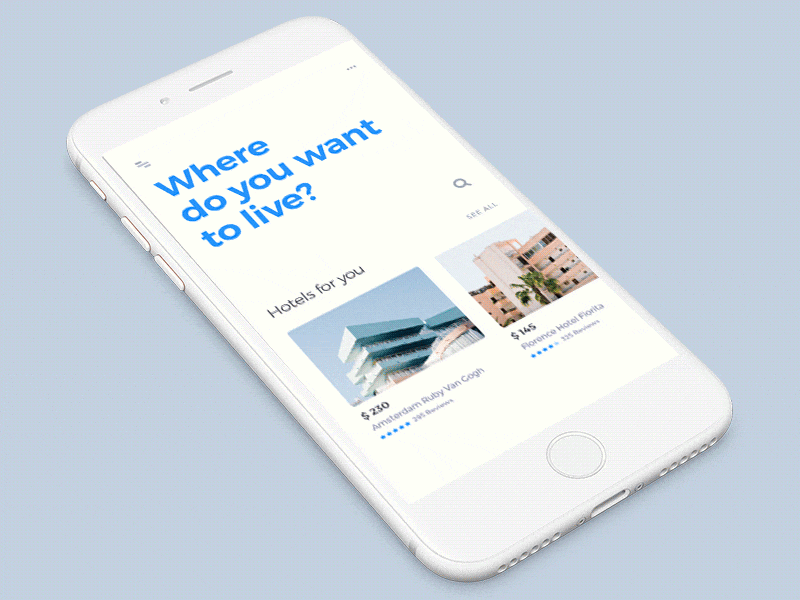 20+ Hotel Booking Mobile App Features to Include
When you reach our hotel app development services, our experts will make sure to listen to all your needs and come up with a simple set of features that will not hamper your cost to make a booking app and help you bring on stage something that is rewarding and intuitive.
Search Bar
As your user starts looking for the hotel, the search parameters will include Destination (City or address), Date (check-in & check-out dates), Number of people (adults, kids (if any), and information about pets (in case they are carrying), Number of rooms or accommodation type. With a well-designed and visible search bar, it becomes easier for users to find exactly what they are looking for. Sometimes the user may be looking for something specific. Instead of investing time in your app, they can switch to the internet if your application doesn't have that particular accommodation.
Booking & Cancellation Alternatives
Once the user has picked a hotel, they are taken to an easy and safe payment gateway to make the payment, using various payment options such as Credit/Debit Card, PayPal, Braintree, and Stripe. In case, the customer desires to cancel the booking, most hotel booking services offer a free cancellation policy until the last 24 hours. Hence it's convenient for the users but can cause complications for hotel owners or OTAs, as most cancellations are done a day or two before the due date.
View Accommodation
The audience often wants a close-up of the accommodation before making a choice, so the app can always offer an overview, accommodation offers, pool view, room status, photo gallery, suggestions, maps, social media buttons, etc. Also, with AR and VR-based solutions, one can have a virtual tour of the place they are planning to stay at and then further move ahead with their decisions. With technology, things are becoming easier and more transparent at both ends.
User Account
Here the user information is stored, like their booking history, wish list, chosen language & currency, and more. Here they receive discounts and personalized offers based on data app owners collected from their profiles. A user account would have all the details and the person can receive discounts and refunds there itself. Along with this, this account can be used to make payments at places and provide several in-app advantages. This would also ensure that the visitors are reliable and trustworthy and the services would be offered soon.
Hotel Account
Here the information related to hotels is stored in available rooms, prices, information about offers, deals, discounts, basic information, etc. When talking about hotel accounts, it too has similar information stored. Which guest is staying where, who gets the discount cards, who would be paying enough, and other than that it would have a record of all the people visited to ensure there is no problem.
Payment Gateway
The app users, when sure about the accommodation, can make in-app payments using various payment modes offered within the app, ranging from Braintree, Stripe, PayPal, and Debit/Credit Cards. With in-app payment and digital payment methodology integrated it becomes easier for the user and the service provider to deliver solutions that were asked for. Over the years we have been delivering similar solutions and can help you build a strong payment app that gets you the best results.
Hotel Information
Entire hotel-related information can be found in the app, like the number of rooms available, prices, discounts, amenities, and everything else. One can check for reviews and comments by other visitors and have a virtual tour of the place before placing a booking. You can in some cases customize a little your stay place and feel at home. This adds to the popularity of the hotel and the entertainment of the visitors.

Push Notifications
Send instant alerts to the app users to inform them about their booking, check-in/check-out time, new offers, discounts, and whatnot. This is one of the most traditional yet effective ways of holding your audience with your brand. Send them alerts and let them feel like a part of the brand and take your services often.
Instant Messenger
There is an instant messenger facility within the app, which the users can use in case of any query, exclusive deals, reservation confirmation, personalized tips & advice, reviews & ratings, to convey their requirements during the stay, so as to make it more of a personalized experience for them.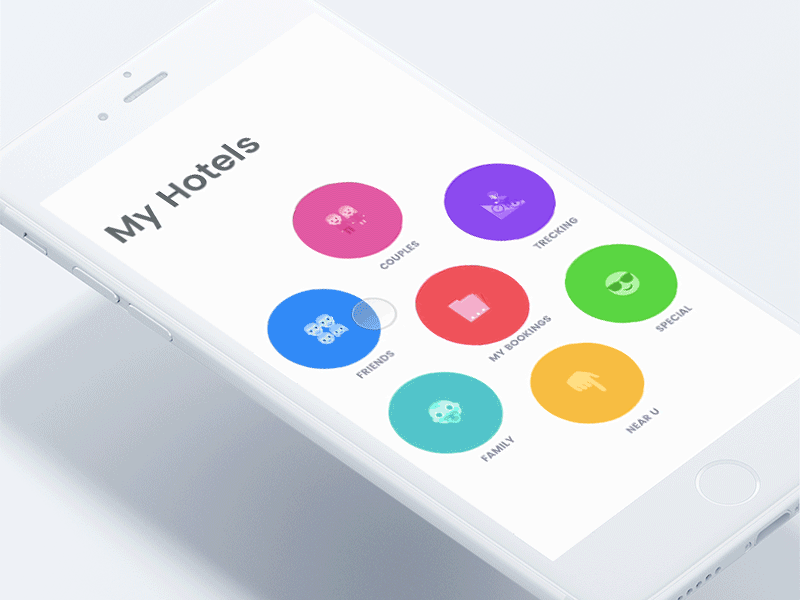 Online Receipt
Once users make the payment online for their accommodation, they are sent an Online Receipt on their mobile phone, which can be shown at the hotel reception upon their arrival.
CRM Integration
This CRM integration is crucial in the case of a hotel booking app where the customer experience is everything and to ensure your customer feels at home, this feature will be greatly useful.
Marketing Tools
There are a number of marketing tools available that allow you to reach out to your audience and win over them, such as Chatbots, paid social networking advertising, Email marketing, push notifications, and many more.
These were the basic features that any hotel booking mobile app developer would surely include in your app. The experts at Octal IT Solution add a few more features that make your business build a stronger and more reliable clientele.
Smart Features Our Hotel Booking Mobile App Developers Love!
Recommendation Engine
Based on the user's previous searches, the app providers tailor recommendations, as TripAdvisor offers Just for You, personalized hotel recommendations, while Booking.com offers alternative destinations. With more and more personal data accrued, the algorithm will be able to produce tremendous results.
Room Cost Forecast
To deal with the constant fluctuations in flight and hotel costs, users can have a cost forecast and then plan accordingly. With their data history, an algo is built taking account of demand growth, airlines? special deals and offers, and seasonal trends. With predictive analysis, users can book cheaper flights and hotel rooms.
On the Go Travel Assistant
With intelligent travel assistants such as Chatbots, Google Assistant, WeChat, and Messenger, customers are provided a better customer experience 24/7. Users can easily navigate through common issues with their help.
Language & Currency Converter
The app easily adjusts language and currency based on customer location. It's also a part of a personalized strategy.
Virtual Tour (Using VR)
Users can have their way around the hotel by exploring still photos, immersive videos, and virtual tours with 360 photos. This way they get to see various sections of the hotel dynamically.
Analytics Dashboard
Admin is enabled to have a view of the customer dashboard, hotel dashboard, and flight dashboard, and this facilitates real-time decision-making. For instance, a low booking price can be offered when bookings at lower in some cities during a particular season.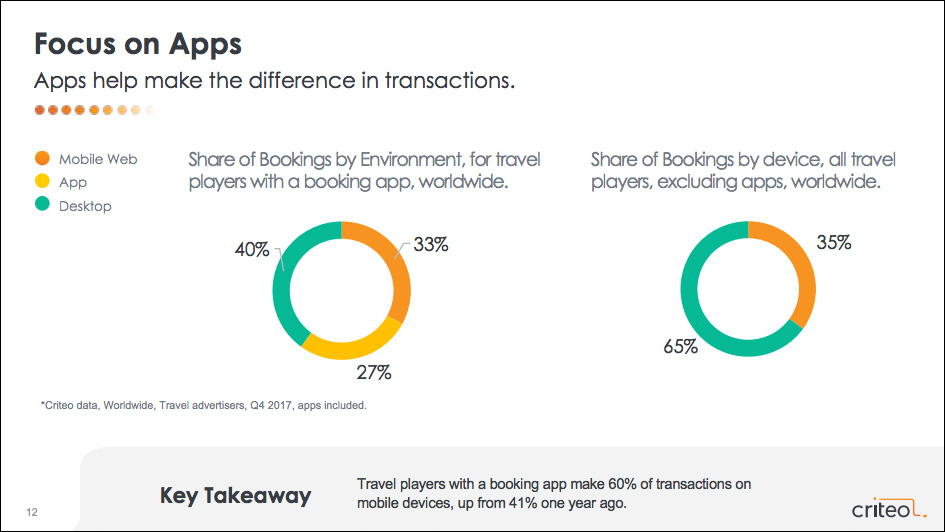 Surely, these features have impressed you a lot. If you want a few more things to be included in your hotel booking app, then we have a few suggestions. These features make the user experience better and they are motivated to stick to one app instead of juggling various apps for the solutions.
Extra Features You Cannot Let Go!
Places Nearby
Using geo-location tracking features, customers can easily search the places nearby, such as tourist destinations, restaurants, movie theatres, malls, etc.
Car/Taxi Booking
With third-party integration with Uber, Ola, and many alike, the app owners allow users to book taxis and cabs easily during their travel.
Trip Planner
The travel planner app doesn't just book hotels, but it also helps the users in planning out their entire trip and provides a personalized trip planner.
Restaurant Booking
Using the third-party app integration feature within the app, users can also prefer restaurants table booking app during their trip from the app itself. Thus, making it super-convenient for the users.
Hotel Comparison
The app facilitates this feature where you can compare the hotels within the app and choose the one that suits your requirements accordingly.
User Contribution
The app enables users to contribute to the app by making them share their experiences through travel blogs, vlogs, pictures, reviews, etc.
Trip Stories
Travel Tips & Advice
Community Portal
Rating & Reviews
Photo Galleries
Third-Party App Integration:
Taxi App:
Users can book taxis and cabs within the app itself during their trip.
Navigation:
Google Maps and Apple Maps are integrated into the app so that users don't face any difficulty in finding locations during the trip.
Weather Forecast:
With Google Apps integrated, users can check the weather forecast and plan the day accordingly.
City Guide:
It ensures that users have a good experience while traveling across the city without any hurdles.
Rating-Review API:
For instance, often the app owners integrate Trip Advisor's API in the app so that users can read other users. ratings and reviews from the app itself.
Aggregator APIs:
Aggregator's API is integrated to help customers and other app users.
Payment API:
To ensure easy payments, Payment APIs of various modes such as Braintree, Stripe, &Paypal are integrated.

User Data Protection (GDPR)
It is vital to ensure data protection as a lot of sensitive user information, such as their phone numbers addresses, and bank account information, is shared by the users during the booking. The General Data Protection Regulation (GDPR) (EU) 2016/679 has already been introduced to Europe and might soon arrive in the USA. It helps users get back in control of their personal data.
Having said that, mobile app security is vital and hence ensures these aspects are taken care of:
Safe App Code: Go with this best practice of Algorithmic code encryption along with API encryption. The source code must be constantly scanned as well.
Customer Data Safety: An app design should be such that it prevents storing sensitive user data on devices. With the Appcelerator platform offering encrypted SQLite modules, the safety of data stored locally is ensured.
Secure Servers: On the back end, the network connections should be secure. The security of servers can be checked with penetration testing. Besides, usage of the encrypted database, TLS, SSL, VPN connection is advised.
Related Blog: Know How Much It Costs to Create a Taxi-Booking Mobile App-like Uber
Required Technology Stack for Hotel Booking App Development
To process and manage data in real-time: Kafka Software
For storage or caching with CDNs, it is better to use Amazon S3
For the primary platform structure, the App Developer can take the help of Google Cloud platforms or Dataproc.
For the desktop-based UI (CEF) Chromium Embedded Framework is a better option.
One can also use Bootstrap to make it look classy and sleek for websites.
Nginx for HTTP and proxy server as it is an easy and open source.
Push Notifications- Twilio,Push.io
SMS, Voice, and Phone Verification- Nexmo, Twilio
Payments- Braintree & PayPal, Stripe, EWallets
Mandrill- for everything related to emails
Database- MongoDB, HBase, Cassandra, Postgress, Mail Chimp Integration
Cloud Environment- AWS
Real-time Analytics- Hadoop, Spark, BigData, Apache Flink, Cisco, IBM
Streaming Media System- Helix Universal Server, Wowza Streaming Engine, Nimble Streamer
Weather Forecasts – OpenWeatherMap API
Maps – Google Maps API
GDS access – Amadeus, Sabre, or Travelport.
Nearby Places – Google Places API
Hotel metasearch data – HotelsCombined Data Feeds and Skyscanner Affiliate API
Aggregator APIs – ZUMATA Hotel Booking API or Expedia Affiliate Network API
How Much Does It Cost to Develop a Hotel Booking Mobile App?
Hotel Booking App Development depends on its size & complexity. Other than that, the location of the developers and the number of hours consumed in the app creation play a crucial role in deciding the app development cost. Based on different zones, here we have outlined the cost of developing a featured hotel booking app.
US-based developers: $100 to $250 per hour
Eastern Europe-based developers: $80 to $180 per hour
India-based developers: $25 to $50 per hour
A feature-rich hotel booking mobile application can cost you somewhere between $20k to $30k for a single platform. If you are looking forward to a mobile app for both platforms along with a robust web portal the cost will go high accordingly.
Summarizing the Concept
Hotel Booking Mobile Apps need constant innovation as the industry is ever-evolving. Hence, the mobile app development partner must do market analysis from time to time. Download new mobile apps go through them for innovation and gain knowledge of how to improve your own product. Ultimately, never give up on a chance to surprise your users by improving existing solutions.
FAQs: