All companies use some of the other software and the software producing companies are thriving in the market. At times, the in-house staff is not enough to cater to the needs of the organization, and the company has to hire a team of software experts from outside or outsource them from some other country. Software development companies have been established in every corner of the world and software engineers are much in demand these days.
If you have an organization and are looking forward to hiring someone for a short period of time, you should consider outsourcing software engineers. The work of developing software can be delegated to people abroad. Freelancers can be hired for a specific period of time.
Understanding Nearshore Software Development
When an organization wants to hire freelancers from some other country in proximity to their nation, it is called nearshore software development. It is known by this name because of the location. It is a process of delegating tasks of a company to someone who is based out of your native country and works for you from there. This does not mean that the software developers will keep working from their country, they might also want to visit your office once in a while. In the case of nearshore, it is easy, as the two countries are close by and the time taken to travel will be less as compared to countries which are far.
For example, if an organization in India wants to hire a nearshore software development team, it will consider hiring someone from Singapore, Dubai or Thailand, rather than someone who is based in the U.S or Canada. It is easy and saves time to fly from the former countries to India, whereas it takes several hours to travel from the latter countries.
Read Also: Healthcare CRM Software Solutions – Key Features & Benefits
Here are some important aspects you must know about nearshore software development:
The time difference between the two countries is less. Let's say, if the time difference is of 3-4 hours, it will be easy for them to communicate and their work timings will not clash as much it would do with someone who is in a different time zone altogether.
The freelance software developers, who have been hired from nearshore, can travel to the country every once in a while, without wasting much time and money on travel.
There will be no communication barrier as the days and nights will be almost the same.
In case you want to meet the developers in person or want any assistance from them you can always fly to them quite quickly within your specific budget.
Most companies might consider nearshore software development these days as there are several factors that might prove it to be more beneficial than hiring someone from your own country.
What Makes Nearby Software Development the Right choice?
Well, as the name reflects the major difference between the two is in the geographical proximity. When we talk about offshore software development it means that you would be taking assistance from developers from some other country that is really away from your operating base. In case of nearshoring, you connect with the development team in nearby countries.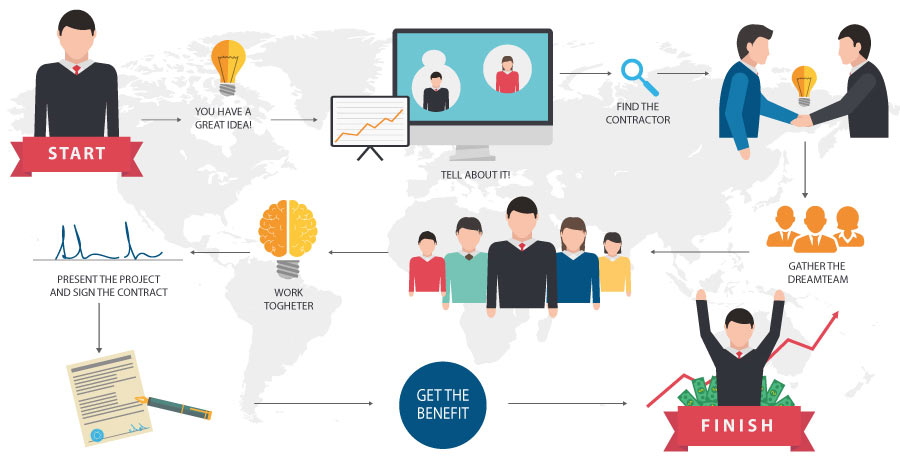 Nearshoring is actually a relative term and is calculated in terms of offshore service providers.
What are the similarities between these?
There are a lot of similarities between offshore and nearshore service providers. Let's consider each of them.
1. Office at Distant Places: When talking about nearshore or offshore service providers, they do not work in the same office as yours. It is easier for you to reach them and get your work done at better prices.
2. Virtual Connects: In both cases, you would have to travel a little. Since these are in different countries by all means you would have to connect with them over virtual medium instead of in person meetings.
3. Indirect Communications and Interactions: In both cases your inhouse team needs to interact with the outsourcing team to get the results that are exopected of them. Also, the outsourcing team makes it a point to train your employees with the right functioning of the solution.
These are a few similarities between nearshore and offshore assistance. No matter what, if you want to enter the market with a world-class product, then just hire the right team that would make things easier for you.
Read Also: HRMS – Human Resource Management Software Development Cost & Features
Hiring nearby software developers for your project has aSoftware lot of advantages to make your life easier. We share here some of the pros of hiring a team to get your work done.
Let's take a look at these Pros of the process:
Any of us would adopt new business practice only when we see it making money. We share here how outsourcing your software development responsibilities would turn out to be a win-win situation for your business.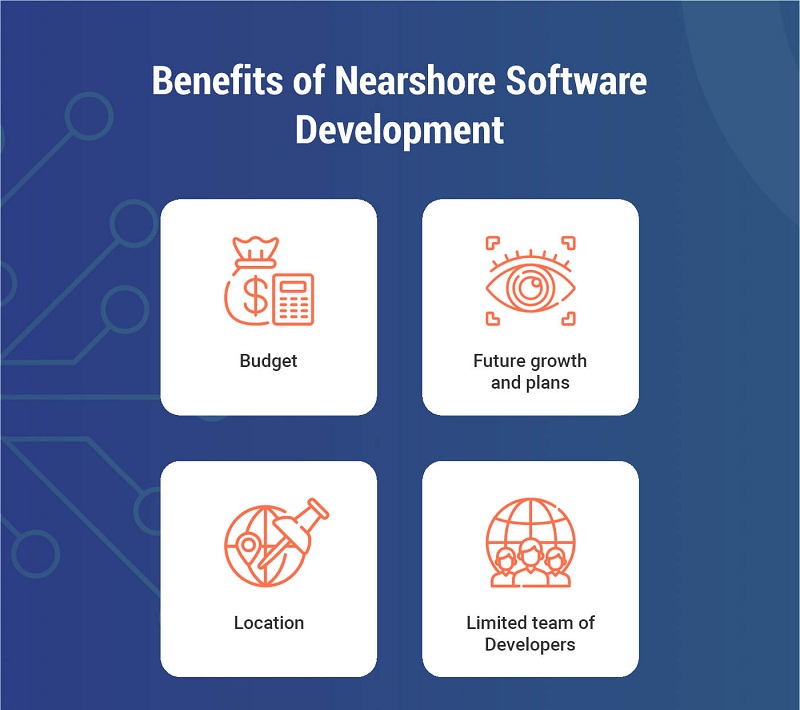 Budget: Budget is one of the driving forces behind hiring someone from other country to do your work. If the services provided in your own region do not suit your budget and are proving to be heavy on your pockets, you must hire freelancers from another country. It is one of the biggest cost-cutting options that will help you reduce software developing expenses. The same money can be utilized on something else.
Future growth and plans: All companies have different future prospects. While some might want to hire a team of software developers and want their assistance in their organization every now and then. For them, it is best to hire the talent from their region and work with them. However, if you are looking forward to hiring someone for a single project, then you might consider nearshore software development teams and work with them. This will refrain you from incurring unnecessary cost on office rent and regular salaries.
Location: You must choose a country from where you want to hire a software expert or a team wisely. Location plays a vital role in zeroing in a Country. You must know how many software development experts are present in a country and should see if you can make the maximum use of the talent present in the country. For example, if you know that Dubai is a pool of software development experts, and you might get an exceptional pool of talent there, then that country might be on your priority list. Also, it is in proximity to India, which will prove to be beneficial in the long run.
Limited team of Developers: It is highly likely that at some point in time, you might fall short of talent and might just need an extra hand or hands for the completion of your project (or projects). In this case, you might want to hire someone from a nearshore and delegate some work of the project to them. Some well-known companies in the world have also been utilizing talent from near-shore, and they have performed exceptionally well.
Collaboration becomes closer: The short-distance between both the countries proves to be beneficial as the freelance developers can come down to visit the organization in no time when he is called. It is a great option when you consider holding face to face meetings or arrange online conferences.
Regulations are quite similar: Developers should consider taking care of the regulations of a region while building an app. Countries in proximity share similar regulations, which helps the nearshore developers understand the basics and culture of regulations laid down by the country.
Time-zone Difference: The difference in time between the two countries has proven to be beneficial as it helps the organization communicate with the developers at any point in time. Time gag is the biggest benefit in hiring someone from nearby countries. If someone from India wants to communicate with someone in the U.S., that would be a big issue because the time-zones don't match.
Talent: Nearshore software development gives you easy access to immense talent easily. This makes it easy for you to look for talent in less time. Companies do not have to spend days on looking for someone who fits the vacancy. There is a pool of talent from which they can pick someone who fits in well with their requirements. The provider already has a team of developers, from among which the companies can pick someone who would suit their nature of work.
Security: Your in-house team might not specialize in IT, and might not be well versed with the security of the software. For the same purpose, you can hire someone from another country, who understands the laws and security of software. This helps in developing software using the codes and processes that are safe and secured in the long term.

Looks like a list?
Well, when you work with an extended team for your business needs, there are a lot of advantages. The extra time that you can make and the more focus on your business. But when it comes to outsourcing your business needs the process becomes quite difficult since you aren't sure how things would work.
Read Also: How to Develop a Scalable Hospital Information System – HIS System
We share here a few points to consider when hiring a nearby software development team for your business projects.
Here's what you should consider before hiring nearshore software developers:
In any business it's important to be aware of the situation before you make any decision. You have planned all the steps of your business so well, so now is the chance to know how to hire nearshore software developers.
They should be committed to the security of the software they are producing for your organization and should know how to handle data that is sensitive.
Before hiring anyone, an organization should make sure that the software developer's previous track record is clean and will prove to be beneficial for the company.
There should be a clear and trustworthy communication between the organization and the developers. You should make sure that the developer is available either on calls or emails all the time.
You should also make sure that the tech capabilities are going to be of full use when the developer works for your organization.
The developer should be flexible and willing to commute to your country whenever needed.
Well, these points may simpe, but they do create a difference when you decide to hire a team that can help your business grow.
Conclusion:
Nearshore software development comes with a set of benefits as it bridges the gap between the talent of the two countries. It does not restrict the talent of developers to just one country. You can get a pool of talent to choose from and can hire someone who fits just really well in the vacancy and someone who will be able to do justice to the kind of work you are looking for.