Google IO 2018 recently took place in California and there have been all kind of goodies – offered by Google – displayed at the occasion. However, the one that won many hearts and drew massive ovation from the audience was undoubtedly Google Duplex. Google Duplex sees an AI mimic a human voice to make phone calls for you and do stuff like book an appointment at a hair salon as well as seek reservation at a restaurant, while also always making the sounds mmm and hmmm during the conversation, which left the audience in giggles.
So, what it really is?
Though there were a host of announcements made by Google at its annual IO conference, the revelation about their working on a tool called Duplex garnered the most attention. To understand in simple terms, Google Duplex is an artificial intelligence assistant that can call up people and also interact with them without the attendant of the call ever realizing that they were actually speaking to a robot.?
Why so much hoopla over Google Duplex?
Google CEO Sundar Pichai displayed on stage in a very interesting manner that how the bot could make calls to people and book an appointment at the hair salon. It handled the entire process of booking the appointment- referring to the human as its client without the person on the other end of call getting to know they were actually interacting to a robot.
Many agreed that the AI assistant deploying pauses and ums and mmm-hmms to sound more human while conversing with real people was the coolest.
As per Google, Duplex can well-understand complex sentences, fast-speech, and long remarks, and thus it converses naturally and makes an appointment for the user, before sending a notification to the user to confirm the booking. If you haven't already seen the demo, then please do watch it below and have an amazing time, as it surely assures one. https://www.youtube.com/watch?v=2V6NHKmfnW0   "We really want to work hard to get this right," stated Mr. Pichai.
What can all Google Duplex do for now?
To start with, Google Duplex will be initially focusing on three kinds of tasks: like scheduling hair appointments, making restaurant reservations and finding out businesses? holiday opening hours. Some even wonder why does this AI sound like a human. On part of Google, it reckons that sounding like a human is the most effective way to get information from people, especially when there are variables and interruptions. Now if we talk in a matter-of-the-fact tone, then will really make a conversation if you got a phone call from the Terminator. In all chances, you are certain to hang up. Thus, keeping this in mind, the Duplex talks in a human voice.
How will Google Duplex prove beneficial for businesses?
Well, business needs to invest a big amount of capital in IT infrastructure, which is the reason why 60% of businesses in the United States do not have any digital booking system. However, with Google Duplex effectively handling bookings and making appointments, it can help businesses in a big way enabling them to make new business without the need to maintain any IT infrastructure, which is just great. Hence, businesses must really look forward to this recent invention.

How does all of it work?
You can find the full details at the Google AI Blog, but here is an executive summary: Google Duplex is the wonderful mean to get information that isn't on the internet. This way, Google Duplex serves as the missing link between Google Assistant and any business, as it enables the Assistant to gather information which is not available digitally. For an instance, you may want to know about a business? holiday opening hours but their website doesn't list the same, or you may want to know whether a store has a particular dress is available in stock and it doesn't have online stock availability.
So Duplex does what rather you would do. It makes the call and asks for the information it requires.
In technical terms, Duplex uses a recurrent neural network (RNN) which is built using TensorFlow Extended (TFX). RNNs can do the job of processing sequential, contextual info, and this is what makes them best suited to machine learning, speech recognition, and language modeling. Upon receiving a request from you, the Google Assistant hands it over to Google Duplex to carry out the task; if the assigned task is within Google Duplex's abilities, it will get started with it instantly. In case, it is unable to, then it will convey the same to Google Assistant or may refer the task to a human operator.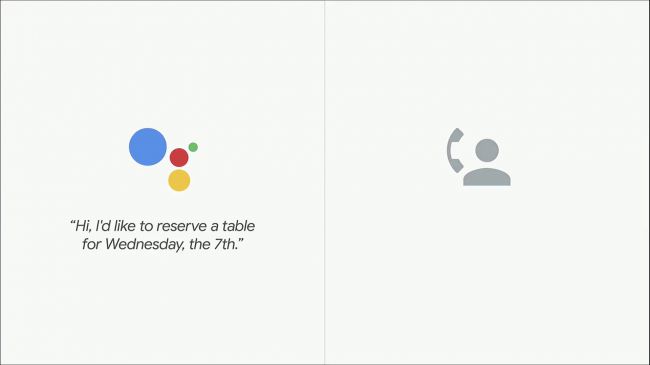 What is Google Duplex capable of?
Well, right now our personal digital assistants are more digital than be of assistance like it will turn up lights or start the TV when you ask, but they are not able to book a movie ticket, make a doctor appointment or many other tedious tasks we spend our time doing. Now imagine the time we'd actually be able to save if we didn't need to spend those hours on phone to change tiny bit detail in a form, or answering to a simple customer service query. Now there are certain apprehensions over this technology as well from a safety point of view. Some are concerned about the ethics of using bots that are capable of tricking people into thinking that they're speaking to a human, and also about the dangers of such technologies if falls into wrong hands (imagine automated spam calls to get our online banking details.) This way Duplex is a good example of how technology is morally rather neutral, neither good nor bad. However, this week Microsoft did show that it has great potential to do good. Meanwhile, it is reported that Google will begin with a testing feature in a public beta via Google Assistant at the time this summer, though a specific release date or region where it is going to be available has not been announced yet.