Fintech app development services come with innovative and engaging solutions that help users take care of their finances easily. Often many of us end up spending too much without choosing the right place to invest in. In a world where the scope for employment and earning is increasing, the need for various fintech apps is an unsaid fact.
Many businessmen look forward to this opportunity and partner with a fintech app development company to develop solutions that can help users take care of their finances. In simpler words, in this modern era, where technology offers assistance for everything, our finance isn't left behind.
How often do you make cash transactions?
Can't remember?
Yup, this is what digital payment applications have done to us. We need not carry cash, wait in bank queues, or even meet people for loans. Simply download an application and done. Fintech is the umbrella term for all finance-related services like banking, how to develop fintech app loan lending, transactions, investment, finance management, stock trading, budgeting, and anything that you can think of.
If you are someone who is looking forward to making an investment and earning profits, then research some fintech app ideas and connect with our team today.
Here, you can understand the term fintech solution, how to develop a fintech app and its entire development process from scratch to end, its challenges, and the cost to build fintech app.
Recommended Read: Best Financial Business Ideas
Current Market Growth
If you are planning to build fintech app, that lets you take leverage of the booming market then now is the perfect time for you to take any of your fintech app ideas to work on.
Here's what the numbers say, about the Fintech industry:
The fintech market is growing at a CAGR of 23.41% and it is expected to reach USD 324 billion by 2026.
Statistics about FinTech Market 2020-2025
Fintech app development has witnessed steady growth over the years thanks to the various benefits it offers. Out-of-the-box fintech app ideas have made banking and other financial services convenient and more accessible.
The financial services market worldwide is predicted to reach about $26.5 trillion by 2022.
The global Fintech investment had a total of $26.5 billion and 1,221 deals in the first half of 2020. Most of the deals were derived from 2019 due to COVID-19.
Around 28% of the banking & payment services will have the risk of commotion because of new business models introduced for Fintech.
Up to 22% of firms in the wealth management, insurance, and asset sector will also have the risk of disruption because of the new type of business model for Fintech.
According to the report from Statista, fintech has raised space of $112B by global investment in these aligned companies.
More than 70% of the company's senior executives believe that fintech creates a multitude of opportunities for banks and customers.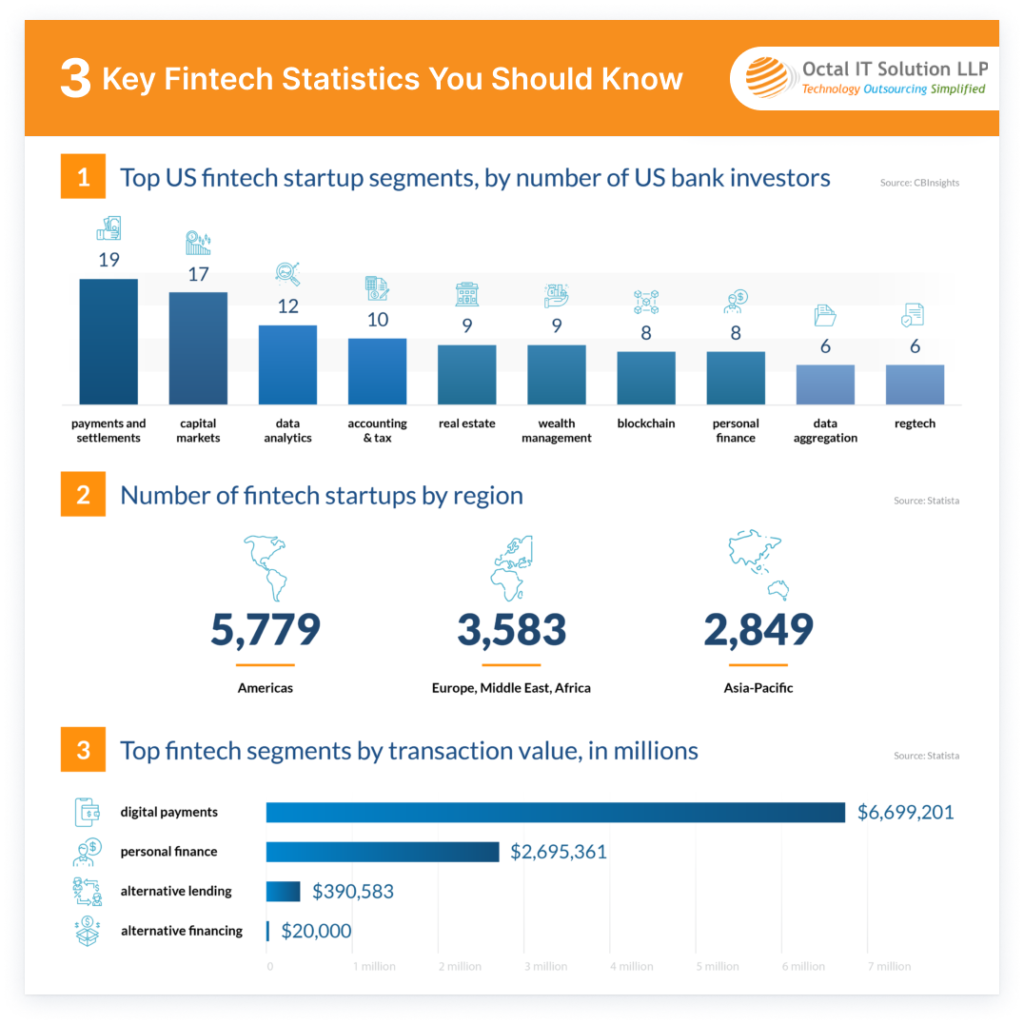 Fintech brings tech-driven financial products and services to the market in a digital format. India is the global market for fintech app development services when it comes to innovation and enterprise.
The global success rate for fintech has increased to 87% from 64%; turning India into the inclusion of fintech services.
Source: Market Data Forecast
Different Types of Fintech Mobile Applications
Before you avail of fintech app development services, it is essential to define the kinds of fintech mobile apps so that you can choose among them as per your business requirements. What are they? Have a look below-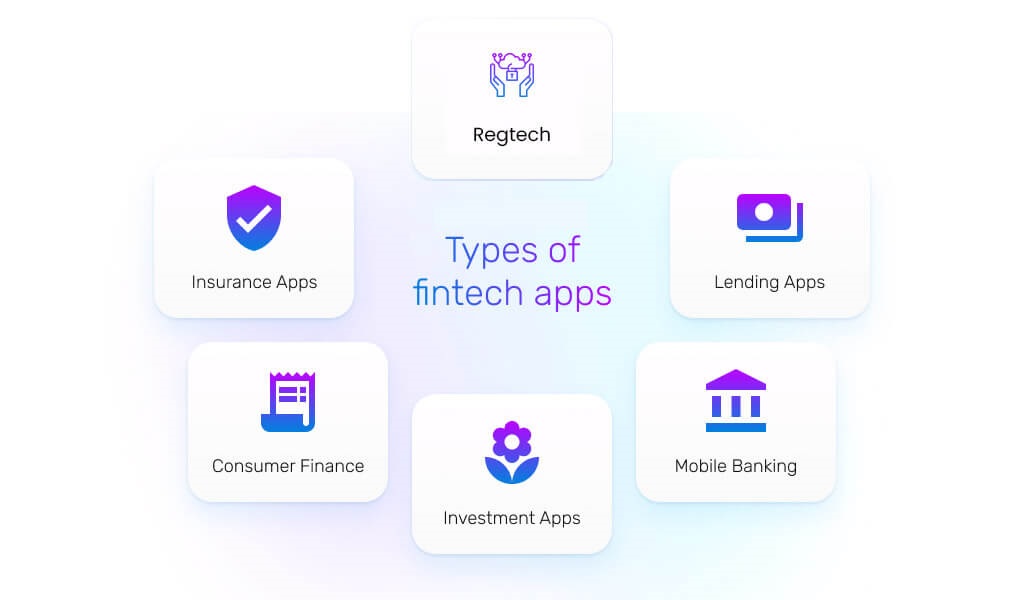 1. Mobile Banking Apps
Most banks are going digital with mobile banking apps to offer unmatched customer services to their users. Mobile banking applications let users avail of banking services in the comfort of their rooms. With the accessibility of the internet and growing technology, most users now adopt digital ways of banking. This is one of the best fintech app ideas to make profits.
Some of the best banking applications in the market are Revolt, Starling, Monese, etc.
2. Borrow Money Apps
Another significant fintech application in the list is the borrow money application. These applications let users avail of loans at competitive market rates without much effort. Two advantages of these applications that make them popular are, most of them offer loans even to users with below-average credit scores, and unlike banks and other financial institutions, they offer flexible repayment options. The cost to develop fintech app that lets users borrow money is reasonable and helps you earn handsome profits.
Recommended Read: Loan Lending App Development: Cost & Features
3. Investment Apps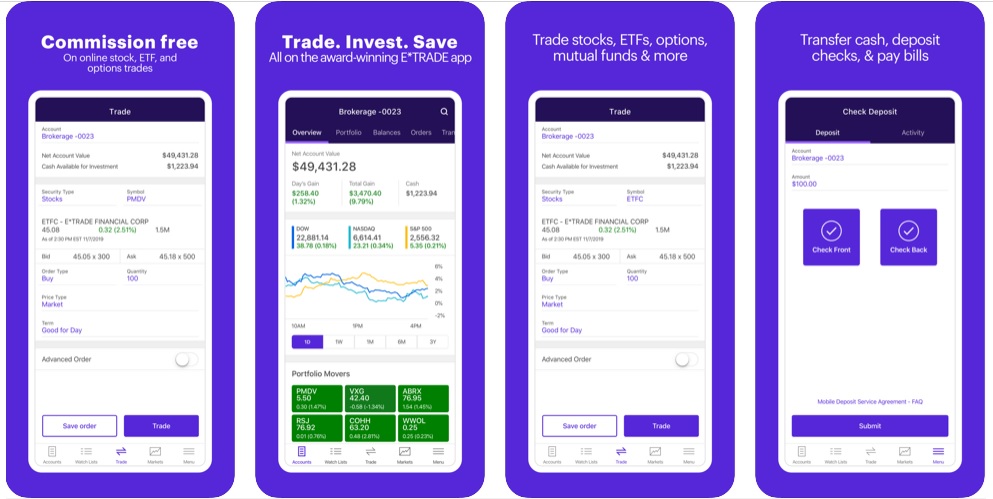 These applications make it easier for users to invest in the market. These kinds of stock trading apps have proven as the best guides for newbies as well as for experienced people in the field of the stock market.
The app facilitates users with analytics data to improve their decision-making and offers a broad range of investment sources. Even there are some popular apps such as Robinhood, Acorns, and more that provide customizable and automated investing. Hire top mobile app developers to build fintech app that manages investments and expenses.
Recommended Read: Expense Management App Development: The Ultimate Guide
4. Consumer Finance Apps
These types of applications help consumers in money management and planning their monthly or yearly budget, saving, or tracking their expenses. Consumer finance apps don't comprise payment processing services usually; these just coordinate the bank accounts with different payment services such as Google Pay, PayPal, and Apple Pay. If you want to build fintech app, then this is a good option to go with. These apps are less complex when it comes to entry-level apps in terms of the limited budget. The most famous consumer finance apps are Finch, Mint, etc.
5. RegTech Finance Apps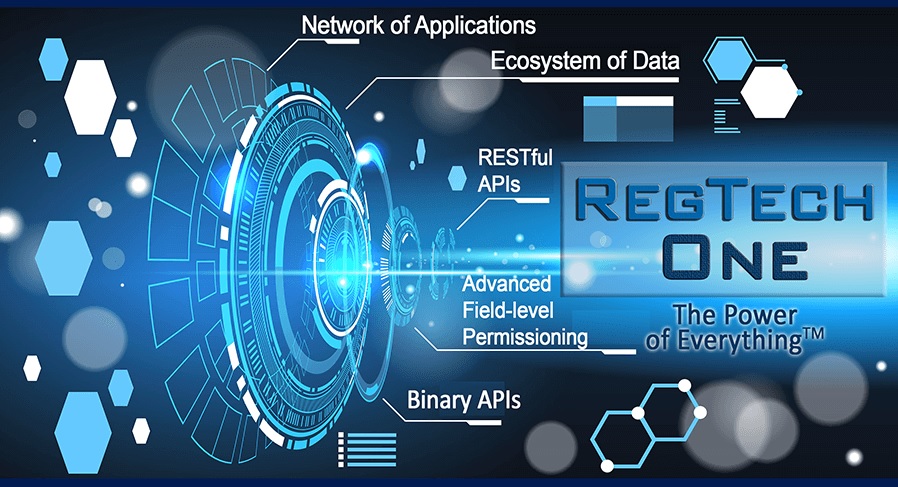 Regulatory technology is basically a sub-category of fintech applications that helps businesses manage their compliance and regulatory requirements. If you are looking forward to building a fintech app that helps other businesses too, then this is a great domain to invest in.
6. InsurTech Apps
Insurtech applications allow users to have improved interactions with insurance firms. Users don't need to call an agent to know anything; they can take help from the app. Some of these apps are powered with technologies like Artificial Intelligence and Machine Learning for handling the risks and encouraging users to safe behavior and a healthier lifestyle.
Building a fintech app like this needs experience and expertise. Our dedicated mobile app development team can help you build such solutions easily. Apps like Coalition are the perfect example of Insurtech mobile applications.
Recommended Read: Insurance Comparison Mobile App Development
These are some of the most common types of applications that our custom fintech app development company has recently worked on. If you have an idea that goes beyond these, we would love to hear it and work on it. Our experts can help you find the right tech stack, develop a solution, and launch it.
Future of Fintech Solution
The industry of fintech has an immense number of solutions retrospectively to the users ranging from mobile banking to insurance to cryptocurrency and investment applications. How to develop fintech app that stands up to user expectations?
Well, easy! One, addresses the issue they are facing and provides them with a technologically advanced solution. And two, help your users know about what you have created with the right marketing strategy.
Sticking to the latest trends can help you be at the top of your game. Some of the significant trends that will surely define the future of the fintech industry are;
Mobile and Cashless banking
Finance and wealth management
Paperless Insurance & Loan Lending
Stock Trading Mobile Apps
Popular Fintech App Companies Across The Globe
With time custom fintech app development gaining popularity, and innovation and tech trends are transforming. In the journey, a lot of new players have joined in. Here's a list of some of the top players in the fintech industry you can take inspiration from.
1. Banking Solution Provider Fintech Apps
If you are confused about how to create a fintech app for banking and financial institutions, we can help. We are a team of experienced mwallet mobile app development service providers and can help you be at the top of your game always.
Some Top Banking Apps
Monzo was founded in the year 2015, this UK-based fintech company has acquired $1.1B and has nearly 5M account holders.
Tide has the potential customer-centric banking market; users can raise business credit in less than 3 minutes.
2. Payment Solution Provider Fintech Apps
Our fintech app development company has partnered with various payment solution providers to provide a comprehensive payment solution to the users.
Some Payment Gateway Solution Providers
Braintree is a PayPal-owned company empowered with a powerful payment solution to transit companies like Uber, StubHub, and Poshmark.
Stripe delivers solutions to top MNC companies like Google, Amazon, Salesforce, and many others. Stripe has partnered with banks including Goldman Sachs, Barclays, and Citibank and launched their stripe treasury using the stripe API for end-to-end customers like Shopify.
Azimo promises to deliver money within less than one hour.
3. Investment and Wealth Management Fintech Apps
One important segment of ewallet apps is personal investment and wealth management apps. The fintech app development service providers often integrate these features into all applications to ensure users are aware of their expenses and savings.
Some Popular Investment and Wealth Management Apps
Robinhood has a service for premium users called Robinhood Gold which allows pre and post-market trading, buying additional power, and larger instant deposits.
Mint is another popular application that lets you manage your money and budget by linking your registered phone number to the application.
Recommended Read: How Robinhood Works and Makes Money?
4. Market and Crypto Exchange Fintech Apps
As we talk about solutions for crypto exchange, fintech app security becomes a major concern. The applications are quite complicated to develop and need blockchain expertise to build an app.
Some Crypto Exchange Apps
Ethereum is one of the token mining companies, working on bitcoins, consumer apps, and developer API. It has invested total funding of $18M.
WazirX is an Indian crypto exchange that has more than 5 million users. The app has been recognized as one of the best in the industry.
5. Money Lending Fintech Apps
Another interesting fintech app idea is a money lending application that lets users borrow money easily.
Our money lending application development team connects closely with the client to understand their requirements and delivers solutions that are unique to their business idea.
Some Money Lending Apps
UpStart is a San Francisco-based service that delivers money-lending solutions to fintech companies.
LendingClub is another solution that offers money lending solutions to users around the world.

Step-By-Step Process to Follow While Developing a Fintech Application
Before you begin your journey and hire a fintech app development services company, you must be aware of the steps involved in the development process.
The mobile app development team will keep you in the loop right from the app idea and conceptualization to app deployment & maintenance.
Here we have prepared a complete guide about fintech application development & how much fintech app development costs.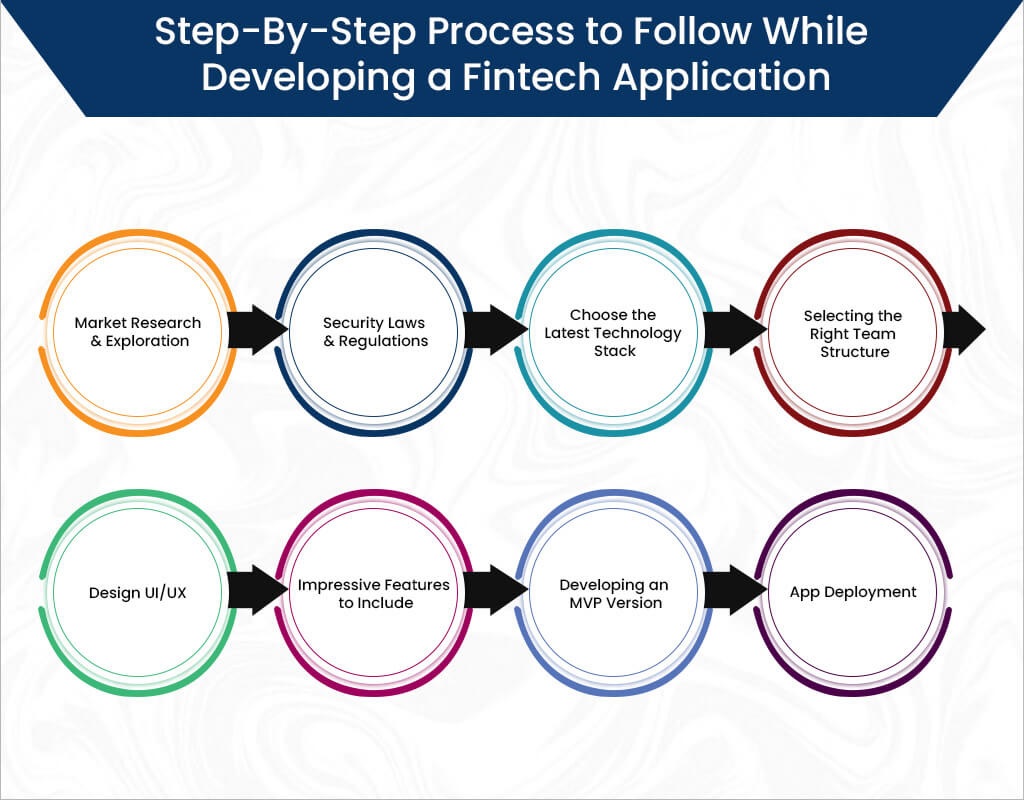 1. Market Research & Exploration
The market study including research about competitors, challenges, market scope, current trends, target market needs, and more, is the first step when it comes to developing a fintech app. After choosing the niche, you must concentrate on the complex solutions, create some new ideas and bring out some expansions to the existing technologies. Once you have cleared all your doubts in this stage, it will make further stages simpler for you.
The need and popularity of fintech apps in India and other developing countries reflect the scope of these applications worldwide. You can choose to enter the market with an international payment application that makes cross-border payments a lot easier.
2. Wireframing and Prototype
A prototype can help your product value in the end. You can cut a lot on fintech app development cost here. It will help you evaluate any mishaps or loopholes at the beginning of the process.
3. Choose the Latest Technology Stack
Selecting the appropriate technology stack must be preferable to Fintech app development to make the application worth using. Don't get confused with the multitude of options you get to choose as it leads to some serious consequences. Pick modern-edge technologies as per your app type and required features. Consider that every project is unique and one technology stack can't fit all, hence choose accordingly.
4. Selecting the Right Team Structure
Pick a rich-experienced team with expertise in different programming languages. They must know how to build fintech app. For this, hire a leading Fintech mobile app development company or go for a team of adroit developers to create a competitive app with advanced features.
5. Design UI/UX
An appealing and interactive Fintech app design is very important to attract the target audiences which can be done by comprising data visualization, simplified UI, attractive components, etc. A striking but simple UI design by your Fintech app development services provider will help you earn a large customer base by providing users with a smooth usability experience.
Don't overload the app interface with non-required features as it will make it complex only. Keep only limited aspects to make the app simpler to use.
Recommended Read: Best Fintech Mobile Apps
6. Features Implementation to Match Your Goal
To deliver the right stack of services to the user, it is essential to add the best feature-aligned solutions. Always try to include the best fintech app features in your app that match the industry standards.
Some of the must-have features are:
Sign up and sign in screen
Transaction history
Card details
Checkout and cashback
Deposit machines
Saving management
E-signature
Data visualization
Push notifications
Details
7. Developing an MVP Version
Before developing your fintech app at a large level, it would be better to test your app with limited and required functionalities. A minimum viable product (MVP) will help you to serve this purpose. An MVP will bring value to your business and provide you the chance to improve the app as per the users' feedback. It is a great and most adaptable way to market your app and grab more and more investors. An MVP will also alleviate the risk of not being successful in the market.
8. Introducing AI with the Platform
AI is the most important factor when it comes to banking and finance. The technology is so fast revolving, it must be important for fintech companies to align them with AI technology to add advantages to their business. The AI fintech solutions are fast, advanced, user-friendly, secure, quick, and reliable in the industry. When often asked how to build a fintech app, our experts do include Artificial Intelligence and Machine Learning as strong pillars to build recent apps on.
9. Security Laws & Regulations
Before getting into building a fintech app or integrating any feature, make sure you have compliant with all the security laws and state regulations. The fintech solution you are intended to develop must involve good legal standing. Each country has its own set of legal requirements that must be followed while starting a Fintech business. Fintech app security is one aspect you cannot miss.
Some examples of legal policies and regulations are Anti-money laundering, KYC (know your customers), Payment Card Industry Data Security Standard (PCI-DSS), and digital signature certificates. All Fintech businesses must comply with the arduous standard of such legal policies. Despite it, some privacy laws should be followed as well including the ePrivacy regulation, GDPR, CCPA, and others according to the country you want to establish the business.
10. App Deployment
If you are done with the fintech app development process, test your app and make the necessary changes to launch it in the market. Choosing the right deployment platform is significant for setting up a fintech services business appropriately. It depends upon the Fintech businesses where they want to deploy their app, be it Android or iOS, or a cross-platform app. If you go for a hybrid app, you will end up having a huge customer base. After deploying, upgrade it time-to-time to keep it competitive.

Recommended Read – Top Fintech App Development Companies
Challenges Faced in the Development of Fintech Solutions
Fintech is more about solutions rather than problems. But as we know every industry has some challenges.
The finance industry has many uncertainties in the path; we must understand the challenges found while giving the fintech solution and the reason to recover from it.
1. Secure Digital Identities
How to secure your digital identity? This is one of the crucial fintech app features you need to consider before starting your fintech mobile app development process. In this virtual world where we live, it is very tough for companies to not lose their digital image. Fintech companies are in the extreme fight to resist their space and deliver accurate solutions to their customers.
You can secure your online identity as well. Allow some bottlenecks at the time of registration to the portal. To commend that you can offer login via OTP or a two-way authentication process. Thinking about all of the challenges in the initial stage is the clever thing most companies adopted.
2. Data Ownership Legalities
When you start your journey with how to create a fintech app, don't miss the legal aspects. To match the data legalities and compliances, companies have to go through many legalities and ownership issues. In the finance and insurance sector data is a crucial asset. You can't claim the existence of your data without any legal formalities. You need to appoint some person/lawyer to deal with such cases.
3. Migrate to cloud or virtual platform
Data is distributed to the local companies. It has to be placed somewhere in a secure place. For this, you need to set your important data asset on the secured server or the cloud platform.
You could combat with the cloud solution companies to garner your vital data over their storage. However, there are different tools for monitoring and controlling the data on virtual platforms.
4. In Accordance with Laws and Regulations
To start with your fintech app development, you must attire your business under the compliance and monitoring of the legal laws and authority of your country.
This is an important parameter for your startup to consider and it will maintain the trust in your business for a longer time.
Recommended Read: E Wallet App Development – Cost & Key Features
5. Any Third-party Protocols
Being the superlative solution partner in the fintech sector, you must align with some of the third-party protocols. For your consideration, some of them are payment gateways, social network buttons, chatbots, and analytics systems.
Fintech companies are the forefront solution provider for the current trends in the industry; challenges are only the traits that could be possible in the middle of the development process.
Come up with some tactics to rebrand your image and let the world be at your table.
Important Technologies you can add on to the fintech app
Security is the top-notch factor aligned with the fintech application for secured and faster banking. The technologies evolved must be integrated with the security to cut down any risk for the registration and banking system. When asked, how to build a fintech app, the fintech mobile app development team often lists the tech background as an important factor to consider.
The goal of every fintech company is to acquire desired solutions for the users in any possible way. While choosing the technology stack the developers and the analyst work cohesively to come up with some solution that will functionalize the whole process.
In 2023, the fast-forward technologies are Bazzle of the fintech core companies;
1. Native App
iOS: Swift, Objective C, Apple Xcode, iOS SDK
Android: Java, Kotlin, Android Studio, Android SDK
2. Cross Platforms
Reactive Native, C#, Flutter, Xamarin
3. Hybrid Platforms
4. Other Technologies
Push Notifications – Twilio, Push.io
SMS, Voice, and Phone Verification – Nexmo, Twilio
Database – MongoDB, HBase, Cassandra, Postgres, MailChimp Integration
Cloud Environment – AWS Cloud Computing
Realtime Analytics – Hadoop, Spark, BigData, Apache Flink, Cisco, IBM
Consider the technology which is edible for your niche. This will elevate your product to the right market and reduce the cost. You can choose some fintech app development company that can boost your product into the market with the right addition of technology stack.
Cost of Fintech App Development in 2023
Fintech is a wide sector in the marketplace. It is based on many other factors. The cost to develop fintech app depends on various factors.
Some of the most dominant factors are the technology stack, platform, features, location, etc.
1. Location of the Fintech App Developers
You need to pick the right mobile app development team which can fit your industry legs.
However, the cost of hiring fintech app developers would vary according to the regions where they reside. The charge for American or European developers is high compared to the Asian region developers.
2. Technologies Used in Fintech App Development
The technology for fintech app development plays a crucial role in determining the cost. The app structures are fragile and complex and thus one cannot compromise here.
It is important that the application is technologically robust and easy to use and manage. It must support the latest algorithms. This may increase the final cost to build fintech app but save tons on upgradation and maintenance.
3. Cost for the Maintenance
How about you acknowledge whether your platform is fully functional or not? After-production support is equally important for your application. That brings trust and quality to your solutions in the market.
4. A Niche for Fintech App
The fintech apps are widely distributed among some industries like banking, lending, insurance, investment, consumer finance, etc. The cost to develop fintech app varies for different niches, you should briefly analyze each component and estimate the final price for the product.
We segregate the cost for the final fintech app development. It will come in the range of $50k to $80k. The cost would rise as per the additional needs of the app owner.
Recommended Read: Best Financial Business Ideas
Key Takeaways!
The pinnacle of finance will foresee new changes in the market. Fintech has the potential to reshape everything including banks to credit payments, business loans to insurance policies; it has no limitation.
This extreme financial solution influences people to come forward. We have delivered fintech-based solutions to companies with our expert assistance. You can connect with us for more.
Frequently Asked Questions