E-Wallet Business Model: How Does e-wallet Work & Make Money

By Mann Sharma

August 5, 2021
Giants such as Apple, Amazon, Google, Visa, and Mastercard all want to be your mobile digital wallet.
Gone are the days where you would struggle to find the change for a certain amount or make an excuse of forgetting your wallet back home. With time things have changed only for the better. Everything has turned digital. If you are one of those who never used a digital wallet then you are rare and if you are one of those who understand the potential of the e-wallet financial model and want to put it to your use then you are at the right place.
If you are looking forward to entering the digital domain with a highly rewarding ewallet application, it is important that you understand its functioning and operations a little.
Definition of Ewallet Applications
The modern age of man is using technology to make their lives easy and channel the youth towards an easier and better future. One of the most common upshots of expanding the role of technology is the "ewallet application."
The payment app business model is one perfect example of a modern-day invention designed specifically to fit into the conventions of the modern world. This has made an in-app payment more popular and thus eCommerce industry is transforming a lot. Digital wallets mobile apps are quite convenient to make payments as one need not struggle for change or to carry cash in their pockets, everything is available at the tap of your phone. Although these applications are gaining popularity day by day many of us aren't aware
of how does mobile payment technology work? A digital wallet is basically the electronic version of the traditional wallet that uses a smartphone for any kind of payment.  As the world is turning contactless and cashless this is an easy and interesting way to make payments. Considering the modern age choices this has become more convenient and profit-generating as compared to others.
We share here the simplest step-by-step process of how an e-wallet application works.
How Does It Work?
A lot of people who are interested in entering the market with digital wallets aren't sure how to make money from digital payments. We'll discuss the monetization of digital wallet applications in further sections, here let's have a look at the working of the e-wallets.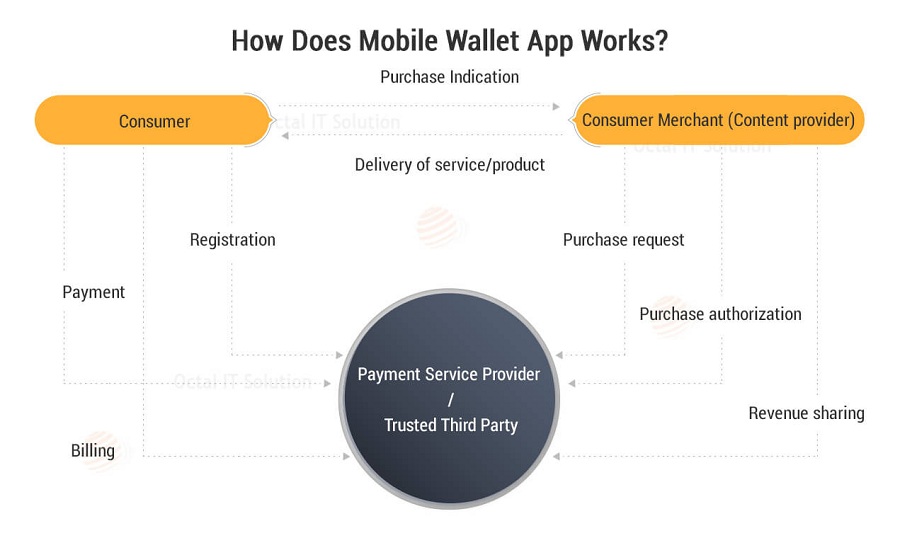 The basic functioning of digital wallets are:
Create your profile by registering on the application with your contact details (email id and phone number) registered with the bank account.
Once registered set up a payment pin of 4 or 6 digits. Once you have a payment pin, the registration process is complete and you can make the payments now.
Search for the payee with their contact number.
Select the Pay or Request option in the application.
If you are a business that wants to demand money from the customer go for the request option and if you want to pay someone simply select a payment option.
Pay the amount with the payment pin and whoosh! You are done.
Transferring money or making payments was never this easy. Along with this simple transaction, you can pay bills, recharge phone numbers, book tickets, make investments, and do a lot more in modern e-wallet applications.
With clear instructions and a well-curated application, it becomes easier for the end-user to connect with your application. Another important factor that defines the reflection of your application is the mobile wallet revenue model.
The revenue model opted determines if your application can further grow into a stronger and better alternative or not. If things don't work well for you then you can surely opt for something interesting and engaging. Now that we have seen how e-wallets work, let's now explore the revenue alternatives for the same.

Revenue Models of Ewallet Applications
As online payment technologies are advancing the demographics of the user base is also changing several folds. Another reason for the extensive use of such applications is the universal acceptance of smartphones. Gone are the days when new technology and trends was meant only for the younger generation or youth, the technology is now universal and this has given a clear indication to the entrepreneurs to explore new business domains with interesting ideas, and the payment service provider business model is no exception to this trend.
Types of Business Models
Our experts believe there could never be a fixed way to generate revenue from your business. As many opportunities you explore, there are more revenue-generating opportunities for any e wallet business model. Yet, the most popular ones are: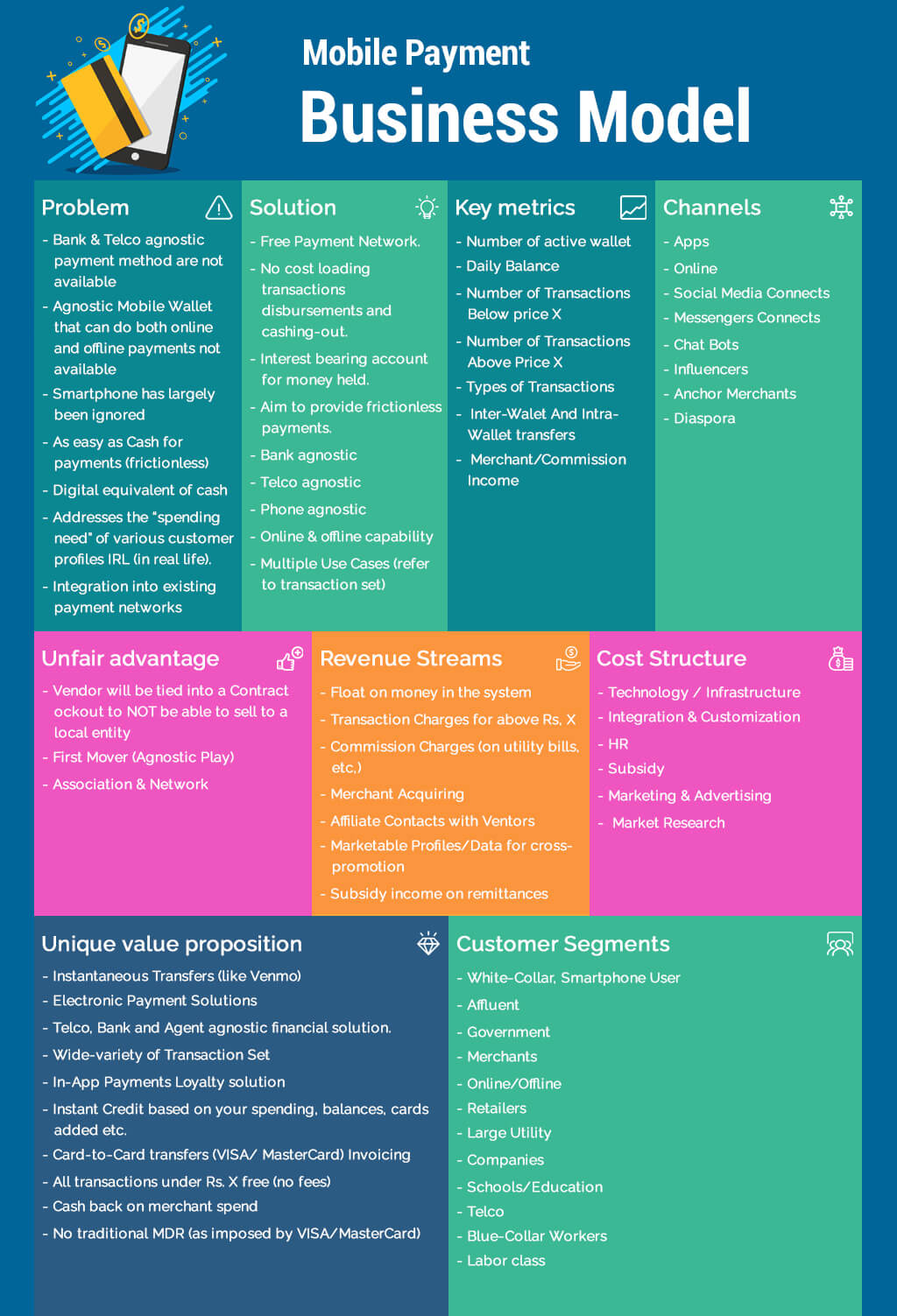 1. Micro Payments: Applications that are focused on making payments of small amounts fall under this category. This transaction method can either be explored with an independent payment application or an in-app payment methodology. Mostly it works as an in-app payment method, where the merchant demands the amount of the purchase.
2. Pay Per Use: This is an interesting e wallet business model. Here the usage of the product is metered. The customers would be asked to make payments only for the times when they use the product. This is more like your TV recharges where you pay only for the channels that you want to watch and not everything. Another significant reference is when industry research firms offer pay-per-click or usage offers.
3. Membership Models:  A lot of people often ask us how does e-wallets make money. Well, along with these business models there are a lot more ways in which the business can make money. In the membership model, the user pays a subscription fee to use the specific service or product unrestricted. This is quite an interesting way to make sure your clients keep coming back to you.
4. Freemium Version: This is another important and interesting way to engage with customers. Here the owner offers a few services to the users for free and for the rest of the features they would charge. In this case, if the user is fine with the basic functionalities they would rarely ask for more and if there is something is missing they have the clear alternative of going for the paid alternative.
5. Crowdfunding: Crowdfunding is another important topic that you need to take care of. This business model works on a simple way of raising funds from the public. Here the individuals and organizations that like the idea of the product make some contributions to give the product strong financial support and back it with advanced technology.
These are the basic ewallet business models that you can consider for revenue generation. Once when you reach us, our ewallet app development team communicates with you regarding all the points and helps you decide on the right business model with a strong feature set.
Before we talk about the feature set that helps us build a strong solution, let's see the functions of a digital wallet. It is way beyond simply making transactions.
Functions of Digital Wallet
The function of any application is the major factor that decides how the application works and makes money. The digital payment business model you choose for the development of your mobile application is also determined by the functions you consider.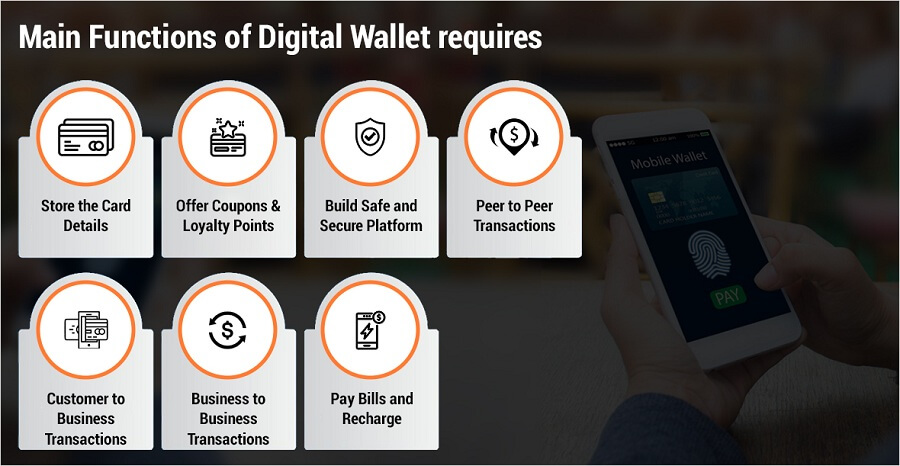 The basic functions of any Ewallet Application are:
Store the Card Details: Since you connect your bank account with the e-wallet application, it stores your bank details as well as the information of the debit and credit cards that you may use for payments. With the help of card information, e-wallet mobile applications let you make transactions or transfer funds to the app wallet.
Offer Coupons and Loyalty Points: Well, who didn't share links for the Gpay account when it was launched? It offered customer loyalty points where one would make some money out of their network. Along with this, they offer interesting cashbacks, rewards, and discount coupons. This collaboration and coupons make it easier for people to stay on the same application that they are on.
Build Safe and Secure Platform: It is important that the platform that your e-wallet mobile app development team is working on is safe and secure. Any application when developed needs to consider the security and safety part and when it comes to an application related to finance or healthcare along with safety and security, confidentiality adds to the list.
Peer-to-Peer Transactions: The e-wallet business model development we are considering here needs to be proficient and accurate. We make sure to give your users various alternatives to make the payments in the right way.
Customer to Business Transactions: Any digital wallet application would come with a business profile and a personal profile. If you run a business then the transaction limits and everything would be higher and if you own an individual account then things would be different.
Business to Business Transactions: When we think about how e-wallet companies make money, we cannot ignore the fact that business transactions and their fees are the major sources. With the advancement of technology, it has become quite easier for people to make heavy transactions without much worry. As businesses can collaborate easily, it becomes quite easier for people to earn better and higher.
Pay Bills and Recharge: This is a significant task of the ewallet application. Here one can pay bills, make schedules, book tickets, and recharge phones. Not just this, in most cases the application sends a notification for regular payments that makes it really easy for the users to bring up interesting solutions.
These are some of the very basic functionalities of a digital wallet application along with these there are a lot more things that can be accomplished using these applications. Based on its utility there are different types of wallets that you can build.
Let's talk about each of them in detail.
Types of Ewallets Based on Utility
Well, any application can be used in various ways depending on the business model and the revenue structure. For an ewallet application, these kinds can be defined as: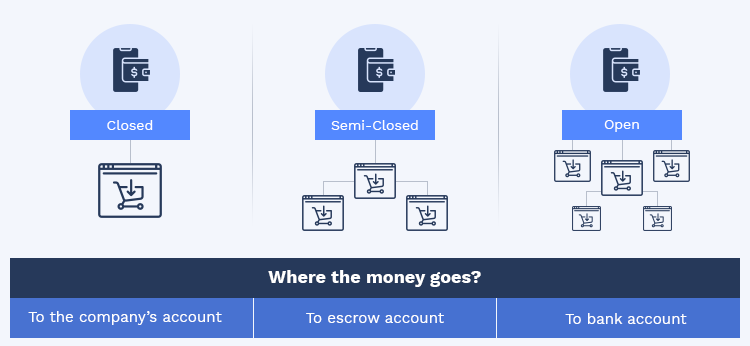 1. Closed Wallet Application
This kind of e wallet financial model is used for the applications like trivago, travel triangle, Flipkart, insider.com, etc. Here the user can use the money that they collect in the app wallet. Closed wallets are accounts where the money deposited can be used only for a specific application.
Here the service provider earns profit based on the interest of the money stored. This is one of the most interesting and effective ways to win customer trust as you can offer reward points, and cashback to the user's account directly.
The refunds too are added in the application which makes it easier for the service provider to earn better and build a stronger presence in the market.
2. Semi-Closed Wallet
These are the wallets that aren't as limited as the closed ones. Here, you can share the funds from the same ewallet accounts. Also, these accounts make sure particular amounts can easily be transferred to the accounts. With the ease of fund transfers that are linked to bank accounts, these apps are gaining popularity. Another important factor that makes them popular is the fact that since they don't need a lot of details for bank transfers they are swift.
It is the ease and the speed of the money transfer and the security that is making semi-closed e-wallet applications popular in the town. The experts at Octal IT Solution, deliver products that are unique, and interesting and can help you earn great ROI.
Semi-closed wallets can be used in making transactions like:
Purchasing Goods and Services
Financial Service Transfer
Payment of fees and premium merchants to issue payments
Thus, semi-closed e-wallet type applications are in great demand in the market.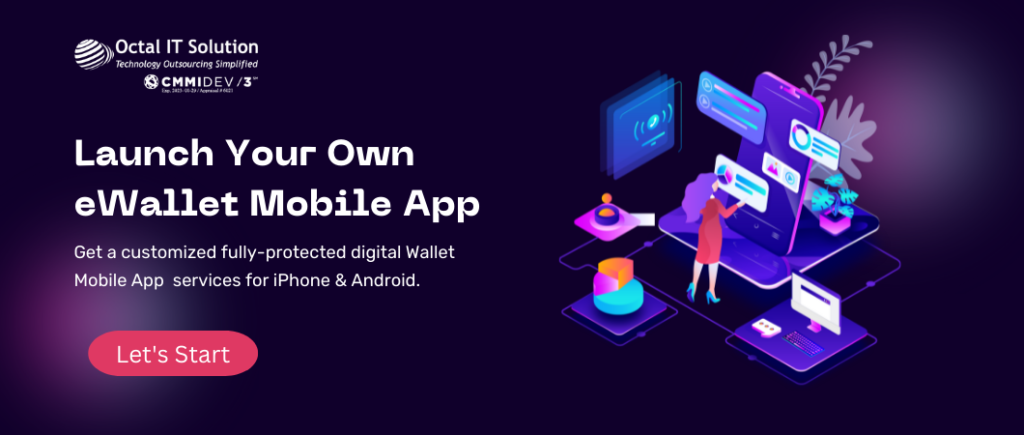 3. Open Ewallet Applications
This is the simplest kind of Ewallet that you have. This is one of the most secure and safe kinds of e-wallet applications in the market. It is basically developed by banks or financial institutions. It helps accomplish the transactions of the semi-closed ewallet app and with it the withdrawal of cash at ATMs or banks or a financial institution and easily transfer funds.
The ewallet application can make it easily available for customers, businesses, and banks to make a profit and grow better. One can easily ditch long queues in front of banks and financial institutions and can find better alternatives in just a few clicks.
These are the three kinds of ewallet applications that you can develop to support your business. If you are looking forward to entering the market with a new business idea then these details are the must that your development team would need to deliver exactly what you want.
When looking forward to developing applications like these, it is important to consider a few things like:
Target Audience
Choose the Right Platform
Right Registration Method
It is important that the ewallet mobile application that you are taking to the market is going to help you through earning great profits.

Wrapping It All!
Ewallet mobile application development has revolutionized the way things happen around us. It has transformed the way we shop, book tickets, pay for our daily needs, go to the market, dine-in, and do a lot more small things. If you are looking forward to developing a strong ewallet application that can help you earn great profits, then you need to hire an on-demand mobile app development team that can take care of your needs.
Our experts at Octal IT Solution, take your business as theirs and make sure that you deliver the solutions that are meant for you. We ensure that when you enter the market with your product, it adds to your popularity and brand name. We are available to connect with your round the clock and can help you make certain changes as and when required.
Since our product engineering team follows agile development methodology you would always be a part of the development cycle. Thus, you can check for all the features and functions beforehand.
Not just this, we make use of the latest technology like Artificial Intelligence and Machine Learning Solutions, Big Data, IoT, Blockchain, etc. to deliver your solutions. With these technologies for your assistance, we make it a point that the solutions that are delivered to you stand the test of time and are strong enough to keep you a step ahead of your competition.
So, if you want to turn your app idea into a working reality reach the experts today!