Your mobile phone is not a communication device only anymore. It has become your shopping assistant too. As a consumer, you can order everything on your mobile phone, right from the grocery delivery  to beauty services. So, why not have a car wash app too on your mobile phone? Yes, it is possible! With a car wash app, the users can connect with the car wash service providers of their area and get the job done right at their doorsteps! Can you imagine the kind of time and money the service users can save by doing so?
A few facts about availing car wash service through an app
We have not proposed having a car wash app out of a whimsical idea. It is a reality. If you have not got the car wash app yet, you are missing something certainly. Here are some facts about the car wash service app you must know:
A number of car wash apps have done brilliantly in terms of revenue and reach. Some of the notable car wash app examples are – Wype, Qeeex, DinoWash, Washify, to name the most popular ones.

The car wash app development market has the highest number of takers in the UAE and the Middle East.

The automotive industry's revenue is expected to reach 1,00,000 million USD by 2022, and the car wash industry alone contributes about $48 billion annually as of now. The revenue growth is expected to be 3.3%

According to the latest industry reports, the best performing car wash app Washe has made 3.3 Mn USD since its launch.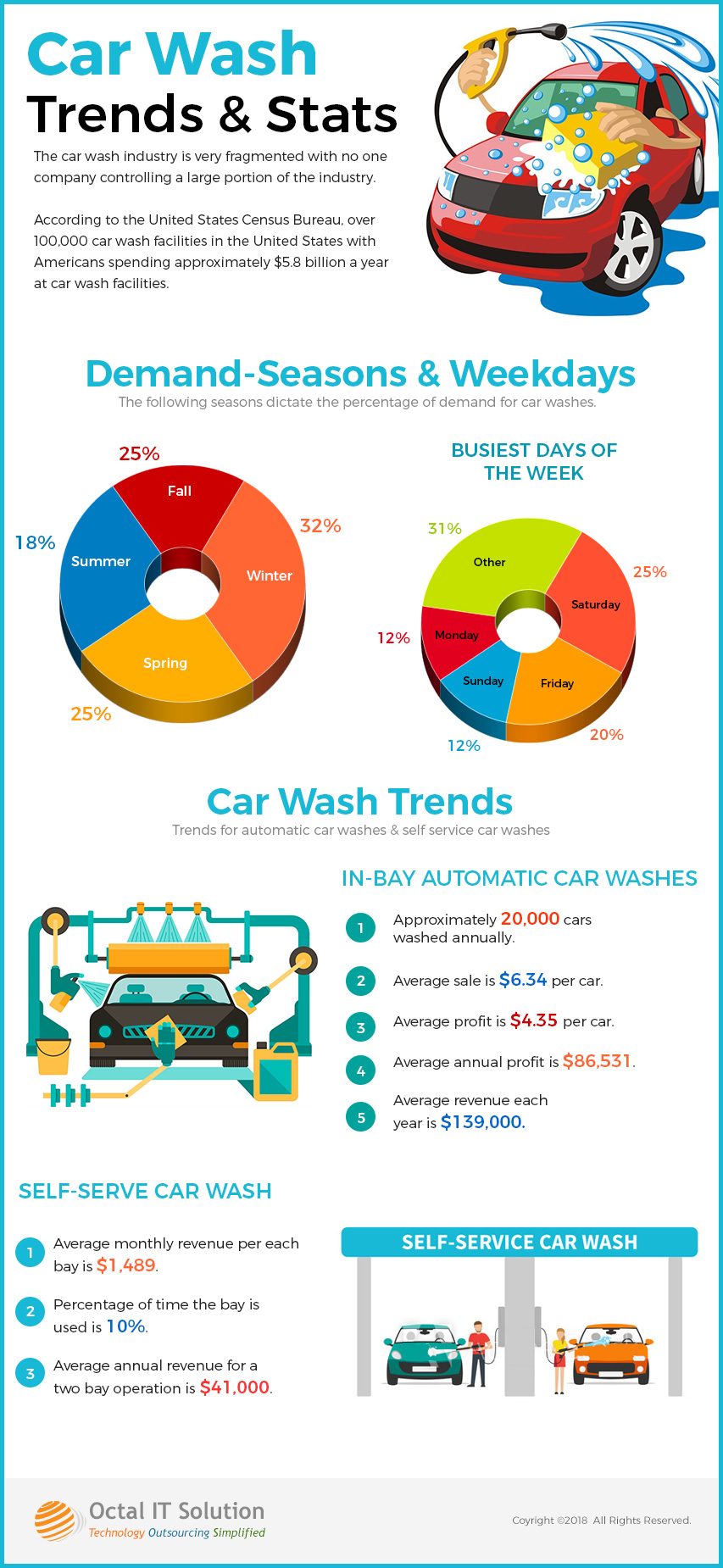 Keeping these figures in mind, there is no denying that the car wash service has relatively high revenue generation potential. With 1000 licensed professionals registering at Washe, any car wash app owner can expect to repeat the magic with a correct combination of features and intelligence.
Popular Car Wash App Types 
Now that we have served you with all the exciting facts, you must be wondering what types of car wash apps can be developed. So, here are a few crucial types mentioned:
1. Aggregator car wash app:
It is more like a third-party site for listing services. The app owners can bring together the service providers of the city in one place. Services users browse through the listing and select the one that serves their needs most fittingly. So, the app owners are not required to own infrastructure for providing the car wash service; they just need to have technical support for managing the app.
2. Dedicated app:
This app is owned and maintained by the car wash service provider. A big car brand can also offer additional service to the customers by having a dedicated car wash app. The brand owners can create personalized car use and maintenance experience for their customers. Similarly, a reputed car wash service can strategize to reach their customers by having an app. The service provider can accept orders, provide the updated statuses about the ensuing and ongoing service, and remind them about the next due. Thus, the car owners can become more regular with their maintenance schedule and have a well-toned car for use all the time.
How car wash app will make money for you?

What do you see on any app when you log into it? A few banners, ads, and sometimes in-app purchases prompts. All these can be included in the car wash app too. So, you can generate revenue with a car wash app in the following ways:
Advertisements:

 You can provide space to the reputed brands on your app by displaying them at headers and footers and earn money as per the contract signed with them.

Registration fee:

 A car app owner can generate revenue by charging a membership fee to the car wash service providers who choose to enroll in your app. Else, you can earn a commission as a percentage of the revenues the wash service provider makes through your app. 

Basic and Advanced Car wash app features – How exactly the app works
We explain to you here various car wash app features and how these will contribute to creating an ultimate user experience.
A car wash app will have essential features, comprising:
1. User Panel: Your end-user is the one who will pick the service provider and pay for the service while booking it.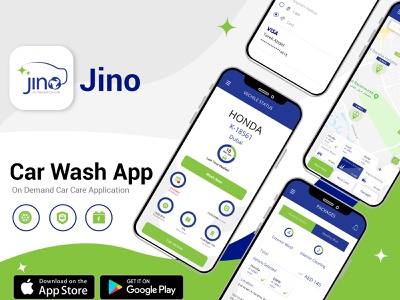 Car Wash App Developed by Octal
The users can do so with the help of:
Sign up, and social media account login: Registration with the app enables users to have a truly customized and secure experience.

Share car location: Users can show the service provider where to come for the car wash.

Real-time detailer tracking:

 The users will be given a view of all the detailers doing jobs, and the probable time a detailer will be assigned to them.

Select the suitable car wash package: Users will be given different wash service modules to pick

Check availability:

The user will be intimated whether the detail or service provider is available for that locality or not.

Book Service:

Once everything matches, the users will book the service

Pay for the service: The users can select 'pay on service' or 'pay online.'
Estimation: Users will be provided the estimated cost for the doorstep car wash service
Subscription plans: Users can opt for subscription plans if they like the service or choose to go for another wash service provider
Tracking the service: Users can check the job's progress in real-time, and alerts will be sent corresponding to the jobs done.
Multiple payment options: Have a payment option of your choice.
2. Service provider panel: As a service provider, you enlist your business in this app. The app is provided with features to support the easy acceptance and processing of car wash orders. The features are:
Signup and social media accounts login: Gets you a verified listing in the app

Mention Service Location: Give an idea where your business is located

Notification: All user request notifications provided

Service accepted/rejected: You can decide whether to take an order or not.

User profile: The service provider can update the user profile served

Service status: Helps to send service status to the customer.

Upload car picture: The service provider can upload the pictures of cars washed.

Request payment: Request to admin to release payment

View History: See how the user rated the service
3. Admin Panel: This panel is provided for the app owner or manager. Admin is doing several crucial tasks and updating those in the app, such as:
Registration of technician: Helps input all details of the technicians onboard.

Manage technicians: Update all joining and leaving related statuses of technicians

User payment history: To find about the payment statuses

Transactions history: To find about successful and failed transactions.
Apart from these features, there will be some advanced features available to integrate depending upon the level of sophistication sought. These advanced features include – CMS integration, Loyalty programs, CRM integration, Cost calculation, Real-time analytics, Marketing, and Promotion Tools, etc.
Total cost for developing car wash service app
An on-demand car wash app development job involves developers, designers, quality testers, and a few other stakeholders. Taking all those expenses into account, you can expect the cost of developing a car wash service app to be something like:
$20-$80/hour: Indian app development services

$30-$155/hour: Eastern European developers

$50-$250/hour: U.S. app development services
Why choose Octal IT Solution for car wash app development?
It can be inferred from the information above that a car wash app requires a development company with appreciable expertise and experience. Octal fits in the bill quite effortlessly. Ours is the car wash app development company that comes with lots of benefits, such as:
1. Suitable expertise: A car wash app development job demands expertise in:
Cross-platform app development – We are the masters of iOS and Android app development

Database management – We are the experts of MongoDB, Mail Chimp, etc.

Payment management systems – We successfully integrate e-wallets and all prevailing payment systems

Real-time analytics – We empower your app with Cisco, IBM, Bigdata, Apple, and others.

Voice, SMS, and Phone verification – We serve you with Twilio and other popular verification integrations
2. Cohesively working team: At Octal, every app is developed with cohesive team members following a streamlined process. You can find with us – visionary, UI/UX developer, programmers, QA experts, and sales and marketing experts that can help you provide complete desk-to-market support for your car wash app.
3. The advanced approach of development: Using expertise in technologies like Flutter, MERN, MEAN, and other time-relevant development supports, Octal strives to deliver you a seamless experience that creates value rather than an application merely. 
4. Customized service and development plans: At Octal, our prime and only focus is to help the customers reach higher and expand broader. We have fully customized car wash app development plans and services to ensure that your app dream meets reality and helps you become the key market driver. 
So, team up with Octal car wash app developer support. Here, quality services are the work rule, and the best customer service the only ethic. Driven by the desire to be the best and the most promising developers, we deliver nothing but awesomeness and make each business more technology-empowered than ever.