Conventionally, it was a tough decision for businesses, whether they should hire front-end, back-end, or database specialists for web and mobile app development. But today, there is a new term that got introduced called 'Full-stack' comprising all the three, front-end, back-end, and database. To Hire Fullstack Developer, the current trend is flowing to the multi-faceted professionals or service providers that fit into numerous roles.
Similar to other provinces, enterprises also tend to confederacy and globalization; hence the need for a full-stack developer is the preferable choice for the modern-edge web & mobile app development market. But while hiring full-stack developers, you must ensure that they are flexible and experienced enough to do almost everything related to app development. With a good vision of the role's impressions, assessments, and challenges, the overall full-stack development process is quite reliable and error-free.
If you are interested to know what is full-stack and how it is worth to hire full-stack developers or a full-stack development company? Let's get through this below write-up and understand how full-stack helps develop a web/mobile app?
Quick Glance
In this article, we are here talking in-depth about the full-stack development services including what are the benefits to hire fullstack developer, should you hire a full-stack development company or freelance the developers? What would be more beneficial? You will also get to know about the skills required to become a full-stack developer. Go through the entire blog to get a better understanding of the whole.
What is Full-stack Development?
Full-stack comprehends both the front end AKA client-side and the back end AKA server-side of an application. We can say that the full-stack development process comprises the whole thing, right from the presentation layer that handles the user interface, to the business logic layer handling the data validation, to the database layer.
If you hire fullstack developer, they will administer the whole full-stack development process. These experts are able to craft any kind of dynamic web app right from the scratch, even though they also have knowledge about how every technological layer named MEAN, LAMP stack, & any other can work simultaneously? They cater the complete project from its designing to its deployment efficiently. You can select one or more full-stack developers as per the project requirements.
What is Front-end Development?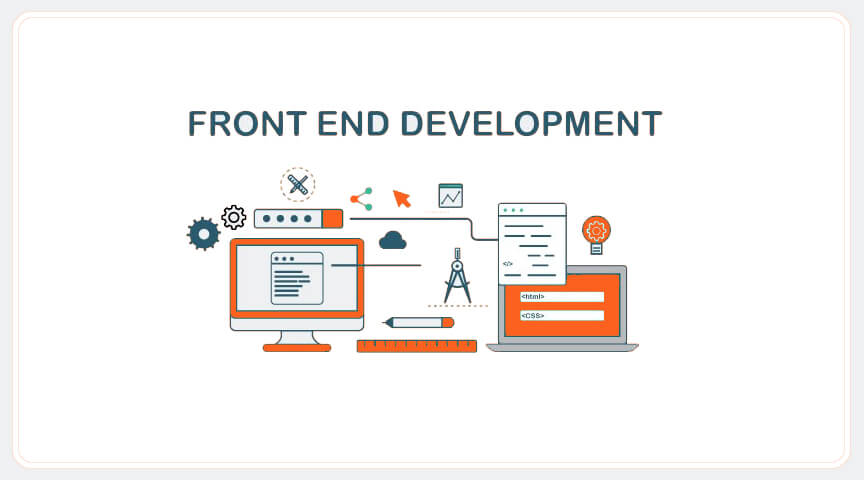 The front-end development has the prime focus on the client-side development of web, software, and app that is beneficial to code and create the front-end elements and user interface. These are known as the UI design elements & functions that can be used by customers or end-users to interact with each other directly. Everything users see on the screen is under the supervision of front-end developers and they continue to work to cultivate it and level up the user interface to provide a unique experience to all the users. In simple words, it handles all the things with interface and app design.
When there is a concern of language, they must have knowledge about CSS, JavaScript, HTML, and Bootstrap. The bootstrap is used to design the web or app content and layout. If it is about JavaScript frameworks, it would be good to go with Angular, React, and Vue.js.
What is Back-end Development?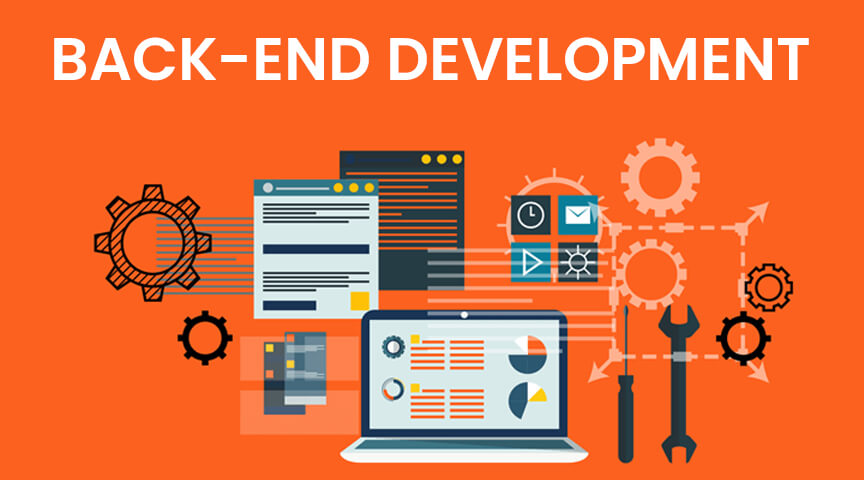 Back-end development is basically known as the back end of programs that include server-side app logic & integration contrasting to front-end development that is fully engrossed in products and programs created for customers. It is the job role of back-end developers to develop code for a database and a web app to relate with each other. Deceptively, back-end developers are accountable for everything users see on the screen.
For the backend part of designing the mobile or web project, developers must have knowledge in two or more server-side programming languages and frameworks such as Python, Java, PHP, Node.js, C#, Django, etc. If you are choosing any static language, it will take more code development. On the other hand, it would be very easy to maintain.
The Database
When we talk about full-stack development services, the database is also one of the considerable parts. In this, developers are required to create and maintain the databases precisely, and hence, it is the place where developers' knowledge about the database languages would come to light. Database languages can be divided into two main categories including relational and non-relational. The relational comprise rows and tables for data storage while non-relational collects the data in the JSON format.
Jumping onto the essential database languages that are must to have knowledge about are PostgreSQL, MySQL, and MongoDB. These first two languages are associated with the relational category, though MongoDB belongs to the non-relational database.
Top Benefits You Get by Hiring Full Stack Developer to Develop an App
Not only one, but there are also countless benefits a business can get by choosing a full-stack developer or full-stack developer company for app development. They will see the whole project right from the initial ideation to the project launch and its marketing. There is a huge demand for full-stack development services in the market as it is providing additional advantages to both businesses and clients.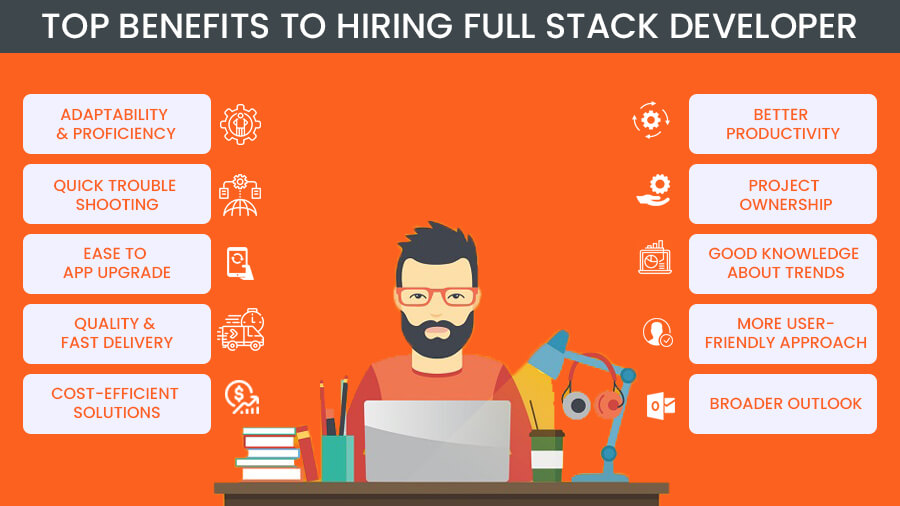 1. Adaptability & Proficiency
A full-stack developer has rich knowledge and skills in both front-end and back-end development. Back-end developers have the responsibility to develop the prototype codes to get linked with the website to other CMSs (content management systems). Front-end developers write codes with the help of CSS, HTML, and JavaScript that handles the overall appearance and interactivity of a website or app in a browser. Here, you are no longer required to hire different developers for these tasks as hiring a full-stack developer would be enough in the matter of skills.
When you hire fullstack developer that are professional and goal-oriented, they always stay foresighted about what are the customers' expectations and also, come up with suitable solutions without depending on others. They can alleviate the misinterpretations between the implementation sides and there will be less web development time in the presence of a full-stack web developer.
2. Quick Troubleshooting
Undoubtedly, during and even after the app development, there occur several kinds of errors and bugs. It can happen at any stage and searching the reason behind them can be very monotonous for the app developers, although the participation of a full-stack developer can make things easy. They will make the development process better as they have the expertise and will formulate a solution fast. Full-stack developers have more competencies to sort things out rather than others. They have enough skills and talent to analyze the problems that occur at the time of project development. They have knowledge of executing the long–term solutions for the finest functioning of the application.
3. Ease to App Upgrade
Since full-stack app developers have sufficient knowledge about the modern-edge updates and innovations along with the approach to maintain & upgrade the MVC (minimum viable products) that is reorganized and enhancing the probability of positive reviews or feedback from potential consumers.
Hence, it is profitable in every term to hire fullstack developer as they are able to execute a similar approach in their practice, permitting users to get advantages by providing access to the latest upgraded technology. Clients will also get the appropriate two-pronged and open software apps.
Professional full-stack developers will help you to make your application more user-friendly. They are also capable of comprising smart features in the app development to facilitate users with the most interactive and responsive app solutions.
4. Quality & Fast Delivery
Full-stack developers provide more productivity while working in groups or being a part of a project. It is due to the shared job roles and responsibilities among all the assistants involved in developing app architecture and they work hard together to get the desired results. Therefore, the project is conveyed fast or on the scheduled date.
Additionally, proficient full-stack developers are also able to create an acquiescent application by including online safety standards and regulations as they have up-to-date skills & expertise. They are also capable of performance bottlenecks in the latest app and formulate solutions fast.

5. Cost-efficient Solutions
Hiring a front-end developer and a back-end developer differently will cost you higher than expected, on the other hand, choosing a full-stack development company will provide you benefits and cost-efficiency in numerous ways. A professional and experienced firm will facilitate you regarding full-stack app development with expert developers who have rich knowledge about all the software programs required to create an app.
The flexibility and expertise they have to alleviate the causes of cost enhancement in the long term. It is considered as one of the benefits of full-stack developer services given to business owners.
6. Better Productivity
For an app or software development project, hiring a full-stack developer will stand next to none. It enhances the overall competitiveness of the team leading to productivity & results. Skilled programmers and coders act as a bridge between the teams of front-end and back-end. These full stack developers are observed by the senior members of the team for orientations and checking before the app deployment.
These developers will be a source of inspiration & motivation for new members and the rest of the team. It will provide advantages to the team via better team communication. It would ultimately lead to the app development capacity of the project.
7. Project Ownership
Full-stack developers keep their entire focus on the project as they are in charge of the app development from start to end. They would manage all the things most possibly, doesn't matter if they are joining the project in the middle. On-board full-stack developers are advantageous because they provide quality assurance in the project. It would be very convenient for clients to depend on full-stack developers for the project. A full-stack developer will control the overall project and provide the edge it requires to rule the market dominance. While handling the MVP development, they also manage the client-side and server-side of the app for fast-track and streamline project delivery.
8. Good Knowledge About Trends
A skilled full-stack app developer is always up to date about the trending technologies and current developments. A lot of technologies such as Blockchain, progressive web apps, machine learning, artificial intelligence, and many more must be acquainted with him. All these inventions and trends have become highly entrenched in our daily lives and all the modern-edge smartphone apps, web, laptop, etc. are using these to match the advanced trends. For instance, technologies used in full-stack development can be selected based on the trends of a native app stack or a web stack.
9. More User-friendly Approach
App design and interface play a significant role in providing a positive user experience; therefore, to entice the customers, full-stack developers put more emphasis on the newest trends introduced in UI/UX standards. While building a full-stack app, developers claim the interface design is intuitive and user-friendly. They execute pioneering functions guaranteeing the accessibility and inimitability of the product.
10. Broader Outlook
Managing full-stack software leads to a wider perspective and broadening views during the workflow. Developers engaged in building a full-stack mobile app are inclined to look for diverse angles and unfamiliar results to create the final product differently. Unique experiences in mobile app development and consummate projects of diverse kinds subsidize the versatility of the developers. Hence, developers can have any job role in the development team in case of an emergency.

Essential Skills Required Becoming a Full Stack Developer
To become a full-stack developer, you must have broad knowledge in three vital domains comprising backend development, frontend development, and an understanding of the storage and database. If you are thinking to hire fullstack developer, ensure they must have these qualities below. Have a look-
HTTP acts like an interactive tool that builds protocols to set communication between the server and the client. The web applications run efficiently on the front-end with the assistance of HTTP. A developer must have the knowledge of the working process of REST and HTTP commands and study the steps of their configuration.
Git is known as the version-controlled system that allows the developers to view the alterations steered in a codebase with the help of joint coders. The programmer shared device provides you the data on code architecture and structures' maintenance. Despite that, it will help you to review the codes and diverge the projects for conducting the tests. Developers are not required to use the original code source as they have tweaked it. Issues & bugs can be tracked with the assistance of the issues system.
Basic Algorithms and Data Structures

Developers must consider the algorithms as an essential part of the mobile app or web development process. Google has published a lot of questions related to algorithms & data structures. Developers can go through it to have a good understanding of the data structures and master the coding with other tools comprising hash tables and branches. Developers must be familiar with the steps of using them and have knowledge about stacks, heaps & the process of the whole program. It will benefit you to come across the exact coding or else, stack overflow.
This domain of app development comes into the light when it is time to launch the app after the complete app development. Getting knowledge about Platform as a Service (PaaS), cloud computing solutions such as AWS, Digital Ocean, and Heroku is also on the list to augment the developers' skills. With the help of Heroku, developers can easily upload the code and launch it with fewer configurations and AWS provides a lot of options to store and process.
Web Application Architecture

If developers are handling complex coding, then it is important to have an understanding of maintenance. Being a full-stack developer, you need to accomplish several tasks comprising media file hosting and code structuring. Apart from that, developers can segregate the files and formulate a clean query, etc.
Wrapping the Talk
Hiring a full-stack developer will be advantageous in so many ways in comparison to an iOS developer or an Android developer differently. Full-stack professionals have a broad view and perspective about the different aspects of mobile app development. They are easy in maintaining client-side and server-side of application or handling the project responsibility or ownership. Although, it won't be easy to find a suitable one with rich experience and in-depth knowledge of all technologies and frameworks within the budget, but it is not impossible as well.