While earlier whenever anyone desired to treat themselves with their much-loved outside food while sitting at the comfort of their homes, they were required to make orders on phones. However, food ordering on phone is now a thing of the past with it being replaced by the way cooler and the advanced option of mobile app ordering.
Yes, this is what trending is nowadays and food ordering can never really be so effortless a task.
As the modern consumer seldom cooks, so it has become an everyday thing for them to order their food at home be it pasta, pizza, or maybe vegan salads (after all, we have health-conscious folks around us too and food ordering businesses have given a thought to them as well (*wink*wink*). They can order the food from nearby restaurants whenever desired while they sit at home to enjoy Money Heist on Netflix.
Huge Demand for Web-based and Mobile On-Demand Food Delivery System
With customers shifting demand from traditional phone-ordering services to digital platforms, it certainly opens them to wide options for food that too from many restaurants with just a few taps on their tablets or smartphones. We certainly can't expect the food ordering system to be much simpler than this, can you? The prominence of restaurant and grocery delivery ventures like Munchery, Foodora, Deliveroo, Postmates, and others has already reached great heights in terms of valuations (for instance in 2016: Postmates made $600 million, Foodora – $4billion, Deliveroo – $1 billion, Munchery – $300 million. Hence, it's clear that there is no stopping anytime soon and this has encouraged other ventures in the line to pave into the market in order to repeat the success created by the former counterparts.
If going by the facts presently there are around 39 US-based private food firms having $5 million or maybe more in funding are putting efforts in following the same business model in order to deliver either cooked meals or some plan to deliver fresh ingredients so they can be used for home cooking.
Now, these newly setup food enterprises have garnered a lot of appreciation from users and have are also attracting the attention of investors with them enjoying high valuations, still what the future holds for this whole food delivery sector, remains unclear in general.
So here in this article, we try to figure out the future scenario for this industry by comparing three of its most prominent business models which are adopted by the takeaway delivery startups. Let's explore it all!
As mentioned above, earlier the most common means to food order was over the phone, where the order was placed by customers over the phone with the restaurant taking note of the order and getting it delivered to the customer at their doorstep. This was the traditional delivery model used for a long time. However, now with the emergence of digital technology, mobile apps have replaced this traditional system, and today just a tap on the screen is all that is needed to place an order.

It is important to take care of the fact that the solutions that are delivered to you are designed in a way that reflects better results. The online food delivery business works on various models and is defined to get the solutions that are worth.
A large number of restaurants that offer their own takeaway services are already endeavoring to tighten their belts by offering mobile food ordering options that that is essential step to retain their customers. So, the thing that changed with digitalization is that people today can order food with no real human interaction. Meanwhile, earlier it was a pizza that dominated the food ordering app development market for a long long time, however, there is an advent of all new on-demand delivery ventures which widely takeover the fame enjoyed by pizza. Over the years a few food delivery business models have surfaced and reflected in complete popularity and profits.
Various business models are being adopted by these startups in an attempt to take the meal preparation & food delivery concept to new heights. Here we are dividing these startups into three major categories: 1) Aggregators (Order-focused delivery service), 2) Logistics-focused food delivery services, & 3) full-service food delivery service. So now let?s explore each one of them:
Read Also: How Much Does It Cost to Develop Food Delivery Apps like Zomato, Grubhub, Uber Eats?
Aggregators
As the name suggests the one that aggregates. Thus, under this model the customer can see the menu from various restaurants and place an order from the one that feels good to them. They can order food and in most cases, the delivery valet is from the application. Thus it is just a kind of communication link between the customer and the restaurant.
You can even call this one a mediator as this is what an aggregator does – to mediate between customers & various local restaurants. Here you get access to a variety of cuisines all via a web page or smartphone app. The main job of an aggregator is to facilitate and provide customer support for the orders. Now how do they function? Well, after signing into an app or a website, users can have a look and compare the prices, menus, ratings & reviews, and accordingly can place orders. After the order is confirmed by the customer, it is the aggregator who is responsible to pass that order to the restaurant. This actually one of the most popular food delivery platforms available in the market.
Then on, the actual delivering part is managed by the restaurant. Aggregators get to gain a fixed fee on orders which were placed through their service. Usually participating restaurants bear this fee, with no additional costs to customers. Four US-based big players – Delivery Hero, FoodPanda, GrubHub, and Just Eat have attained huge success on an international scale in this arena and offer their service in various parts of the globe.
New Delivery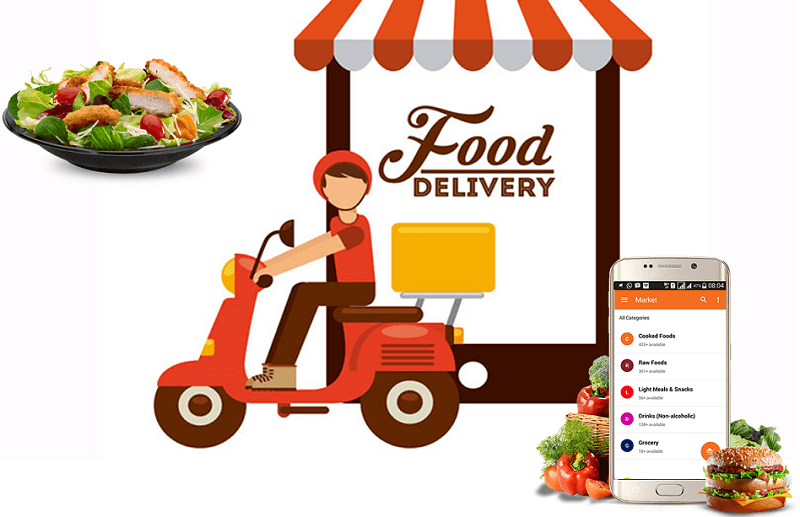 Same as aggregators, new food delivery platforms do a wonderful job. This is one of the most popular types of food delivery services where the users can compare menus of various restaurants and also make orders from various restaurants via a mobile app. However, when compared to aggregators, new delivery platforms also offer logistics to their partnering restaurants. With logistics services being provided, this platform opens new prospects to the new-on-the-board restaurants that have no experience with food delivery. Restaurants can immensely benefit by partnering with this kind of partnership, as they can conveniently deliver orders without the stress of paying the drivers, as everything is covered, even the cost of vehicle maintenance & insurance policies. This way, restaurants can set their focus on crucial aspects like upgrading customer service.
Read Also: Challenges Faced by Food Delivery Apps like UberEats, Postmates & Swiggy
As compensation for the same, new delivery players charge a fixed amount from the restaurant as well as the customer. Like they receive a fixed margin of the order by the restaurant, while a small flat fee from the customer (super easy, isn't it?) Now despite this huge cost of maintaining delivery vehicles and drivers, the new delivery players attain EBITDA margin of more than 30 percent. The players consist of brands operating worldwide such as Foodora and Deliveroo, which continue to capture new regions. It is expected that the addressable market for this very kind of delivery model is going to exceed $20 billion by the year 2025.
Full-service On-demand delivery
Well, the main aim of these startups is to making healthy food available to people in no time (so to meet the pace of today's fast-paced world). Here, there are no third parties involved, as they are having their own chefs preparing food in-house. There are hired in-staff courier boys so that meals are timely delivered to customers. To understand the functioning of this model, we have Munchery, the prominent full-stack delivery solution in the US, as for an example, where you can order a meal by looking at the daily menu, and then they will deliver it within an hour-long delivery window.
The orders for the next day can also be scheduled, if someone wants to plan that ahead. Food Ordering is quite easy with each dish on a menu consisting of a picture as well as a list of ingredients, and also a chef's name, who will be cooking it. Reviews given by customers regarding each meal can be checked as well as one can directly message the assigned chef.
Full-service delivery vs. Aggregators vs. New Delivery.
Without any doubt, a full-service food delivery model is where you have a great level of control over customer experience. Like, you can manage everything, starting from the food that is being served to them, ensuring it is fresh and delicious, and also the orders are timely delivered. After all, you are certain to benefit from having your own chefs & delivery people. When combined with ratings & ratings, you have great potential to enhance your services all the more.
But there are downsides as well to this model, as to begin with, it would require ample funding, initially at least. Like how else can you manage salaries to so many employees as well as numerous equipment? Then the insurances and certifications needed for your business to comply with laws & sanitary standards further add to the load. Now as we talk about nominal expenses for salaries & equipment, the aggregator model will certainly attract you, however, this one is harder to manage to owe to immense competition in the market.

Like till date, it's GrubHub that owns this market with a partnership with more than 50,000 takeout restaurants in cities more than 1,100 in the US, as well as London. So, if you plan to enter as a small-budget company, you can imagine how tough it is going to be to beat this biggie.
Then there is also an issue of limited market growth opportunity. Here the partnering restaurants with their own logistical manpower can easily join an aggregator platform without the need to invest a big sum of money, but then what about the restaurants which are not delivering on their own?
This New delivery service seems to fit the pocket of most in the league. Like it partners with restaurants which never delivered before, thus expanding the overall availability of food delivery in the market. Who knows that in the coming future even restaurants delivering food on their own might prefer to rely on these new delivery players as outsourcing logistics tend to be cost-effective.
Read Also: Why Octal is the best company for Food Delivery App Development
Hence, it is believed that it is a new delivery model that offers the most and tremendous benefits to all the parties involved? such as customers, restaurants, and delivery service startups.
In the case of restaurants, they get to enlarge their present user base and also to utilize existing kitchen facilities to the most. This will ultimately lead to more revenue and business growth.
In the case of customers, the benefits consist of easy selection, convenience, and promptness in delivery. They can choose from wide-ranging cuisines offered by numerous restaurants.
And then in the case of delivery services, it is beneficial in the long run to work with larger and established names in the restaurant business in order to attain a higher average order size as compared to aggregators.
For instance, you can integrate some kind of curation process so that only the best restaurants feature on your platform. And then the convenient and faster delivery can be an add-on to delight your customers.
The Final Words
These are some of the most prominent and strong online food ordering business models that are dominating the food delivery business. If you are looking forward to mobile app development company that are well defined and helps your business objectives then you are at the right place. We have been delivering solutions over the years and have ensured the solutions delivered to you earn you great profits.
So, just find out what you want and we get you a better result on the screen.